Novel Physiotherapies Market Analysis and Reports | Germany Conference Series
Market Analysis - Novel Physiotherapies 2018
Physiotherapy Strategy 2010-2050
Physiotherapy, also known as physical therapy, is a type of treatment provided by healthcare providers for the development, maintenance, and restoration of a human body's ability to move and function. This research study involved the usage of extensive secondary sources, directories, and databases, to identify and collect information useful for this technical, market-oriented, and commercial study of the global physiotherapy and its equipment market.
WHO's National Institute on Aging states that prevalence of dementia and neurodegenerative disorders are expected to rise sharply (25–30%) with growing age. Dementia is ultimately accompanied with loss of reasoning, speech, and motor functions. Chronic diseases and lifestyle-related habits contribute to approximately 75% of the health costs.
The PPACA regulation has affected Americans and is expected to impact physical therapists in the future. The rise in the number of patients suffering from cardiovascular, neurological, and musculoskeletal diseases are expected to further propel the demand for this equipment in future, not only in the developed economies but also in emerging economies such as India and China. This market is expected to grow rapidly in the next few years due to continued westernization and urbanization in the emerging economies of China, Brazil and India.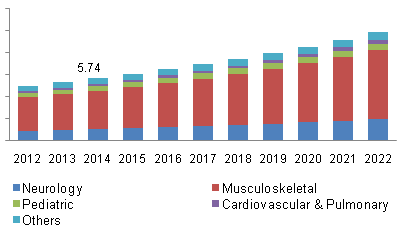 The global physiotherapy equipment market is anticipated to grow from an estimated US$ 14,972.1Mn by the end of 2015 to US$ 23,750.9Mn by 2022 at a CAGR of 6.8% during the forecast period. Key driving factors of this market include growing geriatric population base, unhealthy lifestyle habits and the presence of favourable government regulations.
The Physical Therapists industry has benefited in the past 5 years from an aging population and increased prevalence of chronic diseases, both of which have expanded demand for industry services. Additionally, higher rates of private health insurance resulting from federal healthcare reform have made industry services affordable to more of the population. Despite expanding revenue, however, physical therapists have faced significant cost pressures, and consolidation and specialization within the industry have increased. Furthermore, Medicare reimbursement caps and cuts could present an impediment to industry growth in the 5 years to 2021.
Physiotherapy services have also become more affordable for households over the past 5 years, as disposable incomes have grown. Industry revenue is forecast to rise at an annualised 3.5% over the 5 years through 2016-17, to reach $1.6Bn.
The Physiotherapy Services industry is characterised by a low level of concentration and a high degree of fragmentation. The industry's top 4 firms account for less than 10% of industry revenue. Firms within the industry tend to be small, with almost half of physiotherapy practices operating as sole proprietorships. The high number of small businesses and low number of bigger businesses, combined with the industry's strong profit margins, demonstrates that industry operators have little need to increase economies of scale through consolidation.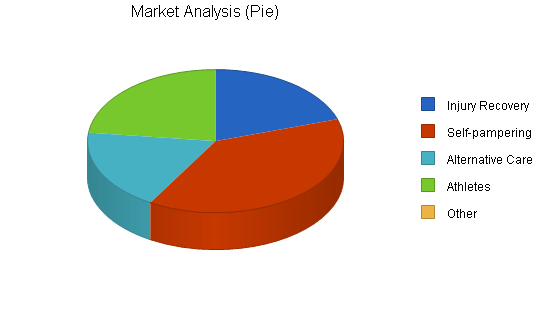 The market for physiotherapy services is expected to increase at a significant growth rate owing to rising geriatric population across the world. Elderly people usually suffer from various ailments such as arthritis, cardiovascular diseases and chronic pain. Hence, they accentuate the demand for availing physiotherapy services to relax their body from the ailments. Elderly people are also raising the demand for palliative care that is provided via physiotherapy. Moreover, rising awareness regarding therapeutic applications of physiotherapy, increasing incidence rate of cardiovascular and neurological diseases, and growing demand from palliative care patients are the other major factors anticipated to drive sales of India physiotherapy equipment market during 2015-2020. Technavio's analysts forecast the global physiotherapy equipment market to grow at a CAGR of 6.35% over the period 2014-2019.
Physiotherapy services market can also be segmented based on the area specification of the therapy such as: orthopaedic, geriatric, cardiovascular and pulmonary, integumentary, neurological, paediatric, women's health and palliative care. Among all these, orthopaedic and geriatric physiotherapy services market accounted for the largest share of the total market. Also, increasing geriatric population that usually suffers from mobility, disability and joint problems due to weak bones is also expected to propel the demand for availing physiotherapy to increase the quality of life.
Currently, the global physiotherapy equipment market is steadily growing and will reach a value of around US$ 23.7Bn by 2022 end, up from the value recorded in 2015 i.e. US$ 15Bn. The market is anticipated to expand at a moderate yet promising CAGR of 6.8% during the forecast period, 2015-2022.
The global physiotherapy equipment market is poised to reach $19,786.3Mn by 2019 from $14,240.0Mn in 2014, at a CAGR of 6.8% from 2014 to 2019. Geriatric population is expected to witness faster growth over the forecast period. This is attributed to the exponential increase in the base of geriatric patient population suffering with chronic illnesses requiring the treatment propels the growth of the market for the next 7 years for this segment. The physiotherapy equipment industry for the geriatric population is expected to reach over USD 11.0Bn by 2022.
On the basis of geographical analysis, the global market for physiotherapy equipment can be segmented into 4 key regional markets - North America (the U.S., and Canada), Europe (Germany, France, and the U.K.), Asia (China, India, and Japan), and rest of the world (Brazil and Australia). Attributed to rising prevalence of CVDs and neurological disorders, North America will continue to dominate the market for physiotherapy equipment. Favourable government initiatives are another important driver expected to accelerate the market growth in this region. Up from US$ 6.0Bn attained in 2015, the North American market will reach US$ 9.59 Bn by the end of 2022, expanding at a CAGR of 6.9%. The European market is however primarily driven by increasing incidences of musculoskeletal disorders. Asia is likely to be the fastest growing market due to rising geriatric population and substantial percentage of neurological diseases in China and Japan.
ConferenceSeries Ltd invites all the participants from all over the world to attend 5th International Conference and Expo on Novel Physiotherapies during March 22-24 , 2018, Barcelona, Spain which includes prompt keynote presentations, Oral talks, Poster presentations and Exhibitions.
Novel Physiotherapies 2018 will focus on innovative technologies leading to the development of both assessment and rehabilitation tools ,the conference will feature inspiring scientific presentations and plenary speakers, enhancing interactions between engineers and physiotherapists, Medical and Physiotherapy Professional experts, Physiotherapists, Practitioners, Therapists and Treatment providers, relevant clinical applications in fields such as neurology, orthopedics, and respiratory physiotherapy will be discussed throughout the workshops. ConferenceSeries Ltd organizes a conference series of 1000+ Global Events inclusive of 300+ Conferences, 500+ Upcoming and Previous Symposiums and Workshops in USA, Europe & Asia with support from 1000 more scientific societies and publishes 700+ Open access journals which contains over 30000 eminent personalities, reputed scientists as editorial board members.
Why to attend???
Aims to bring together leading academic scientists, researchers and research scholars to exchange and share their experiences and research results about all aspects of Physiotherapy. It also provides the premier interdisciplinary forum for researchers, practitioners and educators to present and discuss the most recent innovations, trends, and concerns, practical challenges encountered and the solutions adopted in the field of Physiotherapy.
Target Audience:
Physiotherapy Students, Scientists
Physiotherapy Researchers
Physiotherapy Faculty
Medical Colleges
Physiotherapy Associations and Societies
Business Entrepreneurs
Training Institutes
Manufacturing Medical Devices Companies
Data Management Companies
Conference Opportunities:
For Researchers and Faculty Members:
Speaker Presentations
Poster Display
Symposium hosting (4-5 member team)
Workshop organizing
For Universities, Associations & Societies:
Association Partnering
Collaboration proposals
Academic Partnering
Group Participation
For Students and Research Scholars:
Poster Competition (Winner will get Best Poster Award)
Young Researcher Forum (YRF Award to the best presenter)
Student Attendee
Group registrations
For Business Delegates:
Speaker Presentations
Symposium hosting
Book Launch event
Networking opportunities
Audience participation
For Product Manufacturers:
Exhibitor and Vendor booths
Sponsorships opportunities
Product launch
Workshop organizing
Scientific Partnering
Marketing and Networking with clients
In the UK the physiotherapy profession has transitioned to doctoral education and the attributes of a doctoring profession.
Since 24 September 2014, Physiotherapists and podiatrists are allowed to prescribe medicines in UK, following suitable training, they are able to give their patients medication such as pain-killers and anti-inflammatory. It means that podiatrists and physiotherapists will no longer have to refer their patients to a GP or other doctor.
A Europe-wide agreement has made physiotherapists and doctors equal partners in the delivery of quality healthcare.
Exercises are instrumental tool in keeping us healthy. Just like your car, our bodies need regular maintenance to perform optimally. Physical therapy improves strength, balance, mobility, and overall fitness as well as injury prevention and treatment. Physical therapists help you restore and improve motion to achieve long-term quality of life.