Nursing Edu Market Analysis and Reports | Japan Conference Series
Market Analysis - Nursing Edu 2017
Market Analysis
Conference Series is overwhelmed to announce the commencement of "20th World Nursing Education Conference " May 22-24, 2017 at Osaka, Japan
The upcoming conference will be organized around the theme "Current Challenges and Innovations in Nursing Education".
Summary of Nursing Education2017:
Nursing Education welcomes attendees, presenters, and exhibitors from all over the world. We are delighted to invite you all to attend and register for the World Nursing Education Conference. To provide students with the necessary knowledge and skills to contribute towards the development and productivity of their communities.
The organizing committee is gearing up for an exciting and informative conference program including plenary lectures, symposia, workshops on a variety of topics, poster presentations and various programs for participants from all over the world. We invite you to join us at the Nursing Education 2017, where you will be sure to have a meaningful experience with scholars from around the world. All members of Nursing Education organizing committee look forward to meeting you in Osaka, Japan.
Importance & Scope of Nursing Education:
Nurses are the largest group of practicing professionals. It is one of the most demanding nursing specialties. A nurse, also referred to as a theatre nurse, specializes in preoperative care which means they provide care to patients before, during and after surgery. Perioperative nurses work closely with Surgeons, Anesthesiologists, nurse Anesthetists, Surgeon's Assistants, Surgical Technologists, and Nurse Practitioners.
This review describes the latest techniques and how they are used to customize the surgery to the needs of the individual patient. Nurse education courses that can be relevant to general nursing or to specialized areas including mental health nursing, pediatric nursing and post-operatory nursing. During a surgical procedure a surgical assistant functions in the role of a second physician in the operating room. Nurse education has undergone a process of diversification towards advanced and specialized credentials. Medical-surgical nurses can manage five to seven patients, plus the ones they have admitted and discharged throughout the day.
The roles include:
The role of the Registered Nurse (RN) is to provide health care to individuals, families, and communities. They provide services designed to promote health, prevent illness, and achieve optimal recovery from or adaptation to health problems.
Scope of Nursing 2017: Why to Attend???
It will provide exposure to the on-going researches in Nursing. It will also provide insight to the novel inventions and techniques. It is very beneficial for the student Nurses and fellowship owners because it provides knowledge in the field. It also gives opportunities to the companies to showcase their products and have face to face meetings with scientists increasing their business opportunities. It also gives companies to know about their market competitors. There may be a whole host of other reasons why a nurse would prefer to remain home rather than attending a conference. Despite the plentiful excuses (the top two being cost and time), the benefits far outweigh the costs.
The Nursing Education Conference is a platform for nursing students, faculty, deans, researchers, and leaders to collaborate on topics affecting nursing education.
Take advantage of opportunities to learn about nursing education research from a variety of oral and poster presentations. Meet and network with nurses ranging from students to deans, faculty, and researchers. Take advantage of opportunities to collaborate with nurses from around the world. Attend prominent plenary sessions about relevant issues affecting nursing education.
Why Japan?
Requirements of nursing education in Japan are that candidates have completed twelve years of basic academic study and then three years of basic nursing education. Public health nurses and midwives require a minimum of one additional year of specialized study. After completing their studies, students must pass the national licensing examination and obtain a license from the Minister of Health, Labour, and Welfare in the case of nurses, or from the prefectural governor, for nurse assistants. Foreign nurses who wish to work in Japan are required to pass the licensing examination and obtain a Japanese nursing license.
To become a registered nurse in Japan, candidates must first obtain a high school degree and then either enroll in a nursing university for four years and earn a Bachelor of Science in Nursing (BSN); attend a junior nursing college for three years, earning an Associate of Science in Nursing (ASN); or study at a nursing training school for three years and obtain a diploma. The Ministry of Education, Culture, Sports, Science and Technology (MEXT) regulates the curriculum of the colleges and universities, while the Ministry of Health, Labour, and Welfare's Division of Nursing regulates nursing diploma programs. The two Ministries jointly establish core curriculum, though individual schools may vary on additional requirements. The basic course study must include courses on: anatomy, adult health, basic nursing, children's health, disease and recovery studies, gerontological nursing, health support and social systems, home care nursing theory, maternity, mental health, nursing integration, psychiatric nursing, scientific thinking and the understanding of humans, life and society. Both theoretical study and clinical practice are required.
Associations and Societies in Japan:
Japanese Nursing Association
International Council of Nurses
Japanese Nursing Association
International Confederation of Midwives.
Market growth of Nursing Research in the last and upcoming ten years:
The past three decades have witnessed a remarkable growth in Nursing development. In both Korea and the United States, nurse scientists are poised to address important issues related to the prevention and management of significant health care problems. The need for greater nursing development in the areas of self-management, genetics, and geriatrics, health promotion across the lifespan, technology, and mental health are briefly highlighted. Future research efforts will be enhanced by interdisciplinary collaboration and the creation of international nursing research centers. At the same time, we need to remain cognizant of the importance of mentoring future nursing education.
Non-Federal Research Associations and Foundations:
Oncology Nursing Society Foundation
American Nurses Foundation (ANF)
National Institute of Nursing Research (NINR)
Sigma Theta Tau International Honor Society of Nursing (STTI)
Universities in Japan:
Japan University of Health Sciences
Japanese Red Cross Akita College of Nursing
Japanese Red Cross College of Nursing
The Japanese Red Cross Hiroshima College of Nursing
Japanese Red Cross Hokkaido College of Nursing
The Japanese Red Cross Kyushu International College of Nursing
Japanese Red Cross Toyota College of Nursing
Nursing Universities Globally:
CMC Vellore College of Nursing
Duke University School of Nursing
Yale School of Nursing
School of Nursing, University of Washington
School of Nursing, University of Michigan
University of Edinburgh Nursing School
School of Nursing Johns Hopkins University
School of Nursing, Midwifery and Social Work at University of Manchester
School of Nursing, University of Pennsylvania
University of Toronto
Karolinska Institute
King's College London (KCL)
University of Manchester
Associations and Societies globally
Canadian Nurses Association
Indian Nursing Council
Japanese Nursing Association
Nursing Association of Nepal
Nursing Council of New Zealand
Nursing and Midwifery Council
New Zealand Nurses Organization
Philippine Nurses Association
Philippine Nurses Association of United Kingdom
Nursing & Midwifery Council United
Sigma Theta Tau International Honor Society of Nursing
Targeted Audience
Nurse Practitioners / Registered Nurses / Nurses, Nurse Associations, Physicians, Healthcare Scientists and Professors, Health Care Researchers, Doctors / Pediatricians / Surgeons/ /Hospital Nurse staff/Faculty of Nursing.
Nursing Specialisations
Asia Pacific:
Asia Pacific is expected to grow at the fastest CAGR of 6.2% over the forecast period owing to the increasing number of people diagnosed with chronic illnesses. Moreover, international care homes are also investing in countries such as India and Japan. For instance, in October 2013, BAYADA Home Health Care, a home healthcare giant based in the U.S. acquired 26% stake of India Home Health Care (IHHC).In India, 65% of the hospital visits can be managed at home. In May 2016, My Care Line raised USD 526,000 for its alliance with Hoffman World. The Spanish Company provides Hoffman methodology of rehabilitation. In India, Portia is one of the market leaders in the home healthcare industry. In September 2015, Portea raised USD 37.5 million for investing in better home healthcare facilities.
Competitive Market Share Insights:
Brook dale Senior Living, Inc.,
Sunrise Senior Living, Inc.,
Emeritus Corporation,
Atria Senior Living Group,
Extendicare, Inc.,
Gentiva Health Services, Inc.,
Senior Care Centers of America,
Kindred Healthcare, Inc.,
Genesis Healthcare Corp.,
Home Instead Senior Care, Inc.
http://www.grandviewresearch.com/industry-analysis/long-term-care-services-market
Statistics which shows Market growth:
The Long Term Care Market: Nursing Homes, Home Care, Hospice Care, and Assisted Living examines the most important segments of the long term care business, each of which provide medical care and/or assistance with the activities of daily living (ADLs) on an ongoing basis. Kalorama's 6th edition of this detailed report provides a size and projection for each market segment, including the following: overall U.S. long term care industry 2011–2020 (nursing home care, home care, hospice care, assisted living, total); U.S. nursing home industry, by sales, 2011–2020; leading companies in the U.S. nursing home industry, by sales and market shares, 2015; U.S. home health care industry, by sales, 2011-2020; leading companies in the U.S. home health care industry, by sales and market shares, 2015; U.S. opportunity for hospice care, by sales, 2011-2020; leading companies in the U.S. hospice market, by sales and market shares, 2015; U.S. opportunity for assisted living, by sales, 2011-2020; leading companies in the U.S. assisted living opportunity, by sales and market shares, 2015; long term care market sales by year, 2011, 2015, 2020; and long term care market revenues by major company, 2015 (nursing home care, home care, hospice care, assistedliving,total).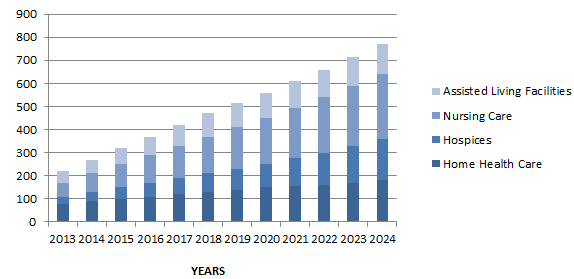 http://www.marketresearch.com/Kalorama-Information-v767/Term-Care-9820056/
Industry Report - Industry SWOT Analysis Chapter
The Nursing Facilities industry is in the mature stage of its life cycle. Over the 10 years to 2021, industry value added (IVA), which measures the industry's contribution to the US economy, is expected to grow at an average annual rate of 3.4%. This growth rate indicates that the industry will expand faster than GDP, which is projected to increase at an annualized rate of 2.2% over the same period. While demographic trends will continue to promote industry growth, nursing care facilities have been part of American communities since the early 20th century.
Industry Analysis & Industry Trends:
Over the five years to 2021, the industry is expected to continue expanding. Continued aging of the population, which is expected to accelerate over the five-year period, will drive industry growth.
Global Skilled Nursing Care Services Market, By Type of Connectivity-
Connected to hospital
Connected to assisted living community
Connected to both hospital and assisted living community
Freestanding
Major regions analyzed under this research are:
Europe
North America
Asia Pacific
Rest of the World
Australia
Bibilography:
http://www.grandviewresearch.com/industry-analysis/long-term-care-services-market
https://www.ibisworld.com/industry/default.aspx?indid=1594
http://www.nursingdegreeguide.org/articles/types_of_nurses/advanced_practice_nursing_apn/
https://blogs.utmb.edu/researchresources?s=nursing
http://nursingworld.org/research-toolkit/Research-Funding
http://www.transparencymarketresearch.com/skilled-nursing-care-services-market.html