Nursing Health Market Analysis and Reports | UAE Conference Series
Market Analysis - Nursing Health 2020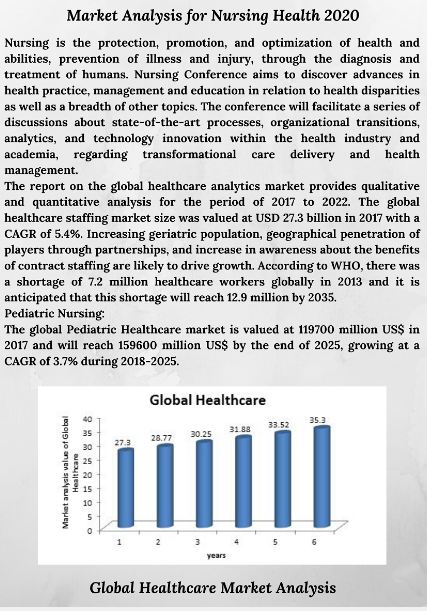 Nursing Health 2020
It takes immense pleasure to welcome you all for the upcoming "24th International Conference on Primary Health Care and Nursing (Nursing Health 2020) to be held during September 21-22, 2020 Johannesburg, South Africa. This two-day event will include expert keynote talks, symposium and plenary lectures, Poster sessions, Young Researchers Forum, Exhibitions, B2B Meetings, Scientific networking etc.
ME Conferences organized Nursing series conferences from past six years and continuing in the upcoming year in various regions of the world. In the past years, our conferences witnessed grand participation of renowned experts and professionals in Nursing, Emergency Medicine and Healthcare fields, business delegates and talented students across the globe ultimately making the event a hub for knowledge transfer facilitating business and academic collaborations. Conferences held every year mark the presence of delegates from over 25 countries.
Emergency Nursing, Surgical Nursing, Critical Care Nursing, Epidemiology, Midwifery & Pediatric Nursing, & Clinical Nursing. Nursing Health 2019 is especially a comprehensive program which involves talks, workshops, oral presentations, poster presentations, symposiums and other special sessions on all aspects of primary healthcare, first aid and on emergency and trauma nursing.
Target Audience:
Primary Healthcare Practitioners, Family Medicine Specialists, Primary Healthcare Researchers, Primary and Community care Specialists, Public Health Specialists, Internal Medicine Physicians, Primary Healthcare Associations and Societies, Business Entrepreneurs, Training Institutes, Software developing companies, Manufacturing Medical Devices Companies, Data Management Companies, Nurse practitioners, Liberal practice nurses, Primary care providers, and Other interested healthcare professionals.