Palliative Care Market Analysis and Reports | USA Conference Series
Market Analysis - Palliative Care 2017
Palliative Care Market - Global Industry Analysis, Size, Share, Growth, Trends, & Forecast 2015 - 2025
Market Scenario:
USA: The palliative care market in USA is mainly driven by competitive pricing from players and the ability to treat chronic and acute diseases. It was valued at $ 5,865 million in 2013 and is expected to reach $7,424 million by 2018, at a CAGR of 6%.
Europe: The advanced palliative care market in Europe is projected to reach USD 4,896.5 million by 2021, at a CAGR of 8.2% during the forecast period. In 2015, Germany accounted for the largest share of this regional market.
Middle East: Palliative Care in the United Arab Emirates has witnessed 9% value growth recorded in palliative care in 2015 was a better performance than the 7% value CAGR witnessed over the review period. New technology-driven product innovations launched in 2014 continued to support growth in palliative care in 2015.
Asia Pacific: The Asian active palliative care market is the second fastest growing segment of $1.8 billion palliative care market. The Asian active palliative care market value was $317 million in 2013 and is expected to be $413 million by 2018, at a CAGR of 5.60%.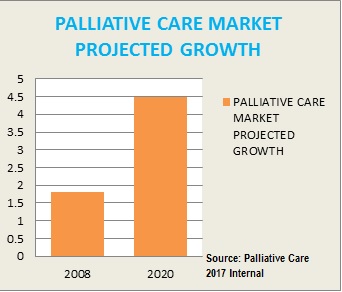 Segments:
Geographically, the hospice & palliative care centers market is segmented into North America, Europe, Asia Pacific, Latin America and Rest of the World. Hospice and palliative care centers are now recognized as a medical subspecialty by the American Board of Medical Specialties, as well as in Australia, Canada, England, New Zealand, and Ireland. Many European countries are also in the process of developing certification for palliative care. Most private health insurance companies include hospice care as a benefit. Some hospices are able to provide services without charge if a patient has limited or no financial resources. Hospice care expenses in U.S. are mostly paid by the Medicare and Medicaid services and the Department of Veterans Affairs.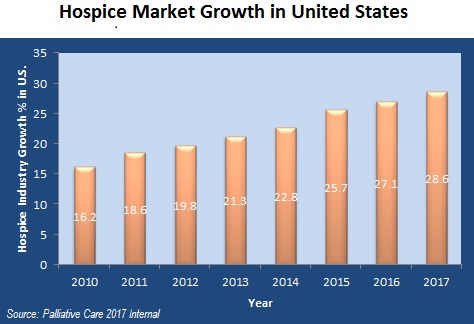 Key Players for hospice & palliative care centers : Vitas Healthcare Corporation, Skilled Healthcare Group Incorporated, Sunrise Senior Living, LLC , Kindred Healthcare Incorporated, Gentiva Health Services Incorporated, Home Instead Senior Care Incorporated, Amedisys Incorporated, Skilled Healthcare Group Incorporated, Genesis HealthCare Corporation, Senior Care Centers of America, and GGNSC Holdings LLC
Most of the private insurance plans, health maintenance organizations (HMOs) and other managed care organizations also provide the expenses for hospice care in their plans and policies which further propel the demand for hospice and palliative care. Such hospice and palliative centers are also being established in emerging nations such as India, Brazil, Indonesia, and China where there are affordability issues, and inadequate healthcare accessibility. The hospice and palliative services market is therefore establishing in these markets and will be in great demand with increasing awareness.
Type of Hospices & Palliative care services: Institutional care, nursing care, physician services, trained volunteer support, social services, spiritual support and counseling, home health aides, physical, and occupational, speech therapies, inpatient care, respite care, bereavement support and adult day care services. Based on the location, the hospice and palliative care centers market is analyzed for patient's residence, hospice inpatient facility and acute care hospital. Due to an aging U.S. population, and sustained federal reimbursement, the growth of hospice and palliative care sector is increasing rapidly. Companies are also following marketing strategies for converting their companies into profit making organizations.
Palliative care improves health care quality in three significant ways:
Effectively relieves physical symptoms and emotional suffering
Strengthens patient-family-physician communication and decision making
Ensures well-coordinated care across health care settings
Statistics of Physicians, Researchers and Academicians working on Palliative Care Research
In total, 982 responses, including 295 from palliative care physicians, 125 from nurses, and 120 from chaplains, were received from 89 countries. Mean age was 49.8 years (standard deviation, 10.9), 68% were women, and 63% were Christian. 56% reported their work as "mainly clinical," and less than 2.8% stated that no further research was needed. Integrating qualitative and quantitative data demonstrated three priority areas for research: Screening and assessment, Development and assessment of spiritual care interventions and determining the effectiveness of spiritual care and Growth and evaluation of conversation models and overcoming barriers to spiritual care in staff attitudes.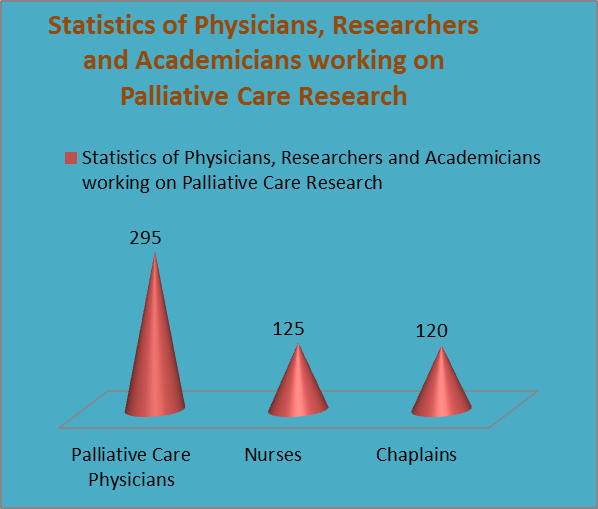 Key Palliative Care Associations:
American Academy of Hospice and Palliative Medicine, Centre to Advance Palliative Care, Family Caregiver Alliance, National Hospice and Palliative Care Organization, Hospice and Palliative Nurses Association, American Association for Geriatric Psychiatry, International Association for Hospice & Palliative Care, California Hospice and Palliative Care Association, Arizona Hospice and Palliative Care Organization, Canadian Hospice Palliative Care Association.
Key Institutions offering Palliative Care courses:
New York University, George Washington University, Boston College, Case Western Reserve University, Madonna University, The University of Tennessee-Knoxville, Andrews University, Kent State University at Kent, Daemen College, Ursuline College, The California State University, Johns Hopkins University, Cardiff University, Queen Mary University of London, University of Dundee, University of Birmingham, Lancaster University, Newcastle University
Palliative Care Association Conferences:
Hospice Program-Pennsylvania, AAHPM & HPNA Annual Assembly, International Aging and Disease Conference, Hospice and Palliative Care Association of New York State annual meeting USA; American Geriatrics Society Annual Scientific Meeting, Australian Palliative Care Conference, World Congress of the European Association for Palliative Care, International conference on Public Health and Palliative Care, International Congress on Palliative Care, International Conference on Hospice and Palliative Care.
Conclusion:
The steady growth of palliative care has been primarily in response to the increasing number and needs of Americans living with serious and chronic illness. With this increasing growth of market the dissemination of knowledge could occur only through international meetings and conferences. 3rd International Conference on Hospice & Palliative Care during June 21-23 at Philadelphia, USA would address the recent advancements happening in this field with a series of key Note, Plenary sessions, Workshops, Symposiums and discussions represented by renowned speakers from more than 40 nations.