World Parasitology Market Analysis and Reports | USA Conference Series
Market Analysis - World Parasitology 2017
Parasitic diseases are primarily diseases of poverty. At serious risk are individuals, communities and countries least able to afford the costs of treatment or prevention. In turn, economic development projects which aim to increase income levels may lead to negative results because of increased transmission of parasitic diseases often results.
The global IVD infectious disease market was valued at over US$ 13 billion in 2014 and is expected to grow at a CAGR of 8.2% over the forecast period. Rising prevalence of infectious diseases, growing base of geriatric population, lower immunity levels, and rising awareness among people about communicable diseases are estimated to be high impact rendering drivers.
The global market for infectious disease diagnostic, vaccine and pharmaceutical products was US$ 59.2 billion in 2011 and US$ 66.4 billion in 2012. Market growth looks promising, the overall market value for 2017 is projected to be US$ 96.8 billion after increasing at a compound annual growth rate (CAGR) of 7.8%.
Conference Highlights:
Field Parasitology
Medical Protozology
Medical Helminthology
Parasitic Zoonoses
Medical Entomology
Agriculture and Veterinary Parasitology
Experimental Immunoparasitology
Structural Parasitology
Molecular and Biochemical Parasitology
Tropical Diseases
Wildlife and Fisheries Parasitology
Vector-borne disease
Public Health Parasitology
Diagnostic Parasitology
Parasitic Diseases: Control
Ecological and Systematic Parasitology
Parasitic infections affect millions of people every year:
More than 300,000 persons living are infected with Trypanosoma cruzi, the cause of Chagas disease.
At least 1,000 people are hospitalized with neurocysticercosis every year.
Each year at least 70 people, most of them children, are blinded by the parasite that causes Toxocariasis.
More than 60 million persons are chronically infected with Toxoplasma gondii.
Each year 1.1 million people are newly infected with Trichomonas.
WHO estimates that about 655,000 people die from malaria every year, though a recent systematic analysis suggested the true annual mortality is closer to 1.24 million (Murray et al., 2012). Inexpensive oral drugs—chloroquine and sulfadoxine-pyrimethamine-were once common treatment for malaria, but resistance to these treatments is widespread (WHO, 2012c). Since 2001, the WHO has recommended treating malaria with artemisinin combination therapies (WWARN, 2012c). The use of artemisinin combination drugs as first-line therapy is essential to malaria control. As of 2006, however, there is evidence of artemisinin resistance in Southeast Asia (WWARN, 2012c).
Veterinary parasitology laboratory market:
In 2015, North America dominated the veterinary reference laboratory market followed by Europe, Asia-pacific, and Rest of the World. Increasing demand for animal-derived food products, rising companion animal healthcare expenditure, growing number of veterinary practitioners and their income levels, and rising awareness about zoonotic diseases are factors driving the growth of this market. On the other hand, the Asia-Pacific (APAC) region is expected to witness the highest growth rate during the forecast period. This can be mainly attributed to the growing livestock population, increasing pet adoption, rising awareness about animal health, rising demand of animal derived products, and growing per capita animal health expenditure in this region.
The global veterinary parasitology laboratory market is estimated to grow at a CAGR of 9.8% from 2016 to 2021 to reach USD 2.76 Billion by 2021. Factors such as growing demand for pet insurance and rising animal health expenditure, increasing demand for animal-derived food products, growth in the number of veterinary practitioners and their income levels in developed economies, and increasing incidence of zoonotic diseases are the major factors driving the growth of the global market.
Hospitals Statistics in USA working on Parasitology
Total Number of All U.S. Registered Hospitals

5,723

Number of U.S. Community Hospitals

4,999

Number of Nongovernment Not-for-Profit Community Hospitals

2,894

Number of Investor-Owned (For-Profit)
Community Hospitals

1,068

Number of State and Local Government Community Hospitals

1,037

Number of Federal Government Hospitals

211

Number of Nonfederal Psychiatric Hospitals

413

Number of Nonfederal Long Term Care Hospitals

89

Number of Hospital Units of Institutions
(Prison Hospitals, College Infirmaries, Etc.)

11

Total Staffed Beds in All U.S. Registered * Hospitals

920,829

Staffed Beds in Community** Hospitals

800,566

Total Admissions in All U.S. Registered * Hospitals

36,156,245

Admissions in Community** Hospitals

34,422,071

Total Expenses for All U.S. Registered * Hospitals

$829,665,386,000

Expenses for Community** Hospitals

$756,916,757,000

Number of Rural Community** Hospitals

1,980

Number of Urban Community** Hospitals

3,019

Number of Community Hospitals in a System ***

3,100

Number of Community Hospitals in a Network ****

1,508
*Registered hospitals are the hospitals that meet AHA's criteria for registration as a hospital facility.
**Communityhospitals are defined as all nonfederal, short-term general, and other special hospitals. Other special hospitals include obstetrics and gynecology; eye, ear, nose, and throat; rehabilitation; orthopedic; and other individually described specialty services. Community hospitals include academic medical centers or other teaching hospitals if they are nonfederal short-term hospitals. Excluded are hospitals not accessible by the general public, such as prison hospitals or college infirmaries.
***System is defined by AHA as either a multihospital or a diversified single hospital system. A multihospital system is two or more hospitals owned, leased, sponsored, or contract managed by a central organization. Single, freestanding hospitals may be categorized as a system by bringing into membership three or more, and at least 25 percent, of their owned or leased non-hospital preacute or postacute health care organizations. System affiliation does not preclude network participation.
**** Network is a group of hospitals, physicians, other providers, insurers and/or community agencies that work together to coordinate and deliver a broad spectrum of services to their community. Network participation does not preclude system affiliation.
Major Worldwide Hospitals Working on Parasitology
Young Animal Hospital
Mayo Clinic
Carter County Animal Hospital
Lakewood Animal Hospital
Wignall Animal Hospital
Crouse Hospital
Animal Hospital of Clemons
Burnsville Parkway Animal Hospital
Oak Knoll Animal Hospital
Stiern Southwest Veterinary Hospital
Hiltop Animal Hospital
The Johns Hopkins Hospital
Lehigh Valley Hospital
MedStar Washington (D.C.) Hospital Center
Major Parasitology Associations in & around Chicago, USA
American Society of Parasitology
American Society of Tropical Medicine & Hygiene
American Association of Veterinary Parasitologists
World Federation of Parasitologists
World Association for the Advancement of Veterinary Parasitology
No More Malaria
Southwestern Association of Parasitology
Amercian Society of Animal Science
American Public Health Association (APHA)
American Board of Pathologists
Infectious Diseases Society of America
Major Woldwide Parasitology Associations
American Association of Veterinary Parasitology
Australian Veterinary Association
Association of RoumanianParasitologists
British Veterinary Association
British Society For Parasitology
Chinese Society of Parasitology
Danish Society for Parasitology
German Society for Parasitology
Hungarian Society Parasitologists
Irish Society for Parasitology
Japanese Society of Parasitology
Japanese Society of Tropical Medicine
Korean Society for Parasitology
Malaysian Society of Parasitology and Tropical Medicine
New England Association of Parasitologists
NetVet Veterinary and Animal Science Organizations
Parasitological Society of Southern Africa
Russian Society of Nematologists
Royal Society of Tropical Medicine and Hygiene (RSTMH)
Serbian Society of Parasitologists
Scandinavian-Baltic Society for Parasitologists
Swiss Society of Tropical Medicine and Parasitology
The European Scientific Counsel for Companion Animal Parasites
The Japanese Society of Parasitology
Major Pharmaceutical Companies/Labs working on Parasitic infections
In USA
Abbott Laboratories
Ariad Pharmaceuticals
AstellasPharma US, Inc.
Bristol-Myers Squibb
Baxter International Worldwide
Cubist Pharmaceuticals, Inc.
Eli Lilly
Merck & Co.
Mylan Laboratories
Pfizer Inc
World Wide
Bayer HealthCare
Dainippon Sumitomo Pharma
Elder Pharmaceuticals
Ego Pharmaceuticals
Ferring Pharmaceuticals
Fresenius Medical Care
GlaxoSmithKline
Gilead Sciences
Hikma Pharmaceuticals
H. Lundbeck
Janssen Pharmaceutica
Kyowa Hakko
Lepetit Pharmaceuticals
Panacea Biotec Ltd
Sanofi-Aventis
Salix Pharmaceuticals
Valeant Pharmaceuticals
Market Growth of Parasitic Drugs Manufacturers Worldwide
Universities Associated with Parasitology Research
In USA
Arizona State University
Harvard University
Keele University
Louisiana State University Health Sciences Center
Michigan State University
New York University
Shandong University
The University of Illinois
Texas A&M University
Tulane University
World Wide
Aga Khan University
Moscow State University
McGill University
University of Florida
University of Minnesota Worldwide
University Copenhagen
University Otago
University Queensland
University Leiden
University Melbourne
University Alberta
University Leeds
University Kiel
University Leipzig
University of Toronto
Fund Allotment to Parasitology Research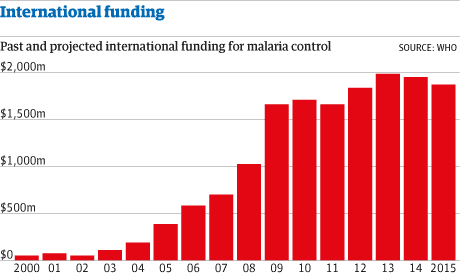 Prevention and Control of Parasitic Diseases
With strong public health programs, political will, financial backing, proper sanitation, mass drug administration and insect control certain human parasitic diseases can be controlled and even eliminated. For eg, in the US mosquito abatement programs after World War II almost eliminated malaria from the country, and hookworm elimination programs in the early 20th century significantly reduced hookworm infections in the South. These efforts had profound effects on the local economy, health and wellbeing. However, for a variety of reasons (political, financial, ecological and biological) it is difficult to control or eliminate certain parasitic pathogens from a region, hence there is need for new cost effective therapies for human parasitic disease.