Pediatric Cardiology Market Analysis and Reports | USA Conference Series
Market Analysis - Pediatric Cardiology 2017
Importance & Scope:
Pediatric Cardiologists & Pulmonologists care for patients with congenital or acquired cardiac and cardiovascular abnormalities. The scope of Pediatric Cardiology practice is extensive. Pediatric Cardiologists & Pulmonologists evaluate and care for foetuses, neonates, infants, children, and adolescents. Special areas of clinical and academic interest include: Intensive Cardiac Care, Cardiac Catheterization and Intervention, Electrophysiology, Heart MRI, Fetal Pediatric Cardiology, Heart Anatomy, Exercise Physiology, Preventive Pediatric Cardiology, Patent Ductus Arteriosus, Supraventricular Tachycardia, Cardiac Failure & Transplantation, Acute & Chronic Bronchitis, Pediatrics Cystic Fibrosis, Pediatrics Tuberculosis, Cardiorespiratory Disorders, Upper Airway Abnormalities, Child Interstitial Lung Disease (ChILD), Chronic and Recurrent Respiratory Infections, Congenital Abnormalities, Pediatrics Chronic Obstructive Lung Diseases and Pulmonary Hypertension.
Congenital heart disease (CHD) is the type of heart disease that a baby is born with. In reality, it is a defect, or abnormality of the heart or blood vessels near the heart, and not a disease, so many people use the term "congenital heart defect". The majority of children born today with CHD will survive and with proper treatment be able to lead a normal or near-normal life. Some kinds of CHD are mild and may not be diagnosed in infancy. Heart Murmurs is also very common disorder soon after birth.
With the international Pediatric cardiology Congress, we will expect the expert gathering from Universe so that new idea or new research will come with discussion at the conference and that will be fruitful to children suffering from cardiac & lungs diseases.
Why Chicago (Illinois)?
Chicago is the largest city in the US state of Illinois. With nearly 2.7 million residents, it is the most populous city in the Midwestern United States and the third most populous in the USA, after New York City and Los Angeles. Its metropolitan area, sometimes called "Chicago land," is the 27th most populous urban agglomeration in the world, the largest in the Great Lakes Megalopolis, and the third largest in the United States, home to an estimated 9.8 million people spread across the US states of Illinois, Wisconsin, and Indiana. Chicago is the county seat of Cook County, the second most populous county in the United States, after Los Angeles County, California.
Funds analysis towards Pediatric cardiology and pediatrics research: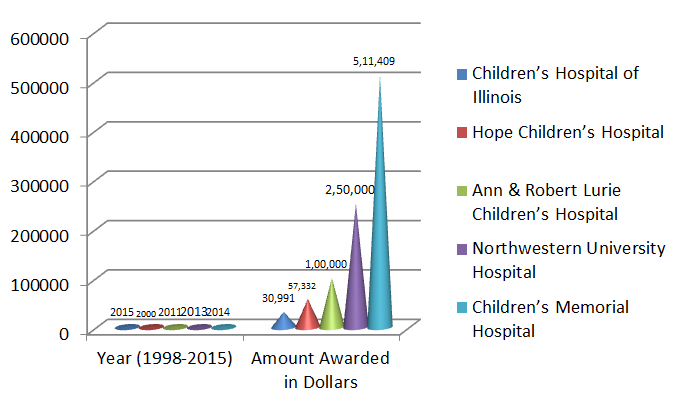 Associations & Society Associated with Pediatric Cardiology in Chicago:
American Academy of Pediatrics
Southwest Medical Association
American Medical Group Association
Hektoen Institute
International Society for Heart & Lung Transplantation
Associations & Society Associated with Pediatric Cardiology in USA:
Pediatric Cardiology Associates of WNY
American Heart Association
American Society for Echocardiography Conferences
American Association of Heart Failure Nurses (AAHFN)
American Society of Nuclear Cardiology (ASNC)
Northeast Pediatric Cardiology Nurse Association
Pediatric Cardiology Medical Associates of Southern California
Children's Cardiology Associates, Texas
American Society of Preventive Cardiology
American Society of Echocardiography (ASE)
Alliance of Cardiovascular Professionals (ACVP)
Society of Invasive Cardiovascular Professionals (SICP)
Cardiovascular Credentialing International (CCI)
Associations & Society Associated with Pediatric Cardiology Worldwide:
Canadian Association of Interventional Cardiology (CAIC)
Pediatric Cardiology Associates
The Pediatric Cardiac Intensive Care Society
The Association for European Paediatric and Congenital Cardiology
European Society of Cardiology
Pediatric Cardiology Medical Associate
International Pediatric Association
The World Federation of Associations of Pediatric Surgeons
International Pediatric Association Zurich
American Academy of Pediatrics
Pediatric Congenital Heart Association
Pediatrix Cardiology Associates of New Mexico
Universities Associated with Pediatric Cardiology in Chicago:
Loyola University Chicago Stritch School of Medicine
Northwestern University Feinberg School of Medicine
Rosalind Franklin University - Chicago Medical School
Rush Medical College
Southern Illinois University School of Medicine
University of Chicago Pritzker School of Medicine
University of Illinois College of Medicine
Universities Associated with Pediatric Cardiology in USA:
University of Alabama
Midwestern University
University of Southern California
Stanford University
Western University of Health Sciences
Emory University
Yale University
University of Pennsylvania
Columbia University
Duke University
University of Texas
Brown University
University of Nevada
Touro University Nevada
Kaplan College
Universities Associated with Pediatric Cardiology Worldwide:
University of Alabama School of Medicine
University of Arizona College of Medicine
University of Oxford
University of Toronto
Monash University
The University of Western Australia
The University of Melbourne
The University of Tokyo
Yonsei University
University of Tsukuba
University of Calgary
California Northstate University College of Medicine
Stanford University School of Medicine
Universita Cattolica del Sacro Cuore
La Sapienza University
Hospitals Associated with Pediatric Cardiology in Chicago:
Ann & Robert H. Lurie Children's Hospital of Chicago
Advocate Children's Hospital-Oak Lawn
Lurie Children's Hospital
Children's Memorial Hospital
Loyola Medicine
Hospitals Associated with Pediatric Cardiology in USA:
Cincinnati Children's Hospital Medical Center
Children's Hospital of Philadelphia
Children's Hospital of Wisconsin, Milwaukee
Children's Hospital Colorado, Aurora
Children's Hospital of Pittsburgh of UPMC
Texas Children's Hospital, Houston
Mott Children's Hospital
Nationwide Children's Hospital, Columbus, Ohio
Ann & Robert H. Lurie Children's Hospital of Chicago
Boston Children's Hospital
Summerlin Hospital Medical Center
Children's Hospital of Nevada
Kindred Hospital Chicago-Sahara
Sunrise Children's Hospital
Hospitals Associated with Pediatric Cardiology Worldwide:
USA Children's & Women's Hospital
Phoenix Children's Hospital Foundation
UC Davis Children's Hospital
Shriners Hospitals for Children
University of Iowa Children's Hospital
St. Louis Children's Hospital
Royal Children's Hospital, Parkville
Children's Hospital of Western Ontario
Alder Hey Children's Hospital - Liverpool
Centennial Hills Hospital
Valley Hospital Medical Center
North Vista Hospital
South Lyon Medical Center
Horizon Specialty Hospital
Industries Associated with Pediatric Cardiology in Chicago:
Abbott Laboratories (North Chicago)
Abbvie (Waukegan)
Astellas Pharmaceuticals (Northbrook)
Baxter International (Deerfield)
Hospira (Lake Forest)
Marathon Pharmaceuticals (Chicago)
Takeda Pharmaceuticals (Deerfield)
Caremark Rx (Northbrook)
Catamaran Corporation (Lisle)
Walgreens (Deerfield)
Industries Associated with Pediatric Cardiology in USA:
Charles River Laboratories
Spectrum Pharmaceuticals
PDL BioPharma
Sierra Sciences
Boehringer Ingelheim
Sanofi Aventis / Pasteur
MDS PharmaServices
GlaxoSmithKline
PharmaResearch
Roxanne Laboratories
Industries Associated with Pediatric Cardiology Worldwide:
MEDNAX, Inc
AstraZeneca
Sanofi
Boehringer Ingelheim
Roche
Bristol-Myers Squibb
United Therapeutics
Astellas
Actelion
Merck & Co.
Takeda
Otsuka
Gilead Sciences
Johnson & Johnson
Estimated market growth of Pediatric Cardiology:
The North American interventional cardiology devices market is expected to reach $5,947.5 million by 2018. Global Interventional Cardiology market is estimated to reach US $22.2 billion by 2016. Global Interventional Cardiac Devices Industry market is worth US $20.6 billion by 2016, growing 9.2% for the analysis period 2012-2018 respectively.
The report studies the global pediatric interventional cardiology market over the forecast period of 2013 to 2018. This market is valued at an estimated $894.7 million in 2013 and is poised to grow at a CAGR of 9.0% from 2013 to 2018.
Products Manufactured by the industry related Pediatric Cardiology Research and its Market Value:
For children with in-hospital pVT/VF, lidocaine use was independently associated with improved ROSC and 24-h survival. Amiodarone use was not associated with superior rates of ROSC, survival at 24 h. Neither drug was associated with survival to hospital discharge. These are some more popularly used drug for cardiac diseases.
Fund Allotment (in Million Dollars) to Pediatric Cardiology Research:
The Children's Heart Foundation (CHF) represents approximately two million American children and adults as well as 65 million children and adults worldwide who are afflicted with Congenital Heart Disease (CHD). Each year over one million babies around the world, including 40,000 in the United States, are born with a congenital heart defect (March of Dimes). CHD is the leading cause of death from birth defects. Although mortality rates have been improving, CHD contributed to 5810 deaths in the US in 2004 (NCHS). Clearly, advocacy for more research is vitally needed.
These are the find allotted by NIH in various years to cardiology research department. The Children's Heart Foundation has over $6.3 million to 58 basic science, translational and clinical CHD research projects at leading research centers across the US and Canada. The Israeli Ministry for Regional Cooperation has committed NIS 1 million (some $260,000) to supporting life-saving heart surgery for 100 Iraqi, Palestinian and Jordanian children in the coming year.
Statistics of Physicians, Researchers and Academicians working on Pediatric Cardiology Research:
The main part of the world associated with Pediatric Cardiology field are Directors, Heads, Deans, Professors, Scientists, Researchers, Doctors, Students and Writers of Pediatric Cardiology Department as well as Founders and Employees of the related companies, Associations members, related organizations, laboratories members etc.
3rd Annual Summit on Pediatric Cardiology & Pulmonology will be hosted at Chicago, Illinois, USA during September 25-27, 2017, with the innovative theme "Planning for future success to detect, prevent or treat Neonates Heart & Lung Disorders". This conference mainly focuses on spreading the awareness about challenges in this field and how to prevent the cardiac& lungs diseases. We are awaiting a great scientific faculty from USA, Europe as well as other continents and expect a highly interesting scientific as well as a representative event.