Petroleum Engineering Market Analysis and Reports | Italy Conference Series
Market Analysis - Petroleum Engineering 2018
Theme: Recent Advancements & Upcoming Challenges in Petroleum Industry.
Summary:
Petroleum Engineering 2018 is the platform to gain or share the knowledge in the new technological developments in the field of chemical engineering. This conference brings together professors, researchers, scientists and practitioners in all the areas of Petroleum Engineering, oil and gas engineering services which provides an international forum for the spreading of approved research results, new ideas and practical developments. We are honoured to invite you all to attend and register for the "8th International Conference on Petroleum Engineering (Petroleum Engineering 2017)".The organizing committee is gearing up for an exciting and informative conference program including plenary lectures, symposia, workshops on a variety of topics, poster presentations and various programs for participants from all over the world. We invite you to join us at the Petroleum Engineering 2018, where you will be sure to have a meaningful experience with scholars from around the world. All members of the Petroleum Engineering 2017 organizing committee look forward to meeting you in Rome, Italy.
For more details please visit: http://petroleumengineering.conferenceseries.com/
Importance & Scope:
Petroleum engineering is a field of engineering concerned with the activities related to the production of hydrocarbons, which can be either crude oil or natural gas. Exploration and Production are deemed to fall within the upstream sector of the oil and gas industry. Exploration, by earth scientists, and petroleum engineering are the oil and gas industry's two main subsurface disciplines, which focus on maximizing economic recovery of hydrocarbons from subsurface reservoirs. Petroleum geology and geophysics focus on provision of a static description of the hydrocarbon reservoir rock, while petroleum engineering focuses on estimation of the recoverable volume of this resource using a detailed understanding of the physical behaviour of oil, water and gas within porous rock at very high pressure.
The combined efforts of geologists and petroleum engineers throughout the life of a hydrocarbon accumulation determine the way in which a reservoir is developed and depleted, and usually they have the highest impact on field economics. Petroleum engineering requires a good knowledge of many other related disciplines, such as geophysics, petroleum geology, formation evaluation (well logging), drilling, economics, reservoir simulation, reservoir engineering, well engineering, artificial lift systems, completions and oil and gas facilities engineering.
Recruitment to the industry has historically been from the disciplines of physics, chemical engineering and mining engineering. Subsequent development training has usually been done within oil companies.
Why Rome ?
Rome has the status of a global city. Rome ranked in 2014 as the 14th most visited city in the world, 3rd most visited in the European Union, and the most popular tourist attraction in Italy. Its historic centre is listed by UNESCO as a World Heritage Site. Monuments and museums such as the Vatican Museums and the Colosseum are among the world's most visited tourist destinations with both locations receiving millions of tourists a year. Rome hosted the 1960 Summer Olympics and is the seat of United Nations' Food and Agriculture Organization (FAO).
Rome is a major EU and international financial, cultural and a business centre. With a 2005 GDP of €94.376 billion (US$121.5 billion), the city produces 6.7% of the national GDP (more than any other single city in Italy), and its unemployment rate, lowered from 11.1% to 6.5% between 2001 and 2005, is now one of the lowest rates of all the European Union capital cities. Rome grows +4.4% annually and continues to grow at a higher rate in comparison to any other city in the rest of the country. This means that were Rome a country, it would be the world's 52nd richest country by GDP, near to the size to that of Egypt. Rome also had a 2003 GDP per capita of €29,153 (US$ 37,412), which was second in Italy, (after Milan), and is more than 134.1% of the EU average GDP per capita. Also, Rome hosts the head offices of the vast majority of the major Italian companies and corporations, as well as the headquarters of 3 of the world's 100 largest companies: Enel, Eni, and Telecom Italia.
Why to attend?
Petroleum engineering conference aims at multi-disciplined audience with diverse commercial, technical, corporate, operations, planning sectors of the upstream oil and gas engineering services. Meet Your Target Market with members from around the world focused on learning and sharing about Upstream Scientists/Engineers; this is your single best opportunity to reach the largest assemblage of participants from the global Oil and gas engineering industry. Conduct demonstrations, distribute information, meet with current and potential customers, make a splash with a new product line, and receive name recognition at this 3-day event. World-renowned speakers, the most recent techniques, tactics, and the newest breakthroughs in the upstream sector of oil and gas engineering are hallmarks of this conference.
Target Audience:
Petroleum Engineers
Scientists, Researchers & Technical Staff from petroleum engineering field.
Professors, Students & Delegates from petroleum engineering Department
The people who are specialized with geologists, geophysicists, reservoir engineers, production engineers, Chemical Engineers.
Production engineers are the Potential Exhibitors for the Respective Conferences.
The American Institute of Mining, Metallurgical, and Petroleum Engineers, Geologists associations, US Oil and Gas Association, The Society of Petroleum Engineer
Major petroleum engineering Research Associations around the Globe:
· American Association of Petroleum Geologists
· American Institute of Mining, Metallurgical, and Petroleum Engineers
· Canadian Association of Oilwell Drilling Contractors
· Canadian Association Of Petroleum Producers
· Pennsylvania Petroleum Association
· American Fuel and Petrochemical Manufacturer
· Society of Petroleum Engineers
· Independent Petroleum Association of America
· American Association of Petroleum Geologists
· The Petroleum Marketers Association of America
· US Oil and Gas Association
· Petroleum Motor Transport Association
· The Petroleum Marketers Association of America
· Japanese Association for Petroleum Technology
· Independent Petroleum Association of America
Major Oil & Gas Companies around the Globe:
· Sinopec
· China National Petroleum Corp. (Petrochina)
· Royal Dutch Shell
· ExxonMobil
· Saudi Arabian Oil Company (Aramco)
· BP
· Total S.A.
· Kuwait Petroleum Corp
· Chevron Corporation
· OJSC Lukoil
In total, percentage of attendees from various sectors as follows
· Industry 50%
· Academia 40%
· Others 10%
Glance at a market of petroleum industry :
Global oil and gas production has increased over the last five years, from 81.15 Million barrels per day in 2009, to 88.67 Million barrels per day b 2014. This has led to the supply for oil & gas exceeding its demand which has ultimately caused a decline in the prices of crude oil during the last six months of 2014. Consequently, the oil and gas operators have reduced their capital expenditure outlook for 2015 citing concerns over low profit margins. This reduction has mainly impacted the upstream exploration and production (E&P) activities. However, the declining production from onshore oilfields in countries such as Russia, the U.K. and India among others has resulted in higher demand for exploring new offshore reserves. Drill pipe which are used to support drilling and exploration activities are expected to grow at a CAGR of 3.8% to reach USD 1,133.8 Million by 2020 from USD 940.62 Million in 2015. In this report, 2014 is considered as the base year and 2020 is considered as the forecast year. The report covers the grade of drill pipe as well as the application segments.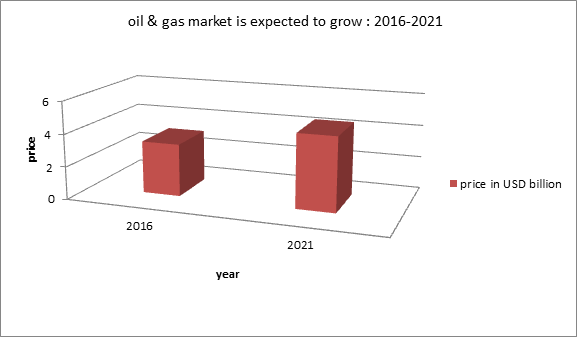 The oil & gas market is expected to grow from an estimated USD 3.22 Billion in 2016 to USD 4.54 Billion by 2021, registering a CAGR of 6.9% from 2016 to 2021. The global market is witnessing significant growth on account of the decline in natural gas prices, increase in electricity demand, and low emission levels of the gas & oil compared to other fossil fuels. Increasing investments in distributed power generation are also expected to drive the demand for oil & gas across the globe.