Pharma Europe Market Analysis and Reports | Spain Conference Series
Market Analysis - Pharma Europe 2017
The organizing committee invites all the participants across the globe to attend 9th Annual European Pharma Congress during June 26-28, 2017 in Madrid, Spain which includes prompt keynote presentations, Oral talks, Poster presentations and Exhibitions. Pharma Europe-2017 is a specially designed cluster Pharma conference. The main theme of this Pharma conferences is "Latest Updates of European Pharmaceutical Policies: The Impact of developing and Marketing Drugs, its Registration & Approval" which covers a wide range of critically important sessions.
The Pharmaceutical Industry: A Key Asset to The European Economy
As driving medical progress by researching, developing and bringing new medicines that improve health and quality of life for patients around the world, the research-based pharmaceutical industry is a key asset of the European economy. It is one of Europe's top performing high technology sectors.
Pharmaceutical Industry Research and Development in Europe.
All new medicines introduced into the market are the result of lengthy, costly and risky research and development (R&D) conducted by pharmaceutical companies: Certain key factors that decide the market value of a pharmaceutical product are:
■ by the time a medicinal product reaches the market, an average of 12-13 years will have elapsed since the first synthesis of the new active substance;
■ The cost of researching and developing a new chemical or biological entity was estimated at € 1,172 million ($ 1,506 million in year 2011 dollars) in 2012 (Mestre-ferrandiz et al, office of Health Economics, December 2012); ■ on average, only one to two of every 10,000 substances synthesised in laboratories will successfully pass all stages of development required to become a marketable medicine.
Hence the value of the product is set accordingly keeping in mind all such factors
Phases of the Research and Development Process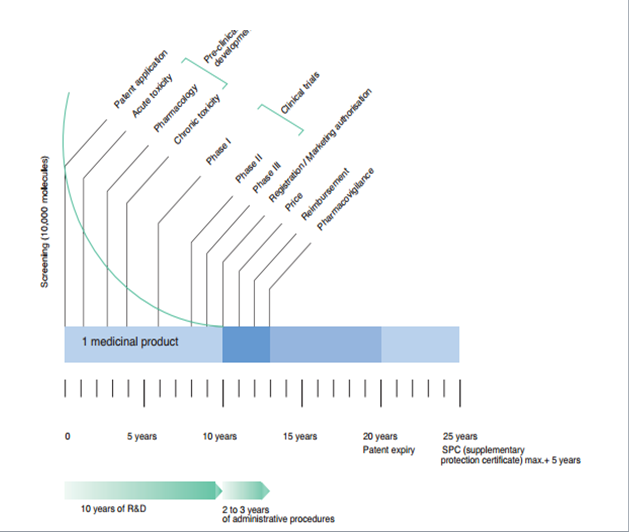 PHARMACEUTICAL INDUSTRY RESEARCH AND DEVELOPMENT IN EUROPE
Thanks to advances in science and technology, the research–based pharmaceutical industry is entering an exciting new era in medicines development. Research methods are evolving and we have many promising prospects on the horizon – from the possibilities offered by personalised medicines, to the potential offered by harnessing the power of big data. The innovative pharmaceutical industry is driven by, and drives, medical progress. It aims to turn fundamental research into innovative treatments that are widely available and accessible to patients. Already, the industry has contributed to significant improvements in patient well–being. Today's European citizens can expect to live up to 30 years longer than they did a century ago. Some major steps in biopharmaceutical research, complimented by many smaller steps, have allowed for reductions in mortality, for instance from HIV/ AIDS–related causes and a number of cancers. High blood pressure and cardiovascular disease can be controlled with antihypertensive and cholesterol– lowering medicines; knee or hip replacements prevent patients from immobility; and some cancers can be controlled – or even cured – with the help of new targeted treatments. European citizens can expect not only to live longer, but to live better quality lives. Yet major hurdles remain, including Alzheimer's, Multiple Sclerosis, many cancers, and orphan diseases. According to EUROSTAT data, the pharmaceutical industry is the high technology sector with the highest added–value per person employed, significantly higher than the average value for high–tech and manufacturing industries. The pharmaceutical industry is also the sector with the highest ratio of R&D investment to net sales. According to the 2015 EU Industrial R&D Investment Scoreboard the pharmaceutical and biotechnology sector amounts to 18.2% of total business R&D expenditure worldwide. The value of pharmaceutical research based on the amount of research funding in different countries in Europe can be compared from the table below

IMPORTANCE OF PHARMACEUTICAL R&D
In 2012 the pharmaceutical industry invested more than € 30,000 million in R&D in Europe. A decade of strong uS market dominance led to a shift of economic and research activity towards the uS from 1995-2005. Additionally, Europe is now facing increasing competition from emerging economies: rapid growth in the market and research environments in countries such as brazil and china are contributing to the move of economic and research activities to non-European markets. The geographical balance of the pharmaceutical market – and ultimately the R&D base – is likely to shift gradually towards emerging economies
Pharmaceutical R&D Expenditure - Annual Growth Rate %
The world pharmaceutical market was worth an estimated € 655,222 million ($ 870,200 million) at ex-factory prices in 2013. The north american market (usa & canada) remained the world's largest market with a 41.0% share, well ahead of europe and japan.
Breakdown of the World Pharmaceutical Market – 2013 Sales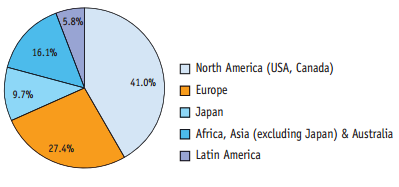 PRICE STRUCTURE
Distribution margins, which are generally fixed by governments, and vat rates differ significantly from country to country in Europe. On average, approximately 34% of the retail price of a medicine reverts not to the manufacturer, but rather to the distributors (pharmacists and wholesalers) and the state.
Breakdown of the Retail Price of A Medicine, 2012 (%)