Pharmaceutical Chemistry Market Analysis and Reports | UK Conference Series
Market Analysis - Pharmaceutical Chemistry 2020
While the global pharmaceutical market is forecast to grow steadily over the next five years, a number of common opportunities and challenges are evident across different markets. Initiatives are being taken to improve access to innovative products, but cost containment remains high on payers' agendas in all countries, and will contribute to a gradual slowing in annual growth rates over the five-year period.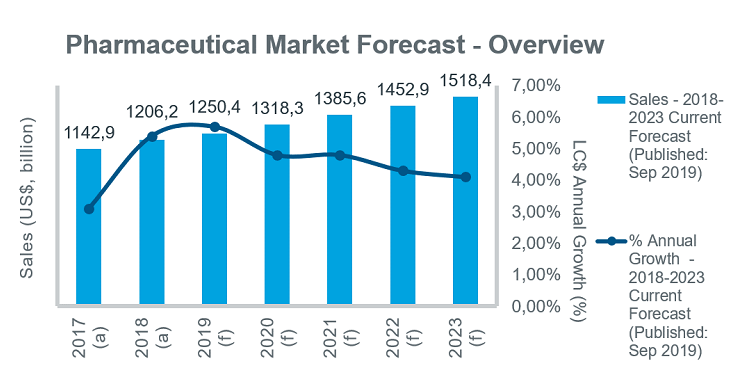 While growth will remain steady in the EU5 markets, key priorities for governments over the forecast period will be price control initiatives and measures to improve patient access. In Germany the launch of new drugs will drive market growth, with at least 30 launches expected in 2019. However, the use of early benefit assessments and unpredictable outcomes of price negotiations remain an issue for manufacturers of innovative drugs. The GSAV law, which came into effect in August 2019, covers a number of different topics, including: provisions for adjusting orphan drug prices; ensuring security of supply in discount contracts between companies and health insurance funds; and measures to increase uptake of biosimilars. France is also introducing measures to improve biosimilar uptake, aiming to achieve 80% penetration rates by 2022.
Growing emphasis will be put on disease prevention and the control of chronic diseases under recent and current policy initiatives, including the new health law adopted in July 2019, which targets a transformation of the healthcare system. In Spain, price controls as a means to curb pharmaceutical spend will be ramped up over the forecast period. In Italy, the long-awaited new pharmaceutical governance strategy (published in December 2018) outlines measures to address issues affecting the underfunded healthcare system and is expected to help contain drug costs while improving patient access to new drugs. In the UK steps have also been taken to expedite patient access to new medicines through initiatives such as the Accelerated Access Collaborative, and reforms to the Cancer Drug Fund. The new voluntary pricing system for branded medicines, effective since January 2019, also aims to accelerate and extend the uptake of new medicines.
Moves to improve access to new medicines in all markets will be increasingly linked with pricing/risk-sharing arrangements. With the uncertainty about Brexit continuing, associations representing the European and British Life Science Industry have warned about the challenges across a range of business areas.
ConferenceSeries LLC Ltd invites all the participants from all over the world to attend '15th World Conference on Pharmaceutical Chemistry' during November 23-24, 2020 in London, UK which includes prompt keynote presentations, Oral talks, Poster presentations, Workshops and Exhibitions.
Pharmaceutical Chemistry 2020 is a global overview the Theme: "New Tides in Pharma Industry". It is a pavement for Pharmaceutical and Chemistry experts and scientific professionals to explore the research challenges & current trends and unleash advanced strategies in the arena of Pharma and Chemistry research areas. Pharmaceutical Chemistry 2020 is a specially designed cluster conference and would lay a platform for the interaction among specialists, directors, professors, faculties, experts and research fellows around the world reputed research institutes, universities and companies, agencies, association & societies. It aims in accelerating the scientific discoveries in the field of Pharma and Chemistry to exchange information on their latest research progress. The organizing committee is gearing up for an exciting and informative event procuring plenary lectures, symposia, workshops on a variety of topics, poster presentations and various sessions for participants from all over the world. All the members of Pharmaceutical Chemistry 2020 organizing committee look forward to meet you at London, UK.