Nutraceuticals Market Analysis and Reports | USA Conference Series
Market Analysis - Nutraceuticals 2018
MARKET ANALYSIS
Globally there is a rapid growth for pharmaceuticals and nutraceuticals. Today, pharmaceuticals generate global revenues of $163 billion, making up about 20% of the pharmaceutical market. It's by far the fastest-growing part of the industry where the current annual growth rate is more than 8% and the growth is expected to continue at that rate for the foreseeable future.
The Global Nutraceutical Product Market Report, published by Variant Market Research, forecast that the global market is expected to reach $340 billion by 2024 from $195 billion in 2016; growing at a CAGR of 7.2% from 2016 to 2024. By geography, Asia-Pacific and Rest of the World are expected to grow at a CAGR of 7.6% and 7.7%, respectively, during the forecast period. The geographical classifications of the market comprise, North America, Europe, Asia-Pacific, and Rest of the world (RoW).The highest revenue was generated by North America in the year 2016 due to increased acceptance of nutraceutical product in New York, Chicago, San Francisco, among other states in US. The region had a market share of 39.4%, which was the highest market share in the global market. Market penetration for these products is higher in U.S. and Canada, owing to its several benefits such as low risk of cardiovascular problems and diabetes. The growth in the Nutraceutical market size has been primarily supplemented by a remarkable increase in the ageing population worldwide, along with growing consciousness of the health and wellness amongst the people across the globe. An increasing traction of internet across both the developed and developing countries has further supported the trend towards self-medication. This has provided an impetus to the global nutraceutical industry, which is experiencing an increasing shift towards the healthy food and beverages, visible across several nations.
Global Pharmaceutical Market Growth Rate Percentage:
Global Nutraceutical Market Growth Rate Percentage: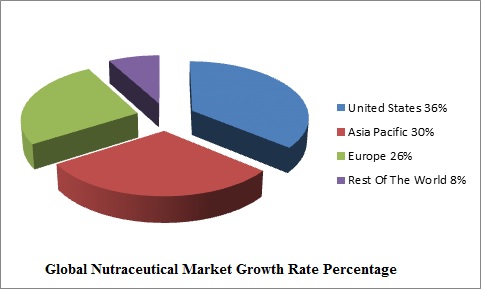 NUTRACEUTICALS 2018 invites professional chemists, researchers, professors, scientific communities, delegates, students, business professionals and executives from all over the world to attend the "21st International Conference on Food Chemistry and Nutraceuticals'' during Oct 31- Nov 01, 2018 in San Francisco, USA.
This scientific conference enables every speaker to gather all the novel innovations and technologies on Food Chemistry, Pharmaceuticals and Nutraceuticals. This conference could be a global platform for sharing and exploring new areas of research and development and also to the raising technologies in the field of Pharmaceuticals and Nutraceuticals". It provides a professional area to discuss, present and learn about Food Chemistry, Food Science, Food Safety, Hygiene, Food Processing , Processing Technology, Preservation Techniques, Packing Technologies, Pharmaceutics, Pharmaceutical Chemical Analysis, Pharmacoepidemiology, Immunopharmacology, Toxicology, Green Pharmacy, Nano Medicine, Drug Design And Drug Development, Clinical Research And Clinical Trials, Industrial Pharmacy, Pharmaceutical Marketing, Pharmaceutical Packaging And Logistics, Nutraceuticals, Nutrition, Dietary Supplements, Functional Foods, Multivitamin Supplements, Nutraceutical Bioactives, Herbal Medicine, Traditional Medicine, Nutrigenetics, Nutrigenomics, Pharmacognosy, Phytochemistry, Probiotics, Prebiotics, Nutricosmetics, Recent Trends In Natural Medicines And Nutraceutical Research.