Pharma Tech Market Analysis and Reports | Japan Conference Series
Market Analysis - Pharma Tech 2018
ConferenceSeries LLC is a renowned organization that organizes highly notable pharmaceutical conferencesand healthcare conferences throughout the globe. ConferenceSeries invites all the participants from all over the world to attend "2nd International Conference and Exhibition on Pharmaceutical Development and Technology" during May 11-12, 2018 in Osaka, Japan, which includes prompt keynote presentations, Oral talks, Poster presentations and Exhibitions.
Pharma Tech 2018 is a latest technological platform to aid efficient drug discovery and development. These platforms range from vast chemical libraries, ultra-high throughput screening and huge genetic databases in discovery, to predictive toxicology platforms and even deep-seated knowledge of particular therapeutic areas in development. New research platforms designed to help its teams of investigators focus on a set of key strategic initiatives that will help guide their multibillion-dollar drug development program to advance new medicines that can get ahead of a disease and prevent it from taking a toll.
Pharmaceutical technology is a collective term for technologies to develop candidate compounds that have either been discovered or created into commercial pharmaceutical products. These products are made by transforming chemical compounds with useful effects on the human body into high-quality dosage forms that can appropriately exhibit effects against disease. Pharmaceutical technologies are divided into the following three functions.
Process technology for researching synthetic methods to be used to manufacture candidate compounds efficiently and consistently in large amounts and with high quality. Formulation technology for investigating dosage forms, formulations, and packages based on absorption stability, and usability in consideration of the characteristics of candidate compounds, and then selecting and preparing the optimal administration form. Analytical and quality evaluation technology for establishing a variety of analytical and quality evaluation systems to properly and appropriately assure the quality of the pharmaceutical products.
Efficacy and safety are the primary requirements for any pharmaceutical product. However, it is becoming significantly more important to provide pharmaceutical products that can be more easily used by patients, healthcare professionals, and caregivers in order to respond to the rapid aging of society and the needs for advanced medical care. Examples of user-friendly pharmaceutical products include extended-release tablets, which reduce the frequency at which pharmaceuticals must be administrated, and orally disintegrating (OD) tablets, which can be taken without water. Meanwhile, examples of innovation for healthcare professionals include syringes that are prefilled with drug solutions to reduce the hassle of preparation and the risk of needle injuries, as well as IC tags for pharmaceutical products or packages that are helpful in preventing medical errors. Additionally, we are utilizing various formulation technologies to provide user-friendly pharmaceutical products adding new value. Such innovations on this front include package designs and tablets with the product name printed on them in order to prevent any misuse.
We are advancing the development of new synthetic processes based on the eco-friendly concept of "green chemistry," which is aimed at achieving global environmental sustainability through means such as preventing pollution and reducing consumption of materials and energy.
Why to attend???
With members from around the world focused on learning about innovations, latest technologies, different drug formulations for effective treatment and new drug moieties through pharmaceutical technology and its importance, this is your best opportunity to reach the largest assemblage of participants from the Clinical Research organizations, Pharmaceutical companies and technology related societies Conduct presentations, distribute information, meet with current and potential scientists, make a splash with new research developments, and receive name recognition at this 3-day event. World-renowned speakers, the most recent issues, approaches, and the novel trends in Pharmaceutical Technology are hallmarks of this conference
Major sessions included at this conference are Pre-formulation studies, Drug Formulation Procedures, Drug Product Manufacturing, Pharmaceutical Engineering, Pharmaceutical Manufacturing, Pharmaceutical Technology, Technologies in Drug Delivery, Types of Pharmaceutical Formulations, Regulatory Requirements for Pharmaceuticals, Thermodynamics, Pharmaceutical Management.
Branches of Pharmacy Includes:
Pharmaceutical Sciences
Pharmaceutics
Pharmacy Practice
Pharmaceutical Technology
Pharmaceutical Development
Pharmaceutical Marketing
Pharmaceutical Management
Drug Discovery
Drug Design
Drug Development
About Venue:
Japan is the second-largest individual pharmaceutical market in the world. It accounts for less than 10% of the total global pharmaceutical market. The country's pharma market is expected to grow annually by ~2.2%. Shionogi & Co's new pharmaceutical research facility is located in Toyonaka City in Osaka, Japan. Osaka is a large port city and commercial centre on the Japanese island of Honshu. Osaka is famous for modern architecture, nightlife and hearty street food. The 16th-century shogunate Osaka Castle, which has undergone several restorations, is its main historical landmark. It's surrounded by a moat and park with plum, peach and cherry-blossom trees. Sumiyoshi-taisha is among Japan's oldest Shinto shrines.
Target Audience:
Pharmaceutical, Biomedical and Biotechnology industries
Associations and societies related to Pharma & Biomedical field
Students and Professors from the academia of the various universities
Researchers, Scientists, Experts, Business delegates in the field of Pharmaceutical & Biomedical Sciences.
Societies/Industries/Universities Associated with Pharmaceutical Technology and Development:-
International Society of Pharmaceutical Compounding (ISPhC)
International Young Pharmacists' Group (YPG)
Parenteral Drug Association (PDA)
Regulatory Affairs Professionals Society (RAPS)
Society for Biomolecular Sciences (SBA)
Society for Cell Science (SFCS)
Al-Hayat Pharmaceuticals
Amgen
Elis Pharmaceuticals Limited
Alliance Global
Sanofi Aventis UAE
Genpharm
Ranbaxy Laboratories Limited
BioPharma
Hokkaido University
Waseda University
Nagoya University
Major Pharmaceutical Tchnology Societies Around The Globe
Controlled Release Society (CRS)
Institute of Pharmacy Management International (IPMI)
International Academy of Compounding Pharmacists (IACP)
International Association for Pharmaceutical Technology (APV)
International eHealth Association
International Federation of Pharmaceutical Manufacturers Associations (IFPMA)
International Federation of Pharmaceutical Wholesalers (IFPW)
International Pharmaceutical Excipients Council (IPEC)
International Pharmaceutical Federation (FIP)
International Pharmaceutical Students Federation (IPSF)
International Society for Medical Publication Professionals (ISMPP)
International Society of Oncology Pharmacy Practitioners (ISOPP)
International Society for Pharmaceutical Engineering (ISPE)
International Society for Pharmacoepidemiology (ISPE)
International Society for the History of Pharmacy (ISHP)
International Society for the Study of Xenobiotics (ISS
Major Pharmaceutical Technology Societies in Asia
Federation of Asian Pharmaceutical Associations (FAPA)
Asia Partnership Conference of Pharmaceutical Associations(APAC)
Target Audience:
Industry 50.3%
Academia 38.7%
Others 11%
Figure 1: Target Audience
Top Universities in Japan:
Tohoku University
University of Tokyo
Kyoto University
Osaka University
Tokyo Institute of Technology
Kyushu University
Hokkaido University
Nagoya University
Figure 2: Statistical Analysis of Universities
Market Value on Pharmaceutical Research:-
The global pharmaceutical contract manufacturing/contract research market is anticipated to reach USD 238.3 billionby 2025, according to a new report by Grand View Research, Inc. Impact on the volume of capacity that is required for production due to of increasing expression levels is anticipated to influence outsourcing industry. Increased cell densities as well as increase in expression of each cell has led to the steady decline in the volume requirement. The aforementioned fact provides the client with choices for in selection from several CMOs, which was not the fact earlier.
The focus of large pharmaceutical companies to strategically engage with a small number of preferred providers is a meaningful departure from the procurement-based outsourcing. This was one of the many approaches that the service industry had become accustomed to.
Expanding market for biosimilars and biobetters is anticipated to pronounce the demand for contract development and manufacturing support. Service providers that hold the potential of providing cost as well as quality advantages are set to make inroads and grow at tremendous pace in the forecast period.
However, as drug manufacturers are increasing the investments with respect to production capabilities. This may limit the potential growth of contract manufacturing services to traditional customers thereby hampering industrial growth.
Market Growth of Pharmaceutical Research:
Overall sales in the Pharmaceutical market amounted to $34.2 billion in 2007, and decreased slightly to $31.1 billion in 2009. By 2014, they are projected to reach $32.2 billion, for a 5-year compound annual growth rate (CAGR) of 0.7%.
The largest segment of the market, prescription drugs, was valued at $27.4 billion in 2008; this is expected to decrease to $26,3 billion in 2009, and to reach $27 billion in 2014, for a 5-year CAGR of 0.5%.The global excipients market was at $4.6 billion in 2010 and it is expected to reach at $4.9 billion in 2011. It is further anticipated to increase to $6.7 billion by 2016 at a compound annual growth rate (CAGR) of 6.5%.
Funds allotted to Pharmaceutical Research:-
Worldwide:
Pharmaceutical organizations have generally financed their inward R&D endeavours absolutely all alone by contributing 15% or a greater amount of their top line incomes to pay for these attempts. Likewise, keeping in mind the end goal to take advantage of R&D going ahead outside their organizations, pharmaceutical organizations has monetarily upheld outer R&D endeavours in manages little biotech organizations, inquire about foundations, and colleges. Indeed, as subsidizing for organizations like the NIH has stagnated over late years, Pharma has turned into a critical wellspring of assets to bolster early stage look into.
The R&D Funding Forecast takes note of that there is a proceeding with move in where R&D speculations are being made, with less in the U.S. also, Europe and more in Asian nations. The U.S. presently represents not exactly 33% of worldwide spending, while Europe's 34 nations represent under 22% and Asian nations represent about 40%, a pattern that has proceeded for as long as five years. This pattern is relied upon to proceed through the end of the decade with China's R&D ventures outperforming those of the U.S. by around 2022.
Asia:
Science and innovation is booming in Asia, and going about as a magnet for Asian researchers wishing to return home in the wake of preparing in the West particularly to China-pulled in to full or low maintenance positions in both scholarly world and industry.
Advancing the eastbound movement is a solid government push-especially in China, Singapore, Korea, Taiwan and Japan-to end up worldwide players in science and innovation, and enormous speculation from the pharmaceutical business. The outcome is an overwhelming blend of new R&D openings.
Apart from the industrial personnel where most of the research work is done, other research communities include:-
Academicians include Student community.
Researchers include Post docs, Research Associates.
Scientists include Professors, Associate professors, and Assistant professor.
Industries include Presidents, CEO's, and R&D Managers.
Market Report of Pharmaceuticals:
The worldwide market for pharmaceuticals is projected to grow from around $1 trillion in 2015 to $1.3 trillion by 2020, representing an annual growth rate of 4.9 percent.
Several global demographic and economic trends are driving pharmaceutical consumption, including a rapidly aging world population and an associated rise in chronic diseases, increased urbanization and higher disposable incomes, greater government expenditure on healthcare and growing demand for more effective treatments.
Pharmaceutical technology:
The Indian pharmaceuticals market increased at a CAGR of 17.46 per cent during 2005-16 with the market increasing from US$ 6 billion in 2005 to US$ 36.7 billion in 2016 and is expected to expand at a CAGR of 15.92 per cent to US$ 55 billion by 2020.
By 2020, India is likely to be among the top three pharmaceutical markets by incremental growth and sixth largest market globally in absolute size.
India's cost of production is significantly lower than that of the US and almost half of that of Europe. It gives a competitive edge to India over others.
Figure 3: Growth forecast for Pharmaceutical Technology
Pharmaceutical Materials :
Growing urbanization across the globe, increasing affluence in the Asia-Pacific region, and rising demand for improved and efficient healthcare services, globally are the major drivers for the growth of the pharmaceutical packaging market. In addition to this, stringent government regulations related to manufacturing of counterfeit medicines in several countries of the world are also expected to fuel the growth of the pharmaceutical packaging market during the forecast period, 2014 to 2020.
Figure 4: Growth forecast of materials
Drug Discovery and Design:
Analyses of global market trends, with data from 2012, estimates for 2013, and projections of compound annual growth rates (CAGRs) through 2018.
Examinations of major issues involved in the research and development (R&D) of more effective cell-based approaches, for drug discovery, and absorption, distribution, metabolism, and excretion (ADME)/ toxicity assays in development and in use.
Discussion of current issues and trends affecting the industry, and costs and other factors influencing demand.
Coverage of new technologies, trends, alliances, and mergers.
Figure 5: Drug Discovery Cycle
Drug Delivery:
The global drug delivery technology market is projected to reach USD 1,669.40 Billion by 2021 from USD 1,179.20 Billion in 2016, at a CAGR of 7.2% during the forecast period. This market is segmented based on route of administration, facility of use, and region.
Rising prevalence of chronic diseases, growth in biologics market, technological advancements and new product launches are some of the major factors driving the growth of the market. Drug delivery technologies improve the efficacy and safety of a drug by controlling the rate, time, and place of drug release in the body.
Figure 6: Drug Delivery Global sales
Pharmaceutical BioTechnology:
BioPharma is one of the world's most profitable industries. During the last 30 years, the industry has spent billions of dollars on research and reaped billions in return. In 2006 alone, the pharmaceutical industry introduced 31 major drugs and sold $643 billion in products worldwide-a 7 percent increase over 2005 sales, according to the drug market research firm IMS Health. U.S. sales beat the national average with growth of 8.3 percent.
Figure 7: BioTech Analysis
Pharmaceutical Nanotechnology:
According to BCC Research (www.bccresearch.com), the global market for nanoparticles in the life sciences is estimated at over $29.6 billion for 2014. This market is forecast to grow to more than $79.8 billion by 2019, to register a healthy compound annual growth rate (CAGR) of 22%. The biggest increase will come in the area of drug delivery systems.
As products complete clinical trials and gain US FDA market approval, the revenues from these products will grow at 23%. Basic biotechnology research revenues will increase due to the quest to find more nanoparticle applications, as more drugs become successfully delivered by these carrier systems.
Drug development and formulation will show steady sustained growth at 20.7%. Nanoparticles for use in diagnostic imaging will continue to show healthy growth at 20.1%. This will result from the need to develop more definitive nanoparticle markets for disease diagnosis.
Figure 8: Global Market for Nanoparticles in Pharmaceuticals
Drug Regulatory Affairs:
More than 15 years span is required to develop and launch a new pharmaceutical product in the market. The Regulatory Affairs Agencies explains expenditure spent on each drug annually is $850 million in US
Pharmaceutical industry is one of the fastest growing industries in India, with a compounded annual growth rate (CAGR) of over 13 % in last 5 years and it is expected to grow at a higher rate in coming 10 years where India spends around $300 million, united kingdom $700 , Brazil $200 million , France $550, Italy $400. As per cabinet decision in June 2010 Japan amended a new policy i.e., Health power strategy through "Life Innovation" with an expenditure spent on each drug was $450 million.
Figure 9: Drug regulatory affairs
Medical Devices:
The global medical devices (MD) market will see a steady growth over the coming years with the sales revenue and international trade value reaching $543.9 billion and $289.2 billion respectively by 2020 driven by aging population, increasing healthcare expenditure and technology advancement.
Global Medical Devices Market 2012-2020 examines the worldwide market of medical devices through a comprehensive review of information sources. This report provides historical performance, in-depth analysis, and trend forecast of market size and share, sales revenue, international trade, R&D investment, geographic distributions and product categories by device area in the global medical device market and industry. Historical statistics cover the past three years and forecast data characterize the 2014-2020 period.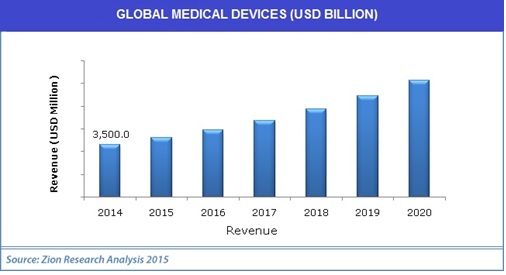 Figure 10: Global Market for Medical Devices
*Source: BCC Research & Markets and Markets