Plant Genomics Summit Market Analysis and Reports | Thailand Conference Series
Market Analysis - Plant Genomics Summit 2017
Market Analysis
Plant genomics is a mounting and constantly evolving field of study, one which has gained much ground in past years through the development of advanced research and data management tools. Expert researchers explore the current issues and methodologies of this expanding field, specifically addressing areas of gene discovery and the functional analysis of genes with a target on the primary tools and sub-disciplines of genetic mapping, mRNA, protein and metabolite profiling. Plant genomics employ exciting new methods to investigate molecular plant breeding technology and gene functional analysis via transformation, mutation, protein function, and gene expression.
The agriculture in Thailand is highly competitive, diversified and specialised and its exports are very successful internationally. Rice is the country's most important crop. Thailand is a major exporter in the world rice market. Rice exports in 2014 amounted to 1.3 percent of GDP. Agricultural production as a whole accounted for an estimated nine percent of Thai GDP and 40 percent of the population works in agriculture-related jobs. Agriculture was able to expand during the 1960s and 1970s as it had access to new land and unemployed labour. Between 1962 and 1983, the agricultural sector grew by 4.1 percent a year on average and in 1980 it employed over 70 percent of the working population.Yet, the state perceived developments in the agricultural sector as necessary for industrialisation and exports were taxed in order to keep domestic prices low and raise revenue for state investment in other areas of the economy.
Major Plant science Associations around the Globe
American Society of Plant Biologists (ASPB)
Australian Society of Plant Scientists (ASPS)
Argentinean Society of Plant Physiology (SAFV)
American Society of Agronomy (ASA)
African Crop Science Society (ACSS)
Brazilian Society of Plant Physiology (SBFV)
Botanical Society of China (BSC)
Canadian Society of Plant Biologists (CSPB)
Chile's National Network of Plant Biologists (CNNPB)
Chinese Society of Plant Biology (CSPB)
Crop Science Society of America (CSSA)
Crop Science Society of China (CSSC)
European Association for Research on Plant Breeding (EUCARPIA)
European Plant Science Organisation (EPSO)
Federation of European Societies of Plant Biology (FESPB)
Genetics Society of China (GSC)
International Society of Plant Pathology (ISPP)
Indian Society of Plant Physiology (ISPP)
International Crop Science Society (ICSS)
International Society for Horticultural Science (ISHS)
Irish Plant Scientists' Association (IPSA)
International Society for Plant Molecular Biology (ISPMB)
Japanese Society for Plant Cell and Molecular Biology (JSPCMB)
Japanese Society of Plant Physiologists (JSPP)
Korean Society of Plant Biologists (KSPB)
New Zealand Society of Plant Biologists (NZSPB)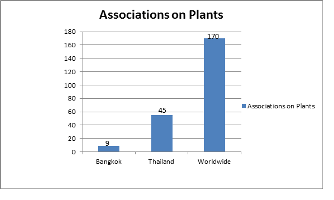 Meet Your Target Market With members from around the world focused on learning about Plant Genomics, this is your single best opportunity to reach the largest assemblage of participants from the all Over the World. Conduct demonstrations, distribute information, meet with current, make a splash with a new product line, and receive name recognition at this 3-day event. World-renowned speakers, the most recent techniques, tactics, and the newest updates in Plant Science are hallmarks of this conference.
A Unique Opportunity for Advertisers and Sponsors at this International event:
http://plantgenomics.conferenceseries.com/sponsors.php
The global market for genomics is expected to reach USD 22.1 billion by 2020, growing at an estimated CAGR of 10.3% from 2014 to 2020, according to a new study by Grand View Research, Inc. Genomics play an imperative role in the field of infectious disease testing by enabling the use of fast and effective result rendering molecular diagnostic tests. This, coupled with growing prevalence of infectious diseases and hospital acquired infections is expected to drive market growth during the forecast period. Other driving factors for this market include decreasing prices of DNA sequencing, increasing demand for genome analysis in animal and plant feedstock, extensive presence of both private and public external funding programs and growing patient awareness levels.
Genomics based diagnostics dominated the overall market in terms of revenue at 36.4% in 2013 majorly owing to the presence of a relatively larger number of R&D programs. Genomics based personalized medicine segment on the other hand is expected to grow at the fastest CAGR of over 12.0% from 2014 to 2020 due to increasing demand for population based therapeutic solutions and subsequent increase in R&D initiatives.
Market Size - $11.1 Billion in 2013, Market Growth - CAGR of 10.3% from 2014 to 2020, Market Trends - Growing demand for personalized medicine and the consequent rise in demand for genomics based R&D initiatives is expected to drive market growth during the forecast period
Worldwide Institutions Statistics
Bangkok Companies on Agriculture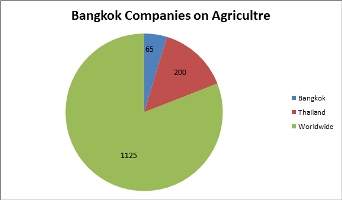 Colleges on Agriculture
Genomics Market Value