Pollution Control Market Analysis and Reports | UK Conference Series
Market Analysis - Pollution Control 2017
Summary of Pollution Control 2017 Conference
With the increase of the urbanization, humans were able to advance further into the 21st century. Technology developed rapidly, science became advanced and the manufacturing age came into view. With all of these came one more effect, environmental pollution. Pollution can take the form of chemical substances or energy, such as noise, heat or light. Pollutants, the components of pollution, can be either foreign substances/energies or naturally occurring contaminants. There is general agreement that we must control pollution of our air, water, and land, but there is considerable dispute over how controls should be designed and how much control is enough.
This conference is all about promoting global health issues and advanced technologies used to control and regulate the pollution. This conference includes various types of pollutions, human impact on the environment, pollution risk assessment, advanced control methods.
Air pollution has become the world's single biggest environmental health risk, linked to around 7 million – or nearly one in eight deaths in 2012 – according to the World Health Organisation (WHO). Around 80% of the 3.7 million deaths from outdoor pollution came as a result of stroke and heart disease, 11% from lung diseases and 6% from cancers. The vast majority were in Asia, with 180,000 in the Americas and Europe combined, said the WHO.
One of the major trends in the market is the development of new and improved air pollution control systems/equipment with enhanced reliability and reduced power consumption; for instance, development of an optimized wet process that has higher desulfurization efficiency and improved limestone injection.
According to the report, increased demand for power is one of the major factors driving the market. Coal-based power plants emit a large volume of harmful gases into the environment. This has created the need to install and adopt air pollution control equipment in plants.
Scope and importance
Nearly 9,500 people die early each year in London due to long-term exposure to air pollution, more than twice as many as previously thought, according to new research.
The premature deaths are due to two key pollutants, fine particulates known as PM2.5s and the toxic gas nitrogen dioxide (NO2), according to a study carried out by researchers at King's College London. The study – which was commissioned by the Greater London Authority and Transport for London – is believed to be the first by any city in the world to attempt to quantify how many people are being harmed by NO2. The gas is largely created by diesel cars, lorries and buses, and affects lung capacity and growth.
Why London, UK?
The report says that UCG has caused groundwater contamination, subsidence, accidents and toxic waste where it has been deployed in Australia, South Africa and the US. Its total potential carbon dioxide emissions – 1,650bn tonnes globally, or 46bn tonnes in the UK – would wreck efforts to cut climate pollution, it warns. The UK government plans to set fire to coal under the seabed at up to 19 sites around the UK would cause significant climate pollution, groundwater contamination and toxic waste, according to a report by environmentalists.
Conferenceseries LLC selected London to conduct its conference on "Pollution Control 2016" so as to provide the speakers and participants with an opportunity for interacting and to explore and exchange their ideas globally so as to control and regulate the pollution from various aspects.
Conference Highlights
· Pollution
· Environmental Pollution
· Air Pollution and Treatment
· Water Pollution and Treatment
· Solid Waste Disposal
· Marine Pollution
· Industrial Pollution
· Waste Management and Treatment
· Pollution Control Technologies & Devices
· Pollution Sources
· Pollution and Health Effects
· Human Impact on the Environment
· Environmental Sustainability and Development
· Trending Market in Pollution Control Devices
Why to Attend??
Pollution Control 2017 conference will feature 14 technical sessions, a poster session, exhibit hall, keynotes lectures and Special feature includes student workshop.
Pollution Control 2017 is a perfect platform for environmentalists, researchers, scientists, decision makers and students to come together, compare findings, and discuss the science of the future. Share your research with an engaged audience of your peers from around the globe. Learn from scientific trail blazers who are designing more sustainable processes for achieving a pollution controlled environment.
Noble laureates, Presidents, Vice-presidents, Deans, Chairs, Co-chairs, Department Heads, Environmentalists, Researchers, PhD Students, Non-PhD Students, etc.. Vendors will have the opportunity to introduce the latest advancements in pollution control technologies to a diverse audience by becoming a conference sponsor via exhibits or workshops.
· Academia 38%
· Researchers 23%
· Industries 20%
· Students 14%
· Others 5%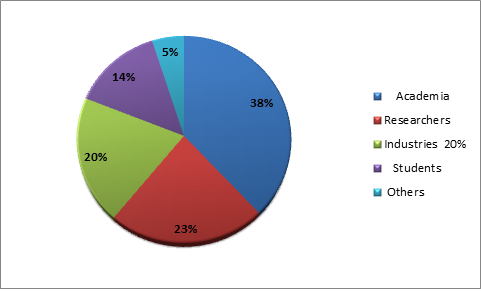 Members associated with Pollution Control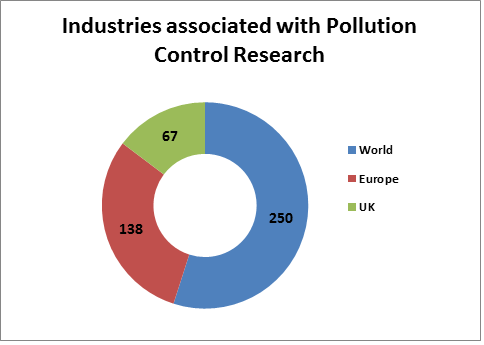 Top Societies and Associations working on Pollution Control Research
In UK
Environmental Protection UK
International Fertiliser Society
NERC - the Natural Environment Research Council
Centre for Environment, Fisheries and Aquaculture Science
Chemical Industries Association
Environmental Industries Commission
Pollution Response in Emergencies: Marine Impact Assessment and Monitoring
The UK Spill Association
In Europe
European Water Pollution Control Association
European Federation of Clean Air and Environmental Protection Associations (EFCA)
Swedish Environmental Protection Agency
Hellenic Marine Environment Protection Association
Finnish Environmental Institute
Oil Spill Control Association of France
Norwegian Environmental Assistance
Association of British Independent Oil Exploration Companies
Around the globe
Worldwide pollution Control Association
Environmental Protection Agency
National Association of Clean Air Agencies
Air and Waste Management Association
Cen SARA (Central States Air Resource Agencies)
USDA Agricultural Air Quality Task Force
Universities associated with Environmental Research
UK
· Center for Ecology and Hydrology (CEH)
· Chartered Institute of Environmental Health (CIEH)
· Durrell Institute of Conservation and Ecology
· European Bioinformatics Institute (EBI)
· Institute of Biological, Environmental and Rural Sciences (IBERS), Wales
· Institute of Zoology (IoZ)
· National Institute for Environmental eScience (NIEeS)
· Oxford Environmental Change Institute
Europe
· Wageningen University
· ETH Zurich - Swiss Federal Institute of Technology
· University of Cambridge
· Lund University
· Newcastle University
· University of Liverpool
· Loughborough University
· University College Cork
· University of Surrey
· National University of Ireland, Galway
· University of Glasgow
Statistics of Physicians, Researchers and Academicians working on Pollution Control Research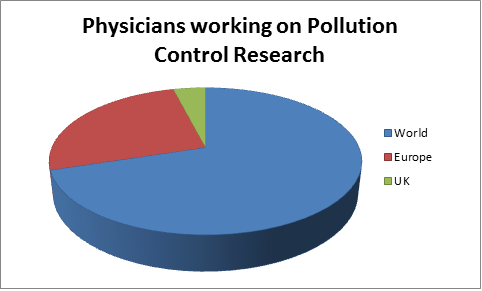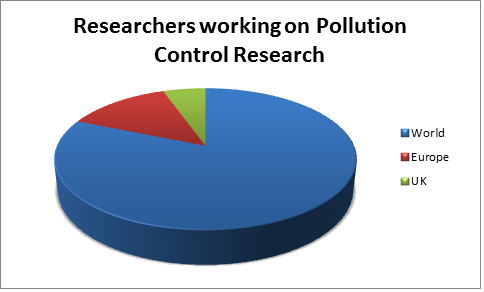 Market Value on Pollution Control Research
The global market for air pollution control equipment reached nearly $56.6 billion and $61 billion in 2013 and 2014, respectively. This market is expected to grow at a compound annual growth rate (CAGR) of 5.2% to $78.4 billion for the period 2014-2019.
According to the report, increased demand for power is one of the major factors driving the market. Coal-based power plants emit a large volume of harmful gases into the environment. This has created the need to install and adopt air pollution control equipment in plants.
Some of Europe's largest industrial companies gained billions of euros from the carbon emission rules they lobbied fiercely against, new analysis reveals today.
The free permits, granted to companies with a market value of €4bn (£3.5bn), can be sold or kept for future use. The European commission estimates that the entire energy-intensive sector will have accumulated allowances worth €7bn-€12bn by the end of 2012.
Market Growth of Pollution Control Research in the last and upcoming years