American Primary Healthcare Market Analysis and Reports | Canada Conference Series
Market Analysis - American Primary Healthcare 2018
Members Associated with Primary Healthcare and Nursing:
Important pressures are the integration of Community Care and Primary Care or in other words the connection between Public Health, care and Nursing for the individual. The difficulty for local authorities is to adapt their care system to the increased needs of the individuals living within their neighborhoods. These needs have not only increased in volume but also in complexity. An adequate monitoring system for these local authorities, providing insight of the needs in terms of prevention and health promotion, reactive care including emergencies, continuity of care, dealing with chronically ill mainly in the context of home care is crucial and creating equitable financing which take into account the differences between affluent and other parts within the city are needed. Local governments need information, assistance and capacity building on how to achieve practical solutions for these major challenges which lie ahead and will become more visible in the coming decades. The Community Oriented & Integrated Primary Care approach is a model that fits very well to tackle most of the challenges. Moreover, addressing health problems requires an intersectional approach at the local level, integrating health and welfare sectors with housing, work, education, and infrastructure.
Target Audience:
Leading world Doctors, Registered nurses, Nursing Experts, Professors, Directors, Nursing Professionals, Healthcare Experts, Dieticians, Research fellows and many more from leading universities, companies and medical research institutions, hospitals sharing their novel researches in the arena of Healthcare & Medicine.
Health Care & Nursing Hospitals in Vancouver, Canada
The Vancouver city is serviced by around 35 hospitals and medical centers. Some of the top ranked are:
· Vancouver Coastal Health provides health care services through a network of hospitals, primary care clinics, community health centers and residential care homes. Search our health care services in Vancouver, Richmond, North and West Vancouver and along the Sea-to-Sky Highway, Sunshine Coast and BC's Central Coast.
· Burnaby Hospital Foundation is the fundraising arm of Burnaby Hospital dedicated to community partnerships to purchase vital medical equipment and technology, improve patient care, and support innovative and educational community programs that improve your health.
· St. Paul's Hospital is an acute care hospital located in downtown Vancouver, British Columbia, Canada. It is the oldest of the seven health care facilities operated by Providence Health Care, a Roman Catholic faith-based care provider.
· UBC Hospital is a health care facility located on the University Endowment Lands in Vancouver, British Columbia, Canada. It opened in 1968, and is now operated by Vancouver Coastal Health.
· MOUNT SAINT JOSEPH HOSPITAL: Located on the east side of Vancouver, Mount Saint Joseph is an acute care community hospital offering emergency services, acute care, ambulatory care services and a full range of diagnostic services. Sharing the building is a 100-bed residential care facility.
· BC Children's Hospital is a leader in general and specialized pediatric services, and is the province's foremost teaching and research facility for child health
Primary Health Care & Nursing Associations around the Globe
A Primary Healthcare association is a professional organization for health professionals. They are often based on specialty and are usually national or regional affiliates. Health associations usually offer conferences and continuing education. Health associations often serve in capacities similar to trade unions, and often take public policy stances on medical issues. Some of Societies include:
· Canadian Nurses Association (CNA)
· Mississippi Primary Health Care Association
· Alabama Primary Health Care Association
· World Medical Association
· Dubai Health Authority
· Emirates Nursing Association
· Illinois Primary Health Care Association (IPHCA)
· Wisconsin Primary Health Care Association
· Indiana Primary Health Care Association, Inc. (IPHCA)
· Alabama Primary Health Care Association
· South Carolina Primary Health Care Association
· Georgia Association for Primary Health Care
· Kentucky Primary Care Association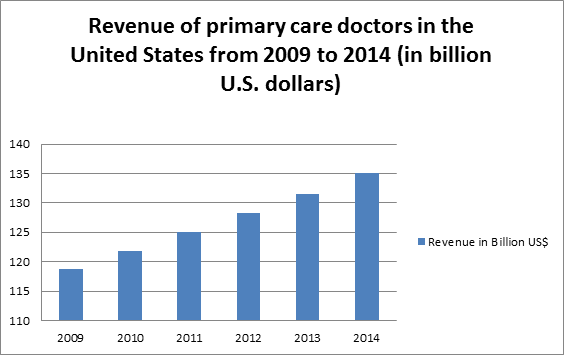 Industries associated with Primary Healthcare & Nursing:
The Primary Healthcare Nursing industry is an aggregation of different sectors within the economic system that provides goods and services to treat patients with curative, preventive, rehabilitative, and palliative care. The modern health care industry is divided into many sectors and depends on interdisciplinary teams of trained professionals to meet health needs of individuals and populations. The health care industry is one of the world's largest and fastest-growing industries. Consuming over 10 percent of gross domestic product of most developed nations, health care can form an enormous part of a country's economy.
Universities Associated with Primary Healthcare & Nursing in Canada:
· Schulich School of Medicine
· Northern Ontario School of Medicine
· Cumming School of Medicine
· McMaster University Medical School
· UBC Faculty of Medicine
· University of Alberta Faculty of Medicine
· Queen's School of Medicine
Market value, Growth & Source of Funds
A growing market segment is demanding unscheduled access to primary healthcare & Nursing services without consideration of health system or pre-existing clinician relationship. This population segment has given rise to a new set of "on demand" primary healthcare delivery channels. These on demand delivery channels have strong growth projections (ranging from 6.5 to 34 percent annually) over the next several years creating an opportunity or threat for the traditional primary care providers and the health systems.
As per estimates, the healthcare market is projected to grow at 12.0% p.a. to US$ 69.4 billion by 2018 from an estimated US$ 39.4 billion in 2013. Outpatient and inpatient markets are expected to account for 79% and 21%, respectively, of the overall market size. Saudi Arabia is projected to remain the largest GCC market. And expected to be the fastest growing markets; going forward. The demand for number of hospital beds is expected to be 115,544 in 2018, an addition of 11,241 beds from 2013, which is in line with the expected supply looking at the number of projects in the pipeline.
The IMF estimates that the region's population would cross the 50 million mark by 2020, providing impetus to the consumption of healthcare services. Rising income levels and sedentary lifestyles have led to a higher prevalence of obesity and diabetes leading to a demand for specialized healthcare services. GCC population in the age group of 65 and above is expected to surge from 1.2 million in 2015 to 14.2 million in 2050, driving demand for healthcare services. Also, infant mortality in the GCC improved from 110 per 10,000 live births in 2000 to 78 in 2012.
While growth in the region's insurance premium outpaces the growth in the global market, the insurance penetration remains one of the lowest in the world.
Physicians working on Primary Healthcare & Nursing:
A primary care physician provides both the first contact for a person with an undiagnosed health concern as well as continuing care of varied medical conditions, not limited by cause, organ system, or diagnosis. A 2009 report by the New England Healthcare Institute determined that an increased demand on primary care by older, sicker patients and decreased supply of primary care practitioners has led to a crisis in primary care delivery. The research identified a set of innovations that could enhance the quality, efficiency and effectiveness of primary care in the United States.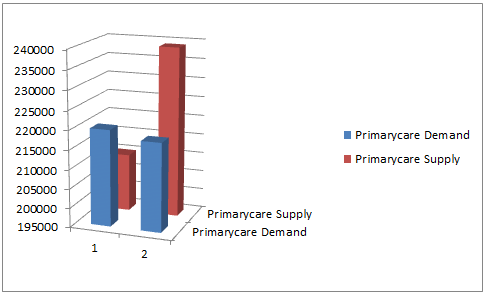 References:
http://www.researchandmarkets.com
http://www.statista.com/statistics/296635/revenue-primary-care-doctors-in-the-us/
http://www.isahd.ae/content/docs/HASD%20English%202012.pdf
http://www.statista.com
http://www.colliers.com/-/media/83E76364901E465986CBF44594578C2A.ashx
https://www.dha.gov.ae/EN/SectorsDirectorates/Sectors/HealthPolicy/Documents/PHC%20Need%20Asses sment%20in%20Dubai.pdf
http://www.seha.ae/seha/en/Pages/SEHAPHCs.aspx
https://www.aamc.org/download/426260/data/physiciansupplyanddemandthrough2025keyfindings.pdf
http://www.who.int/whosis/whostat/EN_WHS09_Table6.pdf
http://www.government.ae/en/web/guest/medical_and_health_care
http://www.ahrq.gov/research/findings/factsheets/primary/pcwork1
http://healthcare.globaldata.com/media-center/press-releases/pharmaceuticals/us-pharmaceutical-market-value-will-approach-550-billion-by-2020-says-globaldata