Primary Healthcare Market Analysis and Reports | Japan Conference Series
Market Analysis - Primary Healthcare 2018
Primary Healthcare-2018 welcomes attendees, presenters, and exhibitors from all over the world to Tokyo, Japan. We are delighted to invite you all to attend and register for the "6th Annual Congress and Medicare Expo on Primary Healthcare", Primary Healthcare-2018 which is going to be held during May 14-16, 2018 in Tokyo, Japan.
The organizing committee is gearing up for an exciting and informative conference program including plenary lectures, symposia, workshops on a variety of topics, poster presentations and various programs for participants from all over the world. We invite you to join us at Primary Healthcare-2018, where you will be sure to have a meaningful experience with scholars from around the world. All members of the Primary Healthcare-2018 organizing committee look forward to meeting you in Tokyo, Japan.
Primary Healthcare-2018
aims to discover advances in health practice, management and education in relation to health disparities as well as a breadth of other topics. According to the reports, the healthcare services market in the GCC is expected to grow from AED 66 billion (US $18 billion) in 2008 to AED 175-202 billion (US $47-55 billion) by 2020. The demand for hospital beds across the GCC is expected to rise, with the Japan registering the highest projected growth in demand for hospital beds at 160% by 2025.By 2050, the GCC will require a total of 138,965 hospital beds, 140,334 physicians, and 227,079 nurses to maintain current care levels. This means that by 2020, the GCC may require in excess of 25,000 additional beds. With two physicians per 1,000 population, the GCC countries remain above the global average ratio of 1.3, but below the US and Europe, which are at 2.6 and 3.2 respectively.
Scope & Importance of Primary Healthcare-2018 Conference
The conference will be organized to bring together practitioners, administrators, policy makers, politicians and researchers within the field of primary health care and public health. Conference themes will focus on issues related with Innovation, Sustainability, Equity, Critical thinking and Uncertainty. Internationally there is increasing recognition of the importance of the primary care system for improving health outcomes and managing costs. Stronger primary health systems are associated with better health outcomes and lower costs, particularly for children. Improved primary health and community support also has the potential to prevent hospital admissions, particularly for ambulatory sensitive conditions. As well, better primary health and community support can also prevent inappropriate and unnecessary use of residential care services.
The World is changing and so are health services. Urbanization and globalization have its' impact on what is needed from health care providers and subsequently how health care is organized. More and more cities and other local authorities become increasingly important for the health of their citizens.
on the surface, Japan's health care system seems robust. The country's National Health Insurance (NHI) provides for universal access. Japan's citizens are historically among the world's healthiest, living longer than those of any other country. Infant mortality rates are low, and Japan scores well on public-health metrics while consistently spending less on health care than most other developed countries do.
Underlying the challenges facing Japan are several unique features of its health care system, which provides universal coverage through a network of more than 4,000 public and private payers. All residents must have health insurance, which covers a wide array of services, including many that most other health systems don't (for example, some treatments, such as medicines for colds, that are not medically necessary).
The system imposes virtually no controls over access to treatment. There is no gatekeeper: patients are free to consult any provider—primary care or specialist—at any time, without proof of medical necessity and with full insurance coverage. Similarly, Japan places few controls over the supply of care. Physicians may practice wherever they choose, in any area of medicine, and are reimbursed on a fee-for-service basis. There is also no central control over the country's hospitals, which are mostly privately owned. These characteristics are important reasons for Japan's difficulty in funding its system, keeping supply and demand in check, and providing quality care.
Japan's health care system is becoming more expensive. In 2005 (the most recent year with available comprehensive data), the cost of the NHI plan was 33.1 trillion yen ($333.8 billion at March 2009 rates), or 6.6 percent of GDP.2By 2020, our research indicates, that could rise to 62.3 trillion yen, almost 10.0 percent of GDP, and by 2035 it could reach 93.6 trillion yen, 13.5 percent of GDP. True, the current cost—low by international standards—is projected to grow only to levels that the United States and some European countries have already reached. Yet funding the system is nonetheless a challenge, for Japan has by far the highest debt burden in the OECD,3a rapidly aging population, and a stagnating economy.
Why costs are rising
. Four factors account for Japan's projected rise in health care spending (Exhibit 1). Advances in medical technology—new treatments, procedures, and products—account for 40 percent of the increase. The country's growing wealth, which encourages people to seek more care, will be responsible for an additional 26 percent, the aging of the population for 18 percent. The remaining 16 percent will result from the shifting treatment patterns required by changes in the prevalence of different diseases.
Members Associated with Primary Healthcare:
Important pressures are the integration of Community Care and Primary Care or in other words the connection between Public Health and care for the individual. The difficulty for local authorities is to adapt their care system to the increased needs of the individuals living within their neighborhoods. These needs have not only increased in volume but also in complexity. An adequate monitoring system for these local authorities, providing insight of the needs in terms of prevention and health promotion, reactive care including emergencies, continuity of care, dealing with chronically ill mainly in the context of home care is crucial and creating equitable financing which take into account the differences between affluent and other parts within the city are needed. Local governments need information, assistance and capacity building on how to achieve practical solutions for these major challenges which lay ahead and will become more visible in the coming decades. The Community Oriented & Integrated Primary Care approach is a model that fits very well to tackle most of the challenges. Moreover, addressing health problems requires an intersectoral approach at the local level, integrating health and welfare sectors with housing, work, education, and infrastructure.
Leading world Doctors, Registered nurses, Professors, Directors, Dieticians, Research fellows and many more from leading universities, companies and medical research institutions, hospitals sharing their novel researches in the arena of Healthcare & Medicine.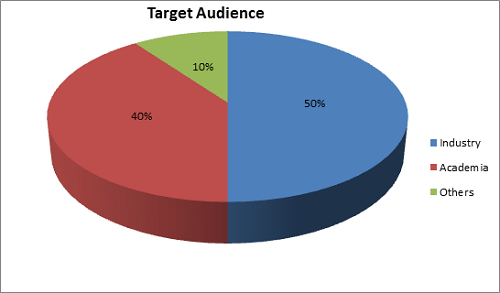 Primary Health care Hospitals in Japan, Tokyo & Worldwide
Primary Health Care (PHC) aims to have one healthcare center or clinic for every 30,000 inhabitants of Japan. Locations include
Aichi Saiseikai Hospital - Nishi-ku, Nagoya
Chubu Rosai Hospital - Minato-ku, Nagoya
Holy Spirit Hospital - Shōwa-ku, Nagoya
Osaka University Hospital - Suita, Osaka
Jikei University School of Medicine Hospital - Tokyo, Japan
Jutendo Hospital - Tokyo, Japan
Keio University Hospital - Tokyo, Japan
King Clinic, The(Sanno Hospital) - Omotesando, Tokyo, Japan
National Hospital Organization Tokyo Medical Center - Tokyo, Japan
Tokyo Medical University Hospital - Tokyo, Japan
University of Tokyo Hospital - Tokyo, Japan
Cleveland Clinic

St Jude Children's Research Hospital

Johns Hopkins Medicine

Mayo Clinic Scottsdale AZ

University of Maryland Medical Center

M D Anderson Cancer Center

Massachusetts General Hospital

Assistance Publique Hôpitaux de Paris

Memorial Sloan Kettering Cancer Center

New York Presbyterian / Lower Manhattan Hospital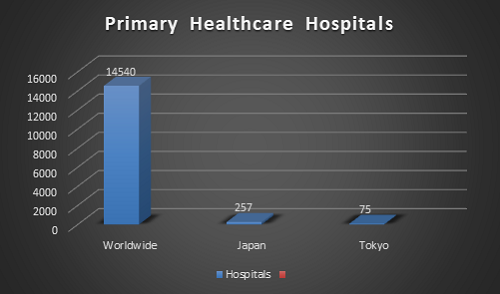 Primary Health Care Associations around Japan and the Globe
A Primary Healthcare association is a professional organization for health professionals. They are often based on specialty and are usually national or regional affiliates. Health associations usually offer conferences and continuing education. Health associations often serve in capacities similar to trade unions, and often take public policy stances on medical issues.
Some of Societies include:
•
World Medical Association
•
Northwest Regional Primary Care Association
•
Illinois Primary Health Care Association (IPHCA)
•
Wisconsin Primary Health Care Association
•
Indiana Primary Health Care Association, Inc. (IPHCA)
•
Primary Healthcare Association - Columbia
•
Virginia Community Healthcare Association
•
South Carolina Primary Health Care Association
•
Georgia Association for Primary Health Care
•
Kentucky Primary Care Association
Industries associated with Primary Healthcare:
The Primary Healthcare industry is an aggregation of different sectors within the economic system that provides goods and services to treat patients with curative, preventive, rehabilitative, and palliative care. The modern health care industry is divided into many sectors and depends on interdisciplinary teams of trained professionals to meet health needs of individuals and populations. The health care industry is one of the world's largest and fastest-growing industries. Consuming over 10 percent of gross domestic product of most developed nations, health care can form an enormous part of a country's economy.
Universities Associated with Primary Healthcare in Tokyo and Japan
1.
Nagoya City University - Mizuho-ku,
2.
Dokkyo University School of Medicine
4.
Saitama Medical School
6.
St. Marianna University School of Medicine
10.
Tokyo Medical University
11.
Tokyo Women's Medical University
12.
University of Occupational and Environmental Health
Market value, Growth &Source of Funds
A growing market segment is demanding unscheduled access to primary healthcare services without consideration of health system or pre-existing clinician relationship. This population segment has given rise to a new set of "on demand" primary healthcare delivery channels. These on demand delivery channels have strong growth projections (ranging from 6.5 to 34 percent annually) over the next several years creating an opportunity or threat for the traditional primary care providers and the health systems.
As per estimates, the healthcare market is projected to grow at 12.0% p.a. to US$ 69.4 billion by 2018 from an estimated US$ 39.4 billion in 2013. Outpatient and inpatient markets are expected to account for 79% and 21%, respectively, of the overall market size. Japan is projected to remain the largest GCC market.Japan are expected to be the fastest growing markets; going forward. The demand for number of hospital beds is expected to be 115,544 in 2018, an addition of 11,241 beds from 2013, which is in line with the expected supply looking at the number of projects in the pipeline.
The IMF estimates that the region's population would cross the 50 million mark by 2020, providing impetus to the consumption of healthcare services. Rising income levels and sedentary lifestyles have led to a higher prevalence of obesity and diabetes leading to a demand for specialized healthcare services. GCC population in the age group of 65 and above is expected to surge from 1.2 million in 2015 to 14.2 million in 2050, driving demand for healthcare services. Also, infant mortality in the GCC improved from 110 per 10,000 live births in 2000 to 78 in 2012.
While growth in the region's insurance premium outpaces the growth in the global market, the insurance penetration remains one of the lowest in the world.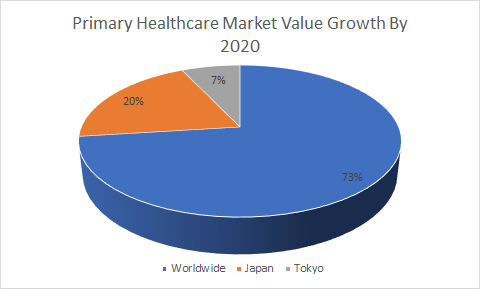 Physicians working on Primary Healthcare
A primary care physician provides both the first contact for a person with an undiagnosed health concern as well as continuing care of varied medical conditions, not limited by cause, organ system, or diagnosis.
o
http://www.researchandmarkets.com
o
https://en.wikipedia.org/wiki/List_of_hospitals_in_Japan
o
http://international.commonwealthfund.org/countries/japan/
o
http://www.statista.com
o
http://hospitals.webometrics.info/en/world
o
http://www.colliers.com/-/media/83E76364901E465986CBF44594578C2A.ashx
o
https://en.wikipedia.org/wiki/National_Health_Insurance_(Japan)
o
http://www.seha.ae/seha/en/Pages/SEHAPHCs.aspx
o
https://www.aamc.org/download/426260/data/physiciansupplyanddemandthrough2025keyfindings.pdf
o
http://www.who.int/whosis/whostat/EN_WHS09_Table6.pdf
o
http://www.government.ae/en/web/guest/medical_and_health_care
o
http://www.ahrq.gov/research/findings/factsheets/primary/pcwork1
o
http://healthcare.globaldata.com/media-center/press-releases/pharmaceuticals/us-pharmaceutical-market-value-will-approach-550-billion-by-2020-says-globaldata
About conference
ConferenceSeries Ltd takes immense pleasure to extend our warm welcome to invite all the participants from all over the world to attend 6th Annual Congress & Medicare Expo on Primary Healthcare, May 14-16, 2018 Tokyo, Japan which will entail lively debates, prompt keynote presentations, Oral talks, Poster presentations, workshops and networking opportunities around a core of plenary and concurrent sessions based on pivotal issues in the Primary Healthcare sector.
Conference Series teams with CED, a Joint Accreditation Provider, as Joint Providers of accredited continuing education activities for the healthcare team consisting of physicians, nurses and pharmacists. As Co-providers, all activities are planned and implemented in compliance with the educational standards of Joint Accreditation formed by the accreditation standards and essentials of the ACCME, the ACPE and the ANCC. Complete activity information is presented at the activity and on the activity web page
ConferenceSeries Ltd Organises 1000+ Conferences every Year across USA, Europe & Asia with support from 1000 more scientific societies and Publishes 700+ Open access journals which contains over 50000 eminent personalities, reputed scientists as editorial board members.
Summary:
Primary Healthcare 2018 is a forum to explore issues of mutual concern as well as exchange knowledge, share evidence and ideas, and generate solutions. The main focus of Primary Healthcare 2018 is to present research findings, discuss research methodology and policy issues, and build and maintain essential networks between researchers, practitioners, policy makers and representatives of consumer organisations. Primary Healthcare 2018 works with the theme "Evidence and Innovation in Primary Healthcare" aims to discover advances in health practice, management and education in relation to health disparities as well as a breadth of other topics. Patients with access to a regular primary care physician have lower overall health care costs than those without one, and health outcomes improve.
Target Audience:
· Professors
· Doctors
· Pharmaceutical Industries
· Healthcare Industries
· Directors of Association and Societies
· Scientists
· Nursing Lecturers
· Nurses