Rheumatology Market Analysis and Reports | Poland Conference Series
Market Analysis - Rheumatology 2018
The conference highlights of the following topics
Rheumatology
Clinical Rheumatology
Pediatric Rheumatology
Soft Tissue Rheumatic Disorders
Rheumatoid Arthritis
Lupus
Autoinflammatory Diseases
Diagnosis for Rheumatic Disorders
Rheumatology Emergencies
Autoimmunity
Rheumatic Diseases and Treatment
Chronic Pain and Relief
Arthritis
Osteoarthritis
Orthopedic Biomechanic Research
Rheumatology is increasingly the study of immunology and also the study of Rheumatism, arthritis, and other disorders of the joints, muscles, and ligaments. Rheumatology has become certainly one of the most dynamic and innovative subjects in all of medicines. Recent advances in the development of novel therapies for various autoimmune conditions have revolutionized both clinical practices and research in Rheumatology.
Market Analysis and Case study of Rheumatic Diseases
With increasing joint and connective tissue problems caused by hectic lifestyles, non-nutritious food habits, and lack of physical workouts, the demand for rheumatology is on an increase on a global scale. Rheumatology is concerned with the therapy of rheumatic diseases and problems involving joints, soft tissues, autoimmune diseases, heritable connective tissue disorders, and vasculitis. Some of the major rheumatic conditions are neck pain, back pain, osteoarthritis, and bursitis. From 2005 to 2011, the rheumatology therapeutics market has grown at an encouraging rate, but during the period from 2012 to 2018, it is expected to grow at a slow pace. Some of the key drivers of the rheumatology therapeutics market are increasing population with joint problems, the improving technology in the medical field, increased research and development expenditure on healthcare, and the growing willingness of people to stay fit.
The opportunities that the market has are a growing aging population which leads to an increase in the number of joint problems, a rise in the disposable income of individuals, and increased concerns regarding health. The new report predicts the market to climb from a 2011 value of US$17.1 billion to US$23.8 billion by 2018, representing a Compound Annual Growth Rate (CAGR) of 4.8% - almost half of the 2005-2011 CAGR of 9.4%.
The rheumatoid arthritis space across the eight major markets of the US, France, Germany, Italy, Spain, the UK, Japan, and Australia is set to grow from $19.5 billion in 2015 to around $28.5 billion by 2025, according to research and consulting firm GlobalData. Global rheumatoid arthritis diagnosis tests market has been estimated to be valued at US$ 485.5 Mn in 2015, and is anticipated to increase to US$ 738.7 Mn by 2022, registering a CAGR of 6.2% during the forecast period. Incidences of RA are increasing among children in Europe and North America. This increased incidence rate calls for adoption of minimally-invasive test methods to diagnose rheumatoid arthritis.
Rheumatology Therapeutics Market Growth
The rheumatology therapeutics market is expected to increase at a modest Compound Annual Growth Rate (CAGR) of 25% during the forecast period, primarily due to the patent expiries of Celebrex (celecoxib) and Uloric (febuxostat) in 2014. While the entry of biosimilars after the patent expiry of key drug Remicade (infliximab) in 2016 could act as a barrier to the growth of the market, the expected launch of tofacitinib in 2013 for the treatment of Rheumatoid Arthritis (RA) will have a positive impact on the growth of the Market.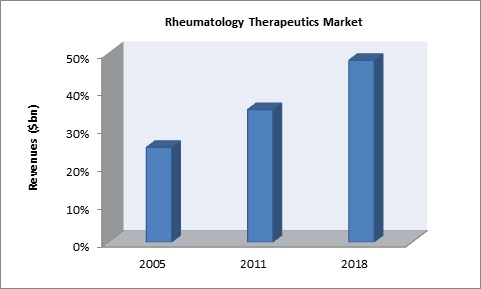 Highlighting some facts of the common type of Rheumatic disorders
Rheumatoid Arthritis
Approximately 400,000 adults have rheumatoid arthritis in the UK only.
RA is very common in women than men by a factor of 3:1.
There are approximately 50,000 new cases of rheumatoid arthritis in the Europe every year.
Rheumatoid Arthritis is currently incurable autoimmune disease that primarily affects the joints.
Arthritis
More than 10 million people have arthritis
Approximately 78% of people with arthritis, report depression when their pain is at its worst
One in ten people with arthritis has major depression.
Key types of people living with arthritis are: GP-led, milder symptoms (30%), in control (26%), Going it alone (24%) and motivated information seekers (20%).
Osteoarthritis
Approximately 10.75 million people in the Europe have sought treatment for osteoarthritis.
Just over half of all people consulting about osteoarthritis have knee osteoarthritis.
Commonly 3.77 million people in the Europe have sought treatment for osteoarthritis of the foot or ankle.
Around 620,000 working age women (45–64 years) have problem about osteoarthritis of the hand or wrist.
About 25 in every 1000 people opt for an orthopedic surgery due to osteoarthritis.
Musculoskeletal Conditions
More than 100,000 people a day see their GP about a musculoskeletal problem.
The NHS spends more than 5 billion pounds a year on musculoskeletal health.
Musculoskeletal conditions account for 42% of all stated cases of work-related ill health.
Almost 41 million working days were lost due to musculoskeletal condition in 2016.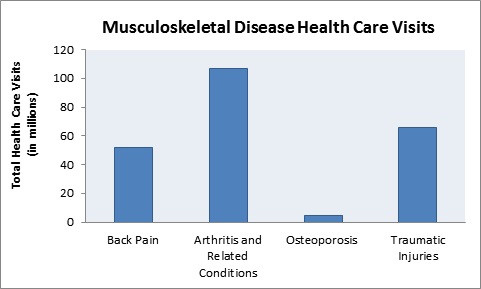 Osteoporosis
Annually more than 9 million fracture caused by osteoporosis.
Approximately 75 million people affects from osteoporosis in Europe and USA.
Worldwide 1 in three 3 women experiences osteoporotic fracture after 50 years of age which is more common in women as compare to men.
Why Poland?
Poland is a growing market of medical tourism. Foreign patients more often decide to take treatment in Polish clinics. As well as the number of RA sufferers is increasing, which is probably a result of increasing life expectancy and a difference in morbidity between urban and rural inhabitants. Differences may also derive from undiagnosed cases of the disease. The number of elderly people in Europe is rising to unprecedented levels. Since 2004 Poland developed to be the second largest pharmaceutical market in Central and Eastern Europe and the sixth largest in Europe. In the last 15 years, the number of people aged 80 and above in Europe has risen by 60% - and in Western European countries like Germany and Italy, it's even more. With this has come a rapidly rising need for more care, and a growing group of patients with chronic illnesses. The year 2017 should be a good one for the European healthcare services industry, with more money from more sources backing the best management teams and building international businesses.
Why to attend???
Doctors, patients and health care workers consider the prevention of Rheumatic diseases as an essential tool to improve the general health status of the populace. The extents of people suffering from the disease are expected to increase in future according a recent statistical survey. According to recent statistics, Rheumatic disorders worldwide will double between 2015 and 2045. Realizing this imperative, Conference series is set to organize International Conference on Targeting Rheumatology and Novel Therapeutics this year with a view to enhance research and promote awareness aiming in developing solutions for the challenges encountered. Rheumatology 2018 will comprise of many leading keynote speakers and session speakers who will be delivering their speech on the current research topics of Rheumatic disorders and therapeutics, complications related to Rheumatism and other risk factors associated with the related disease. The young researchers and the student participants will gain the opportunity to grab the Best Poster Award by presenting their work as a poster presentation and Young Researcher Forum.
Major Rheumatology Associations in Poland
European Society of Musculoskeletal Radiology
Polish Arthroscopy Association
Polish Sport Traumatology Society
Polish Medical Association
Polish Society of Orthopaedics and Traumatology
Rheumatology associated Hospitals in Italy
Centrum Medyczne - LIM Center
Carolina Medical Center
Medicover Hospital
Dom Lekarski - Medical House
Medical University of Warsaw
Wojskowy Instytut Medyczny, Warsaw
Szpital Kliniczny im. Księżnej Anny Mazowieckiej, Warsaw
Samodzielny Publiczny Szpital Kliniczny
Ministerstwo Spraw Wewnętrznych i Administracji, Warsaw
Funds and Grants
Rheumatology Research Foundation, one of the major Rheumatology Association funds education and training for rheumatologists and rheumatology health professionals across the world. Programs funded by the foundation help young investigators pursue promising research ideas and support innovative research projects that will improve treatments for people with rheumatic diseases and lead to a cure.
Conference Series has been a great influence in running international rheumatology meetings for four years and ready to elaborate its spectrum in Asia, America, Europe countries. Conferenceseries successfully conducted past meeting in major cities like San Francisco, Alicante, Baltimore, with great success the meetings again scheduled in three continents. 10th Global Orthopedicians Annual Meeting to be held during July 03-04, 2017 at Kuala Lumpur, Malaysia. Global Orthopdicians meeting on Tennis Elbow is to be scheduled in San Antonio, USA.
ConferenceSeries Ltd is pleased to announce the commencement of the 9th European Congress of Rheumatology, Autoimmunity and Orthopedics on October 16-17, 2018 at Warsaw, Poland. Theme of the conference is "Expanding the horizons with new Methodologies in Rheumatology and Orthopedic diseases." The purpose of the conference is to elucidate the disease from a number of scientific aspects, present an opportunity to meet and network with renowned Rheumatologists, pharmacists and allied health professional from around the world and listen to top speakers on new development that will advance the future of Rheumatology.