Social Sciences Market Analysis and Reports | Italy Conference Series
Market Analysis - Social Sciences 2018
Social Science & Medicine Research: Market Analysis 2018
Introduction & Scope
INTRODUCTION
OVERVIEW
Sociology is the study of an interdisciplinary forum for the dissemination of social science research on health including anthropology, economics, geography, psychology, social epidemiology, social policy, sociology, and health care practice, policy, and organization. It focuses mainly on the societal dimensions of health and medicine and it provides an analytical framework for understanding the social contexts of health, illness and health care. Central topics include the subjective experience of health and causes of illness, political, economic and environmental circumstances fostering ill health. Illness is a particular abnormal condition, a disorder of a structure or function that affects part or all of an organism.
SCOPE
Social Science Conference 2018 is a global platform provides an interdisciplinary forum for the dissemination of social science research on health including anthropology, economics, geography, psychology, social epidemiology, social policy, sociology, and health care practice, policy, and organization. It aims to discuss and learn about social aspects of health and disease, the social behavior of patients and health care providers, the social functions of health organizations and institutions, the social patterns and the utilization of health services, the relationship of health care delivery systems to other social institutions, and social policies toward health.
The sociological approach to medicine is one of the biggest subsections of the whole field of sociology, and has become an important component of health care disciplines such as public health, health care management, clinical medicine and nursing. It involves a sociological analysis of medical organizations, the actions of healthcare professionals, and the social and cultural effects of medical practice. The field of medical sociology regularly interacts with the sociology of science, knowledge, and technology studies, while also working alongside social epistemology. Medical sociologists are interested in the experiences of patients and are frequently found working at the fringes of public health, social work, demography and gerontology.
Many individuals receive health services because of illness, but this is not the only cause. From disability to emotional problems, from vaccinations to pregnancy, there are many reasons why people find themselves dealing with health professionals. Health care is intended to cover this wide range of activity – certainly not just what takes place in acute hospitals.
The aim of Social Sciences congress is to provide suggestions and examples of how sociological concepts and insights can be used to help think about important contemporary issues in health care. For that reason, it has a practical as well as an academic purpose, aiming to contribute to improving the quality of interaction between patients and practitioners.
CONFERENCE HIGHLIGHTS:
We believe these objectives can be achieved through disseminating workshops, symposiums and open discussion forums happening at our International Conference on Social Science and Interdisciplinary Studies 2018.
INTENDED AUDIENCE:
Sociologists
Medical Sociologists
Anthropologists
Public Health Professionals
Social Workers
Medical Sociology Professionals
Social Science Researchers
Health Care Professionals
Healthcare Researchers
Healthcare Providers
Healthcare Policymakers
Psychologists
Physicians
Hospital and Skilled Nursing Home Administrators
Community Care coordinators Nurses
Crime lab Analysts
Pharmacists
Researchers and Students
Epidemiologists
Economists
Business Entrepreneurs
Pharmaceutical companies
Public health departments
Health Clubs
Exhibitors and Sponsors
Software developing companies
Manufacturing Medical Devices Companies
Data Management Companies
Why Rome, Italy?
Rome has a status of the global city. It is known as the "Eternal city" and also "Caput Mundi," coming from Latin and meaning capital of the world. The population of the city of Rome is around 2.7 million. The entire metropolitan area of Rome has an estimated 3.7 million people. According to the United Nations World Tourism Organisation (UNWTO), Europe was the most frequently visited region in the world in 2015, accounting for over half (51.4 %) of all international tourist arrivals, equivalent to some 609 million persons. The wealth of European cultures, the variety of its landscapes and the quality of its tourist infrastructure are likely to be an attraction. The center of Rome is compact, and wandering the ruins on foot is a great way to see the city. Street life is vibrant and constant. The architectural design is consuming, and close proximity of ancient sights make for a comfortable and convenient walk. Rome is easily divided into two regions: the inner city, within the Aurealian Wall, built in the late third century to enclose the area around the Seven Hills; and the sprawling outer city, with its suburbs. The historical center is a small area, located almost entirely on the eastern bank of the Tiber River. Monuments of Rome's past eminence are located mostly within the historical center and are a stark contrast to the modern districts.
Social Science research is going in a vast way in the Italy and so many top most medical associations are present in the city. This gives boost to the social science and medicine research. Social science and Medicine are interrelated with each other and the research goes on endless. So many research companies specialized in healthcare and pharmaceutical are located in and around Rome, Italy. Europe is the hub of medical and social science research market. There are around 50 major sociological associations and 138 major medical associations across the Europe. European countries allocates sufficient budget for the research work going in the field of social sciences and medicine. Europe faces a demographic challenge caused by an ageing population and falling birth rates. This is putting straining on healthcare systems, which require the well and working to contribute to social systems, and on the economy, which is becoming increasingly dependent on older workers. 95% of Europe's 25,000 medical technology companies are small and medium-sized enterprises (SMEs). The industry invests heavily to continuously improve its technologies and come up with breakthrough innovations. It files more patents than any other sector, provides over 575,000 jobs in Europe and delivers a positive trade balance of €14 billion.
Sociological & Medical Associations in Rome, Italy:
Associazione Italiana di Sociologia (AIS)
Associazione Italiana di Valutazione (AIV)
Associazione Nazionale Sociologi (ANS)
Società Italiana di Sociologia (SoIS)
Società Italiana di Sociologia della Salute (SISS)
Italian Medical Society of Great Britain (IMS)
Italian Association of Demographic Education
Regional Sociological & Medical Associations in Europe:
European Sociological Association (ESA)
European Sociobiological Society (ESS)
European Union Sociological Association (EUSA)
European Association for Southeast Asian Studies (Euro SEAS)
European Association of Social Anthropologists (EASA)
European Educational Research Association (EERA)
European Group for Organizational Studies (EGOS)
European Social Science History Conference (ESSHC)
European Society for Rural Sociology (ESR)
International Visual Sociology Association (IVSA)
Sociological Association of Ireland (SAI)
Association of Sociologists of the Republic of Macedonia
Polish Sociological Association (PTS)
Russian Sociological Society (ROS)
Finnish Anthropological Society (FAS)
Bulgarian Sociological Association (BSA)
Association Francaise de Sociologie (AFS)
Sociological Associations across the World:
International Sociological Association (ISA)
American Sociological Association (ASA)
British Sociological Association (BSA)
European Society for Health and Medical Sociology (ESHMS)
Asia Pacific Sociological Association (APSA)
Japan Sociological Society (JSS)
Indian Sociological Society (ISS)
Brazilian Sociological Society (BSS)
The Australian Sociological Association (TASA)
Chinese Sociological Association (CSA)
South African Sociological Association
EMPLOYMENT:
A higher proportion of social scientists are in employment than STEM (science, technology, engineering and mathematics) or arts-humanities graduates: 84.2% of social science graduates, compared with 77.8% of STEM graduates and 78.7% of arts-humanities graduates, are in employment at this period. The difference between the employment rates of those who studied full-time and part-time is also much smaller among social science graduates: their rates of employment are consistently high. A smaller proportion of social science graduates are in further study, however – 10.1% compared with 17.3% from STEM and 11.5% from arts-humanities degree backgrounds.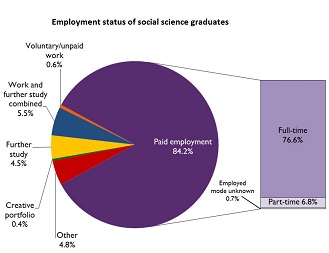 OCCUPATION:
Among those in employment, 7 in 10 social scientists are in 'professional' or 'associate professional and technical' occupations within 3.5 years of graduating. This includes researchers, teachers, accountants, business analysts, recruitment and management consultants, legal professionals, town planners, social and community workers and insurance brokers, among many others. A greater proportion of social scientists are already 'managers, directors and senior officials' than graduates of any other subject group, 3.5 years after graduating from their first degrees: this accounts for 7.6% of employed social science graduates, compared with 3.6% of graduates in STEM and 6.2% in arts-humanities. 'Business and administrative studies' graduates are especially highly represented, followed by 'architecture, building and planning', and social studies graduates.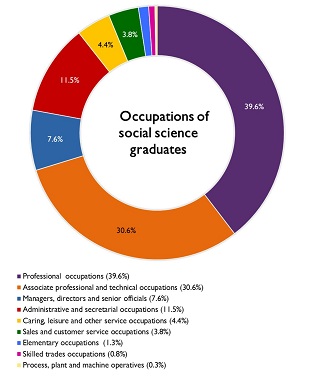 INDUSTRIES:
Social scientists take up these occupations in a broad range of industries across the public, private and third sectors. Higher proportions of social scientists are employed in 'professional, scientific and technical activities' than any other subject group. This industry accounts for 1 in 5 employed social scientists (19.8%) – a considerably greater proportion than STEM (10.9%) or arts-humanities (14.2%) graduates. Social scientists remain more highly represented than STEM graduates even after discounting law and architecture graduates, whose vocational degrees are likely to steer them towards professional activities in particular. The types of work classified under this category include experimental and market research management consultancy; advertising; accounting, book-keeping, auditing and legal activities; industrial design and architectural activities; labor recruitment and many others.
Likewise, nearly twice the proportion of social scientists is employed in 'financial and insurance activities' compared with STEM or arts-humanities graduates – 7.1% compared with 3.7% and 3.9% respectively. This includes occupations in banks, insurance and pension funding, and other kinds of financial management. Graduates of business and administrative studies, social studies and law and are particularly represented. After discounting graduates with degrees specifically in education (of whom 78.7% enter employment in the same industry), a smaller proportion of social scientists is employed in education (10.4%) than either STEM (14.3%) or arts-humanities graduates (25.4%). This appears consistent with the low content of social science in the National Curriculum. Nevertheless social scientists who become teachers may teach a range of subjects related to their degree. The proportion of social science graduates employed in 'human health and social work activities' (12.6%) is less than half that of either STEM graduates (34.2%) – even after discounting those who studied medicine or dentistry (which brings the STEM proportion down to 28.4%). 1 in 13 social science graduates (7.7%) work in 'public administration and defense' or 'compulsory social security.' This sector includes activities in central, regional and local government, the provision of community services, and judicial activities, among others.
Proportions of social scientists in 'manufacturing' or 'information and communication' are lower than those of STEM or arts-humanities graduates. Those in 'wholesale and retail trade, and repair' are fractionally higher than STEM graduates but lower than the national graduate average.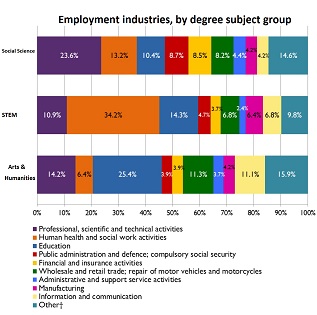 DISCLAIMER:
The information developed in this report is intended only for the purpose of understanding the scope of hosting related international meetings at the respective locations. This information does not constitute managerial, legal or accounting advice, nor should it be considered as a corporate policy guide, laboratory manual or an endorsement of any product, as much of the information is speculative in nature. Conference Organizers take no responsibility for any loss or damage that might result from reliance on the reported information or from its use.