STD-HIV AIDS Market Analysis and Reports | Italy Conference Series
Market Analysis - STD-HIV AIDS-2020
Conference Series LLC Ltd is delighted to invite all intended participants to attend "7th World Congress on Control and Prevention of HIV/AIDS, STDs & STIs (STD-HIV AIDS 2019)" scheduled on July 01-02, 2019 at Valencia, Spain. STD-HIV AIDS 2019 is a unique and open platform to discover and gain the knowledge in the field of Life Science. The conference brings together Professors, Researchers, Scientists, Practitioners, Health Care Experts, Public Health Professionals and Students from all the zones of Medical Sciences. It will offer an exciting scientific program, composed of Plenary Lectures, Poster Presentation, Workshops and Abstract-driven sessions presenting the latest research in the field of HIV/AIDS. Furthermore, STD-HIV AIDS 2019 conference will also provide an opportunity for younger investigators to participate actively and present their research.
For more details please visit: https://globalhiv-aids-std.infectiousconferences.com/
About STD-HIV AIDS:
STDs are infections that are spread from one person to another during vaginal, anal, and oral sex. STDs produced by bacteria, yeast, or parasites can be treated by Antibiotics. There is no cure for STDs initiated by a virus, but medicines can often help with the symptoms and keep the infection under control. Human immuno deficiency virus it damages your immune system by destroying the white blood cells that fight infection. AIDS stands for Acquired Immuno-Deficiency Syndrome, which appears in the progressive stage of HIV infection.
Antiretroviral therapy (ART) is recommended to treat HIV infection. People on ART take a combination of HIV medications every day. ART can't cure HIV infection, but HIV medicines help individuals with HIV live longer, healthier lives. HIV medicines can also decrease the risk of HIV transmission.
STD-HIV/AIDS Market Forecast:
According to Global Data, Sexually Transmitted Disease Market is expected to grow at a CAGR of 8.7% through the forecast period (2017–2022). A group of illnesses that can be transmitted from one person to another through the sharing of body fluids, vaginal fluids and blood is known as STD (Sexually Transmitted Diseases). Technavio's analysts forecast the global sexually transmitted disease testing market to grow at a CAGR of 5.64% over the period 2013-2017. The global STD diagnostics market added up for almost USD 103.20 Billion in 2017 and is likely to cross almost USD 166.50 by end of 2022, developing at a CAGR of almost 8.7% from 2017 to 2022.
Figure 1: Represents the HIV Diagnosis Market value.
HIV Drug Market Analysis
Human immunodeficiency virus (HIV) is one of the most infectious diseases with around 36.7 million people suffering by the end of 2015, according to The Joint United Nations Programme on HIV/AIDS (UNAIDS). Global HIV Drug Market was valued at $20,448 million in 2015 and is expected to garner $26,458 million by 2022. In 2017 the global HIV drugs market exceeded a value of US$ 17 Billion. Looking forward, the market value is expected to reach nearly US$ 21 Billion by 2023, expanding at a CAGR of more than 3% during 2018-2023.
Figure 2: Represents the HIV drugs manufacture cost.
HIV Infected Death Rate:
The ratio between deaths and individuals living with HIV in the year 2017 is 56% were accessing treatment. Out of those, 47% were virally suppressed. Tuberculosis (TB) remains the primary cause of death among people living with HIV. In 2017, 0.9 million individuals died from AIDS-related illnesses worldwide, compared to 1.9 million in 2004 and 1.4 million in 2010. AIDS-related deaths have been decreased by more than 51% since the peak in 2004.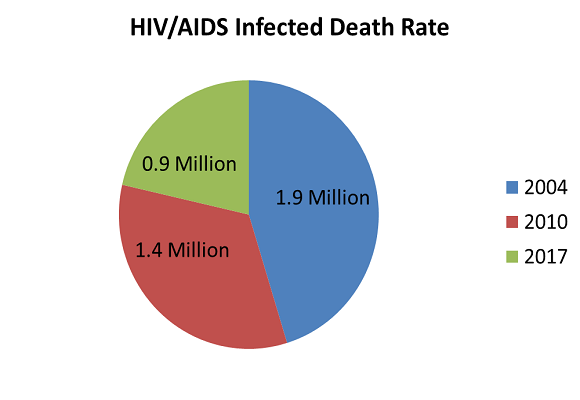 Figure 3: Represents death rate due to HIV infection.
Global Data:
Since the beginning of the HIV epidemic, more than 70 million individuals were infected approximately with the HIV virus and about 35 million people died of HIV. Universally, 36.9 million [31.1–43.9 million] people are living with HIV at the end of 2017. An expected 0.8% [0.6-0.9%] of adults aged 15–49 years affected with HIV, although the burden of the epidemic continues to vary considerably between countries and regions. The WHO African region remains most severely affected, with nearly 1 in every 25 adults (4.1%) living with HIV and accounting for nearly two-thirds of the people living with HIV worldwide.