Steel Structures Convention Market Analysis and Reports | singapore Conference Series
Market Analysis - Steel Structures Convention 2017
Steel industry and its associated mining and metallurgy sectors have seen a number of major investments and developments in the recent past. Increasing awareness among end-users owing to advantages such as design flexibility, energy efficiency and faster completion of prefabricated/engineered building (PEBs) projects using channels and beams is expected to drive demand.
Demand in construction industry is further driven by adoption of advancements in structural design methods, evolving building practices, and strong raw material availability.
A new report Global Construction 2030 forecasts the volume of construction output will grow by 85% to $15.5 trillion worldwide by 2030.
The construction industries in emerging markets are forecast to continue to grow at a much faster rate than the advanced economies.
Why Singapore???
Society has grown rapidly from strength to strength. As a result of the Society's effort, there has been an upsurge of interests in Singapore towards the consideration of structural steel as an alternative material of construction. It has been very active in bringing together all those involved in research, teaching, design, fabrication, manufacture and construction of steel structures in this region. This is made possible through the organization of seminars, evening talks and publications of quarterly newsletters. The Society has also co-sponsored a number of international and regional conferences and has arranged workshops and short courses on various aspects of steel structures. In order to bring closer new research findings and latest developments in steel construction. We are taking a forward step for hosting the conference in Singapore.
In Singapore construction accounts for 80% of steel consumption. Steel demand increased 5% year-on-year in 2015, to around 4 million tons. In early 2016, demand increased further due to the fact that in Q1 of 2016 construction was the best-performing GDP component, as building activity expanded 6.2%, thanks to increased public and private sector construction activities.

Singapore is a net importer of steel due to the lack of upstream players. Almost all steel businesses in Singapore are traders and wholesalers, who either import steel and sell it locally or re-export from/to other countries.
Steel production overview:
The construction industries in the Middle East and Africa region are predicted to be the fastest growing in 2016-2020, overtaking the Asia-Pacific region, which held the top spot in 2011-2015. This reflects the huge investment in infrastructure and buildings. However, Asia-Pacific's share of the global construction industry will continue to rise, reaching close to 49% in 2020, up from 40% in 2010.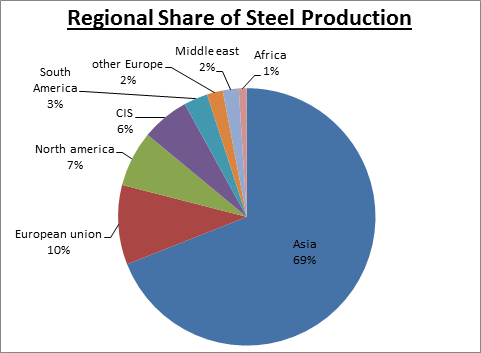 In real terms, Singapore's construction industry registered positive growth during the review period (2012-2016). Despite a slowdown in growth due to the impact of the global financial crisis, the industry registered a modest performance, supported by government efforts to stabilize the economy, industrial activity, and public sector investments in residential projects. The industry's output value in real terms rose at a compound annual growth rate (CAGR) of 3.75% during the review period.
The Singaporean steel market had total revenues of $271.4m in 2014, representing a compound annual rate of change (CARC) of -14.3% between 2010 and 2014.

Market production volumes declined with a CARC of -12.3% between 2010 and 2014, to reach a total of 430.8 thousand metric tons in 2014.

The steel market in the ASEAN countries continues to face intense competition from imports, low steel prices and tight squeezes on margins. Steel producers are unable to step up their production volumes, and average capacity utilization rate remains around the 50% mark.
GDP from Construction
GDP from Construction in Singapore increased to 4696 SGD Million in the fourth quarter of 2016 from 4688 SGD Million in the third quarter of 2016. GDP From Construction in Singapore averaged 1954 SGD Million from 1975 until 2016, reaching an all-time high of 4848 SGD Million in the second quarter of 2016 and a record low of 508.90 SGD Million in the first quarter of 1975.
Steel producing Countries overview:
The biggest steel producing country is currently China, which accounted for 50.3% of world steel production in 2015. In 2008 and 2009, output fell in the majority of steel-producing countries as a result of the global recession. In 2010, it started to rise again.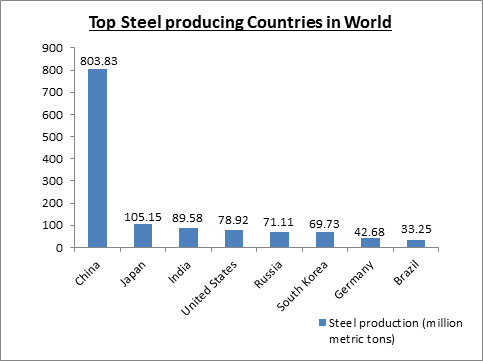 There are many grades and types of steel available in the market today classified broadly into Stainless Steel, Alloy Steel, Tool Steel, and Carbon Steel. The top steel producing countries are China, Japan, India, US, Russia, South Korea, Germany, Brazil in 2015, China produced 803.83 million metric tons of Crude Steel accounting for 50.3% of the world's total production.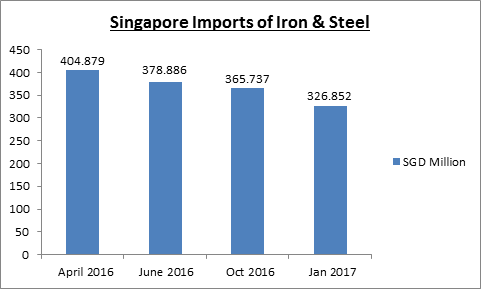 Imports of Iron & Steel in Singapore decreased to 326.852 SGD Million in January 2017. Imports of Iron & Steel in Singapore averaged 463.78 SGD Million from 2014 until 2017, reaching an all-time high of 668.63 SGD Million in October of 2014 and a record low of 284.73 SGD Million in February of 2017.
Civil Engineering Universities and Companies of Singapore:
National University of Singapore

Nanyang Technological University

Singapore University of Technology and Design

Boustead Projects Limited

CES Engineering & Construction Pte.Ltd

DEENN Engineering Pte Ltd

GS Engineering & Construction Corp

HEXACON Construction Pte.Ltd

HO LEE Construction Pte Ltd

HYUNDAI Engineering & Construction Co.Ltd

JIAN HUANG Construction Co Pte Ltd

KIENTA Engineering Construction Pte. Ltd

KIMLY Construction Pte Ltd

LIAN BENG Construction (1988) Pte Ltd

NAKANO Singapore (Pte) Ltd

Singapore Piling & Civil Engineering Pte Ltd

WELLTECH Construction Pte Ltd

YAU LEE Construction (Singapore) Pte. Ltd

YONGNAM Engineering & Construction (Pte) Ltd
ConferenceSeries
Ltd invites all the participants across the globe to attend the
4th International Conference on Advanced Steel Structures
during November 09-10, 2017 at
Singapore
. Steel Structures Convention 2017 focuses on advanced methods and analysis of Structures specially involving the framing solutions of Steel Structures.
Steel Structures 2017 conference will make the perfect platform for global Construction development as it gathers renowned speakers, researchers, Structural Engineers, designers, Civil Engineers, builders across the globe to a most exciting and memorable Engineering gathering filled with much enlightening interactive sessions, world class exhibition and poster presentations to enhance the theme "Exploring Innovative Steel Structural Designs for Advanced Constructions". Advances in the field of Construction and Steel Structures are one of the crucial factors in the economic prowess of the developed countries. Also for the developing countries, adoption of innovative construction techniques and various versatile steel structures is paramount for advancement of their economies.
Steel Structures Convention objective is to provide the construction industry with a highly focused gateway to learn, analyze and design the region's major construction opportunities and also to meet different Steel production companies, Steel structure companies, Steel construction companies, Steel building companies, Steel fabrication companies.
Importance and Scope:
Construction and Steel Structures are growing rapidly throughout the world and its development is making tremendous impacts in infrastructural development, urban planning and industrial expansion. With the overall increase in new projects based on steel structures throughout the world, the field of civil engineering still explores several new advancements.
The scope of this conference is to facilitate knowledge transfer between Engineers and scientific researchers on the topics related to Structural Engineering, construction and expand the boundaries of civil engineering. This conference is all about Construction, industries, infrastructure, buildings, those are made from organized combination of structural steel that can carry loads and provide adequate rigidity and also required flexibility. Steel Structure Convention 2017 will also include advancing international knowledge in making, shaping, framing and treating of steel. The importance and significance can be gauged by the fact that it has made huge advancements over the course of time and is continuing to influence various Construction sectors.
Why to attend?
For the people who are focused on the field of Structural Engineering, Construction and Steel Structures; it is a great opportunity to accomplish the gathering of individuals from the world professionalized advancement undertakings. Our renowned speakers, the most advanced framing solutions, Design methods, techniques, and the most recent analysis in Steel Structure field are indications of this 2-Day event. The Meeting assembles masters, researchers, associates, analysts, designers and Professors from all the locality of Civil Engineering, Structural Engineering, Designers Architectural, Geotechnical Engineering and other related departments, Builders, steel producers, steel merchants, Building and improvement specialists, Developers, Contractors, and other Construction consultancies.
Target Audience:
Engineers who are specialized on the particular topics like Civil Engineers, Structural Engineers, Mechanical Engineers

Building and construction professionals

Building Material manufacturers.

Steel traders, Developers and Contractors

Steel Associations and Societies

Business Entrepreneurs

Interior Design

Architect
Conference Highlights
Strength of Materials

Advanced Structural Analysis

Bridge Engineering

Earthquake Engineering

Construction Engineering

Prestressed Structures

Fabrication of Structures

Steel Concrete Composite Structures

Structural Stability

Foundation Engineering

Geotechinical aspects

Green Building
Special Issues:
All accepted abstracts will be published in respective supporting International Journals.
Abstracts will be provided with Digital Object Identifier by Cross Ref.