Surgery Market Analysis and Reports | Ireland Conference Series
Market Analysis - Surgery 2018
7th International Conference and Exhibition on Surgery
June 21-23, 2018 Dublin, Ireland
Conferenceseries Ltd is pleased to announce the commencement of the 7th International Conference and Exhibition on Surgery on October 16-17, 2018 at Dublin, Ireland. Theme of the conference is "Advancements and Endeavours in the Field of Surgery". The purpose of the conference is to elucidate the disease from a number of scientific aspects, present an opportunity to meet and network with renowned Surgeons, pharmacists and allied health professional from around the world and listen to top speakers on new development that will advance the future of Surgery.
The Conference Highlights of the following topics
General Surgery
Cardiac Surgery
Neurosurgery
Orthopedic Surgery
ENT Surgery
Plastic surgery
Microsurgery
Colorectal Surgery
Transplant Surgery
Vein Surgery
Oncology and Surgery
Bariatric Surgery
Urology Surgery
Laparoscopic Surgery
Gynecology Surgery
Eye Surgery
Laser surgery
Hand Surgery
Craniofacial surgery
Vascular Surgery
Outpatient Surgery
Pediatric Surgery
Robotic Surgery
Nursing and Surgery
Trauma surgery
Surgery is an ancient medical technique that uses operative manual and instrumental techniques on a patient to investigate or treat a pathological condition such as a disease or injury, to help improve bodily function or appearance or to repair unwanted ruptured areas. An act of performing surgery may be called a "surgical procedure", "operation", or simply "surgery". In this context, the verb "operate" means to perform surgery. "Surgical" means pertaining to surgery; e.g. surgical instruments or surgical nurse. The patient or subject on which the surgery is performed can be a person or an animal. A surgical team is made up of surgeon, surgeon's assistant, circulating nurse, anesthesia provider and surgical technologist. Surgery usually spans minutes to hours, but it is typically not a periodic type of treatment. The term "surgery" can also refer to the place where surgery is performed, or simply the office of a physician, dentist, or veterinarian.
Market Analysis and Case study of Surgery
The global surgical processes volume market is characterized by the presence of a number of enterprises, competing to achieve a powerful market position and revenue. The industry is projected to showcase incredible growth and revenue potential, on account of the rising technological advances in healthcare, disposable incomes, and demand of minimum suffering during medical treatments, finds Transparency Market Research. The vendors such as Allergan PLC, Cutera Inc, Lumenis Ltd and Cynosure Inc. currently hold string position in the market. These companies are likely to emphasis on expanding their footprint through networking with healthcare organizations, and invest in the research and development of medical technology. It predicts that the worldwide market will reach a volume of approximately 2.2 bn procedures by 2023, the end of the forecast period. It stood at about 1.3 bn in 2014 and is expected to exhibit a steady CAGR throughout the forecast duration, i.e. 2015 to 2023. The section of gynecological surgical procedures is predicted to hold a dominant market share by volume, on account of better and more precise prognosis and treatment of disorders and the surging in the spending capacity of individuals on better healthcare. Surgical techniques, by volume reflect a plethora of procedures, for instance, urology, dental, ophthalmic, gynecology, neurosurgery, orthopedic, and cardiovascular, which could be additionally arranged into various classifications. The eventual fate of surgical strategies lies in the headway of technological innovations in the medical field, with respect to minimum invasive methods and application of autonomy in surgical medicines. Directly exploited for gynecological methodology and gall bladder expulsion, single-entry point laparoscopic surgery is an exceptionally progressed insignificantly intrusive surgery.
Medical Robotics and Computer Assisted Surgery Market Overview:
Medical Robotics and Computer Assisted Surgery Market is expected to reap $20.5 billion by 2022. It is a technologically advanced surgical, rehabilitation, and assistive solution used mainly during complex surgical procedures, physical complications, and hospital automation, respectively. The industry is majorly segmented into surgical, rehabilitation, non-invasive radiosurgery, and pharmacy automation robots. The surgical robotics system includes surgical arms, surgeons console, and monitoring systems & software. The surgical robotic systems market achieved prominence in the recent years, owing to fast technological advancements, increasing investments in R&D, and its extensive application in critical surgeries such as orthopedic, cardiac, and neurosurgery. Moreover, a wide scope of applications in different surgeries, increasing demand for advanced medical facilities, and rising incidence of diseases, such as cancer and obesity, majorly supplement the growth of the global surgical robotic systems market. In case of rehabilitation robots, the medical robotics and computer-assisted surgery market gained admiration because of the rising aging population prone to the physical disabilities and growing need of automated-assistive rehabilitation solutions.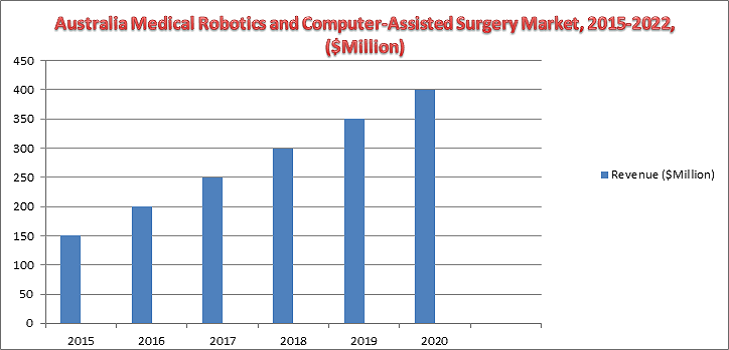 Treatment Profiles
Most of the UK patients - 93% - accessed treatment as out-patients, with only seven percent requiring hospital admission. For those admitted, data shows 32% stay in hospital for only a day, with 17.81% and 14.89% being admitted for two and three days respectively; i.e. 65% of those requiring in patient care do so for less than three days. However, around 10% of those required hospitalized for more than two weeks, with 5% of patients staying more than 30 days. 60% of patients were men and 40% women.
Types of Procedure
467 types of procedures were performed on UK patients across the five hospitals during the timespan surveyed, for the purposes of this analysis these were grouped into subcategories of top ten procedures. Operations on integument system (mostly breast and facelifts) are the most common procedures, accounting for 25% of total procedures in UK patients, followed by operations on musculo-skeleton, eyes and digestive system respectively. Male patients have the major share of all procedures except for cosmetic related procedures (integument, eyes and nose) and those on female genital organs. Women make up the vast majority of patients for cosmetic surgery. There is also a slight age difference between patients; those undertaking cosmetic procedures are on average younger than orthopedic patients. Figure showing: Top 10 procedures among UK medical tourists by gender.
Why Dublin?
Dublin is Ireland's capital city and was established by the Vikings in 841. The city is saturated with history and humming with vitality. Medieval, Georgian and current engineering gives a setting to a well-disposed cosmopolitan city. Dublin is a flourishing place for culture and is home to an extraordinary melodic and abstract convention, its local children incorporate Shaw, Yeats, Joyce, Wilde and Beckett. The city's attractions incorporate palaces, exhibition halls, workmanship displays, bars and bistros. Inside thirty minutes of the city are mountain strolls, stately homes and gardens, various greens, sandy shorelines and angling towns. A clamouring city with a populace of more than 1.7 million and home to more than 100 distinct nationalities, every one of whom add to the texture of Dublin. While it has a veritable cosmopolitan feel, Dublin has still figured out how to hold its own particular unmistakable culture which is communicated in affection for writing, show, customary music and game. The quintessential Dublin Bar gives the point of convergence of Dublin's social life, enlightening the dynamic tints of Dubliners and their way of life. Discussion streams openly unleashing the one of a kind environment that characterizes the city. Dublin is one of the most seasoned urban areas in Europe and with antiquated houses of worship, stupendous structures and fine historical centers, social wealth proliferate. From the old to the cutting edge, from history, design, writing, craftsmanship and paleontology to the performing expressions Dublin has it, with the genuine preferred standpoint to the guest being that everything is contained inside a little range.
Why to attend???
The Surgery conference interacts with members across the globe focused on learning about surgical and its specialties. This is the single best opportunity to reach the largest participants. Sharing the knowledge and demonstrations, information and B2B meetings with industrialists and potential clients to make a splash with innovative products live and brand recognition at this event. World renowned speakers, the most recent techniques, and the latest updates in Surgery are hallmarks of this conference.
Major Surgery Associations in Ireland
Association of Surgeons of Great Britain and Ireland
Irish Association of Plastic Surgeons
Irish Medical and Surgical Trade Association
Irish Orthopaedic Association
Association of Upper Gastrointestinal Surgeons
Surgery Associated Hospitals in Ireland
Beaumont Hospital
Bon Secours Hospital
Cavan General Hospital
Connolly Hospital
Midland Regional Hospital Mullingar
Our Lady of Lourdes Drogheda
St Luke's Hospital Kilkenny
The Rotunda Hospital
University Hospital Waterford
Our Lady's Hospital Navan
South West Acute Hospital Enniskillen
Temple Street Childrens University Hospital
The National Maternity Hospital
Loughlinstown Hospital
The Galway Clinic
Our Lady's Hospital for Sick Children Crumlin