Regenerative Medicine Market Analysis and Reports | Austria Conference Series
Market Analysis - Regenerative Medicine-2020
Market Analysis:
Tissue Engineering is an interdisciplinary field that applies the principles of engineering and life sciences toward the development of biological substitutes that restore, maintain, or improve tissue function or a whole organ. Regenerative medicine is not one discipline. It can be defined as a therapeutic intervention which "replaces or regenerates human cells, tissues or organs, to restore or establish normal function" and deploys small molecule drugs, biologics, medical devices and cell-based therapies
Currently, it has emerged as a rapidly diversifying field with the potential to address the worldwide organ shortage issue and comprises of tissue regeneration and organ replacement. Regenerative medicine could potentially save public health bodies money by reducing the need for long-term care and reducing associated disorders, with potential benefits for the world economy as a whole. The global tissue engineering and regeneration market reached $17 billion in 2013. This market is expected to grow to nearly $20.8 billion in 2014 and $56.9 billion in 2019, a compound annual growth rate (CAGR) of 22.3%. On the basis of geography, Europe holds the second place in the global market in the field of regenerative medicine & tissue engineering. In Europe countries like the UK, France and Germany are possessing good market shares in the field of regenerative medicine and tissue engineering. Spain and Italy are the emerging market trends for tissue engineering in Europe.
In addition, tissue engineering will bring more opportunities for transplantation. Donor shortages for multiple transplant procedures are a serious challenge for clinicians around the world. As of 2017, according to information from the U.S. government on organ donation and transplantation, nearly 114,687 people in the U.S. were on waiting lists for kidney, heart, livers transplants. Tissue engineering can meet the inadequacy of organ transplantation and it is anticipated that increasing 3D printing prominence in regeneration medical applications will boost demand for tissue engineering over the forecast period. Tissue engineering also has a promising future for 3D contour restoration as well as function loss for the affected body parts.
Tissue engineering methods currently available face several problems, including inadequate cell growth, insufficient and unstable development of growth factors to stimulate cell communication and proper response, and lack of appropriate biomaterials and techniques to capture appropriate physiological architectures In addition, other limitations associated with tissue engineering are the inability to control cellular functions and their different properties (biological, mechanical, electrochemical, and others) and issues of bio molecular detection and biosensors.
Why to attend???
Meet Your Target Market with members from around the world focused on learning about Advertising and marketing, this is the single best opportunity to reach the largest assemblage of participants from the tissue engineering and regenerative medicine community. The three days event implants a firm relation of upcoming strategies in the field of Tissue Engineering & Regenerative Medicine with the scientific community. Conduct demonstrations, distribute information, meet with current and potential customers, make a splash with a new product line, and receive name recognition.
Today's Market Study of Tissue Engineering and Regenerative Medicine in USA | Europe | Asia Pacific
USA: Regenerative medicines market by therapy (cell therapy, gene therapy, immunotherapy, tissue engineering), region - global forecast to 2021, the global regenerative medicines market size is expected to reach USD 49.41 billion by 2021.
Europe: The global tissue engineering and regeneration market reached $17 billion in 2013. This market is expected to grow to nearly $20.8 billion in 2014 and $56.9 billion in 2019.
Asia-Pacific: Asia-Pacific regenerative medicines market is expected to reach USD 10.71 billion by 2021 from USD 3.01 billion in 2016, growing at a CAGR of 28.90% during the forecast period 2016-2021.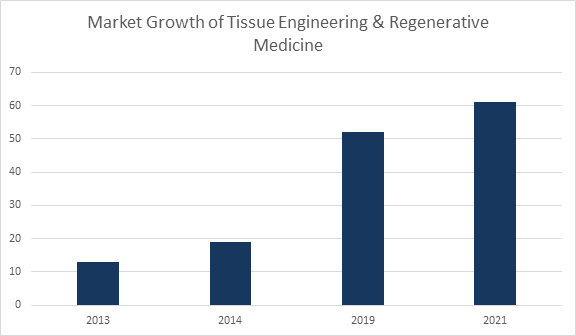 Importance & scope:
A novel set of tissue replacement parts and implementation strategies had shown a great revolution in this field. Cells placed on or within the tissue constructs is the most common methodology in tissue engineering.
This field continues to evolve. In addition to medical applications, non-therapeutic applications include using tissues as biosensors to detect biological or chemical threat agents and tissue chips that can be used to test the toxicity of an experimental medication. Tissue Engineering and Regenerative Medicine is the major field of Medicine, which is still under research and the advancements are maximizing day to day.
Regenerative Medicine 2019 is an engrossed a vicinity of cognizant discussions on novel subjects like Scaffolds, Tissue Regeneration, Tissue engineering & 3D printing, Cord blood & Regenerative medicine, Bone & Cartilage Tissue engineering, Stem cells to battle cancer, Tissue bioreactors, Tissue chips & Biochips, Immunotherapy, Clinical medicine, to mention a few. The three days event implants a firm relation of upcoming strategies in the field of Tissue Science & Regenerative Medicine with the scientific community. The conceptual and applicable knowledge shared, will also raise organizational collaborations to nurture scientific accelerations. We bring together Researchers & Scientists, business, creative & technology leaders from the tissue engineering, marketing for the most current and relevant.
In specific applications, polymer scaffolds must have unique physical and chemical properties and must meet some basic tissue engineering specifications. These scaffolds can be inserted without cells, so regeneration relies on the introduction of surrounding tissue into these materials a process known as tissue induction. Cells can be planted into a porous polymer as an alternative. The construction of the cell-polymer is then transplanted. In either case, biocompatibility is an essential criterion for the scaffold — that is, the polymer scaffolds and their products for degradation should not invoke an adverse immune response or toxicity.
Target Audience:
Regenerative Medicine Researchers & Scientists
Tissue Engineering Researchers & Scientists
Tissue Science Associations and Societies
Regenerative Medicine Associations and Societies
Tissue Science and Regenerative Medicine Academic professors
Tissue Science and Regenerative Medicine Investors
Global Tissue Science and Regenerative Medicine Companies
Cell and Molecular biology researchers
Cell and Tissue Engineering Laboratory Heads
Stem Cell Academic professors & researchers
Cell Biologists
Genetics and cell biology experts
Tissue engineering experts
Doctors and students prominent in cell therapy
Biomedical Engineers
Bio Medicine Researchers
Biotechnologists
Training Institutes
Exhibitors and Sponsors
Business Scholars from Industries & Entrepreneurs
Related Companies/Industries:
Admedus
3-D Matrix
Histogen
Revotek
Cerapedics
Bio-Tissue
NovaBone
TissueTech
Mega Biopharma
EPISKIN
Humeltis
ACS-Biotech
ROKIT
BioAxone
NIBEC
Gel4Med
Biostage
Miromatrix
Epithelix Sarl
Novothelium
DiscGenics
Humacyte
EpiBone
Prellis Biologics
Fesarius
Cytex Therapeutics
Indee Labs
Orig3n
Blue Rock Therapautics
Rooster Bio
Related Associations and Societies:
Euro Stem Cell (European Consortium for Stem Cell Research)
German Stem Cell Network (GSCN)
German Society for Stem Cell Research (GSZ)
Stem Cell Network North Rhine-Westphalia (NRW)
Norwegian Center for Stem Cell Research (NCSCR)
California Institute for Regenerative Medicine (CIRM)
New York Stem Cell Foundation (NYSCF)
Tissue Engineering International & Regenerative Medicine Society (TERMIS)
International Society for Stem Cell Research (ISSCR)
The New South Wales Stem Cell Network;
Korean Society for Stem Cell Research;
Japanese Society for Regenerative Medicine;
Taiwan Society for Stem Cell Research;
Stem Cell Society Singapore (SCSS);
Turkish Society of Gene & Cell Therapy (TSGCT)