World Gastroenterology Market Analysis and Reports | Japan Conference Series
Market Analysis - World Gastroenterology 2019
Importance & scope:
Value of Gastroenterology and Therapeutics
Conference series LLC Ltd. Provides you a perfect platform to understand in detail about Gastroenterology and its therapeutics as it is organising 16th World Conference on Gastroenterology and Therapeutics in Bangkok, Thailand on January 30-31, 2019. Gastroenterology 2019, with the theme of '' Exploring Novel Trends in Gastroenterology'' mainly focuses on updating you in the field of Gastroenterology
Gastrointestinal (GI) diseases affect stomach, large intestine and rectum, small intestine, oesophagus, liver, gallbladder, and pancreas. Knowledge about the most happening diseases is always beneficial. As these gastroenterological diseases are common in recent times people should have a thorough knowledge regarding the causes, adverse effects and treatment of these diseases particularly in the prevailing areas. The knowledge in studying of therapeutic endoscopy is useful in treatment of various disorders like gastrointestinal bleeding. It is basically a branch of medicine focussed on digestive system and its disorders. The scope of both medical gastroenterology and surgical gastroenterology is huge as it is considered as one of the top paying careers in medical field.
Why to attend?
Gastroenterology 2019, with most eminent and prominent speeches will definitely be the best opportunity for Scientists, Researchers, Professors, Delegates, and Students as it is involved in the most enriched knowledge sharing platform in the field of Gastroenterology. As Gastroenterology is one of the emerging fields of medical science, the event helps in gaining knowledge about the achievements held so far and the newer developments emerging till date.
With most interesting topics like Gastroenterological diseases, Immunology, Radiology, Gastro- neuroenterology which are involved in many recent advancements and developments, Gastroenterology 2019 is a spectacular event to participate and witness the fantasy.
Why Thailand?
Thailand formerly known as Siam, is a unitary state at the centre of the Southeast Asian Indochinese peninsula. Thailand is the world's 50th largest country by total area and the 21st-most-populous country. The capital and largest city is Bangkok, a special administrative area. Thailand in Asia-Pacific region is fast growing market regions for gastroenterological drug market.
Why Bangkok?
Bangkok, in Thailand is an international hub for transport and health care, and has emerged as a regional centre for the arts, fashion and entertainment. The city is well known for its vibrant street life and cultural landmarks. Bangkok is rapidly growing amidst little urban planning and regulation has resulted in a haphazard cityscape and inadequate infrastructure systems. The city grew rapidly during the 1960s through the 1980s and now exerts a significant impact on Thailand's politics, economy, education, media and modern society.
Global Gastrointestinal Drugs market to grow with a CAGR between 4.5 % and 5.0 % from 2017 to 2023. The global Gastrointestinal Drugs market was worth USD 46.5 Billion in 2016. Among the geographies North America dominated the world market and Asia Pacific anticipated growing Abbott Laboratories. Asia gastrointestinal drugs market is expected to reach USD 20,772.4 million by 2023 at a CAGR of 6.1%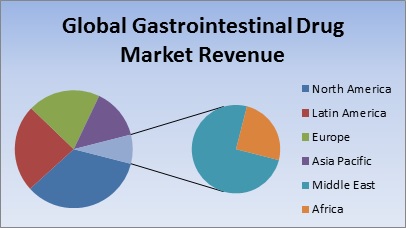 Acid neutralizers segment accounted for the largest market share with 33.3% of the Asia gastrointestinal drug market, by drug types in 2016
In 2016, Esophagus diseases segment accounted for the major share of the market as it was the most widely occurring GI disease. The Asia esophagus diseases market by type of diseases is expected to reach USD 7,427.6 million by 2023, growing at a CAGR of 6.32% from 2017 to 2023
India is expected to be the fastest growing market at a CAGR of 6.60% during the forecast period
Major companies which are included in the Gastroenterological drug market includes
Allergan Plc.
Bayer AG
AstraZeneca
Boston Scientific
Allergan Pharmaceuticals
Boehringer Ingelheim GmbH
GlaxoSmithKline Plc.
Janssen Biotech Inc.
Cogentix Medical
Evoke Pharma
Fujifilm Medical Systems USA
Olympus Corp. of the Americas
Pentax Medical USA
Synergy Pharmaceuticals
Salix Pharmaceuticals
Sanofi
Theravance Biopharma
Avaqva
Rhythm
Second genome
Sysontech
Endogastric Solutions
Seres Therapeutics
Zealand Pharma
Redhill Biopharma
Ritter Pharmaceuticals
Ironwood pharmaceuticals
Cosmo Pharmaceuticals
Takeda Pharmaceuticals the highest CAGR over the forecast period
The Main aim of the market research is to increase the awareness of gastrointestinal disorders among people and to identify the gastrointestinal market landscape as well as important advancements.
Major Gastroenterological Associations around the Globe:
World Gastroenterological Association
American Gastroenterological Association
Canadian Association of Gastroenterology
The Indian Society of Gastroenterology (ISG)
Norwegian Gastroenterological Association
Russian Gastroenterological Association, RGA
Japanese Society of Gastroenterology (JSGE)
Asian Pacific Association of Gastroenterology
United European Gastroenterology
Chinese Society of Gastroenterology
Gastroenterological Society of Singapore
Saudi Gastroenterology Association (SGA)
Indian Association of Gastrointestinal Endo Surgeons
Taiwan Liver Cancer Association (TLCA)
Gastroenterological Society of Australia (GESA)
Hong Kong Society of Gastroenterology (HKSGE)
New Zealand Gastroenterology International Training Association
Bockus International Society of Gastroenterology
Korean Society of Gastrointestinal Endoscopy
Gastroenterological Society of Taiwan
Pan-Pacific Society for Paediatric Gastroenterology
Sri Lanka Society of Gastroenterology
Thai Association of Gastroenterology
Asia-Pacific conferences invites you to attend 16th World Congress on Gastroenterology & Therapeutics (World Gastroenterology 2019) to be held in Bangkok, Thailand during January 30-31, 2019. The theme of the conference is "Exploring Novel Trends in gastroenterology"
World Gastroenterology 2019 offers you a perfect platform for an enhanced knowledge sharing experience through its well organised scientific programme. Gastroenterologists, Hepatologists, Endoscopists, Internists, Physicians, Microbiologists, Virologists, Pathologists, Oncologists, Surgeons and Toxicologists, Researchers, Students, Business delegates and Young researchers are invited to the conference from all across the world.
World-renowned speakers with their ultimate talks on the most recent techniques, tactics, and the Avant grade technologies in gastrointestinal therapeutics are the hallmarks of this gastroenterology conference.