Cardiology Case Reports Market Analysis and Reports | Germany Conference Series
Market Analysis - Cardiology Case Reports 2018
Cardiology Meetings warmly welcomes you to attend the upcoming CME Annual Conference on Clinical & Medical Case Reports in Cardiology, during July 05-06, 2018 schedule at Frankfurt, Germany. The organizing committee is preparing for an exciting and informative conference program including lectures, workshops, symposia on a wide variety of topics, poster presentations and various programs for participants from across the globe.
We cordially invite you to join us at the Annual Conference on Clinical & Medical Case Reports in Cardiology, where you will have a meaningful experience with scholars from overseas. Organizing committee and all members of Cardio Case Reports 2018 look forward to meeting you at Frankfurt, Germany.
Scope and Importance
Annual Conference on provide Clinical & Medical Case Reports in Cardiology Conferences will lay a platform for world-class professors, cardiologists, physicians, cardiac surgeons, scientists and young researchers to discuss an approach for the treatment of heart diseases, heart failure and providing better living conditions in the society.
Why to attend
With the experts from around the world focused on learning about Cardiology, this is your single best opportunity to reach the largest assemblage of participants from the hospitals, Universities, community, etc. This Cardiology Conference will conduct demonstrations, distribute information, meet with current and potential researchers and receive name recognition at this 2-day event. World-renowned speakers, the most recent techniques, tactics, and the newest updates in Cardiology field are hallmarks of this conference.
Conference highlights
Heart Disease & Failure
Vascular Heart Disease
Myocardial and Pericardial Disease
Pediatric Cardiology
Arrhythmias
Atherosclerosis
Hypertension and Healthcare
Heart Regeneration
Cardiac and Cardiovascular Research
Heart Diagnosis
Heart Devices
Cardiac Surgery
Cardiology - Future Medicine
Why Europe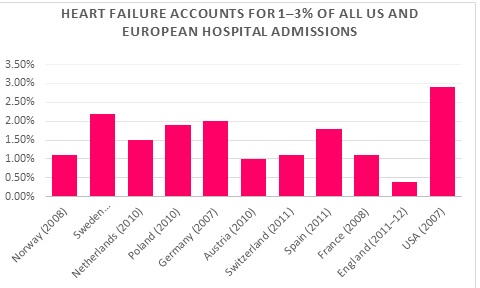 Cardiovascular diseases are the leading cause of death in the EU. They cover a broad group of medical problems that affect the circulatory system (the heart, blood vessels and arteries), often resulting from atherosclerosis — the abnormal build-up of plaque that is made of, among others, cholesterol or fatty substances — that is deposited on the inside walls of a person's arteries. Some of the most common diseases that affect the circulatory system include ischemic heart disease (heart attacks) and cerebrovascular diseases (strokes).
Each year cardiovascular disease (CVD) causes 3.9 million deaths in Europe and over 1.8 million deaths in the European Union (EU). CVD accounts for 45% of all deaths in Europe and 37% of all deaths in the EU.
Age-standardized death rates from IHD, all ages, by sex, latest available year in the EU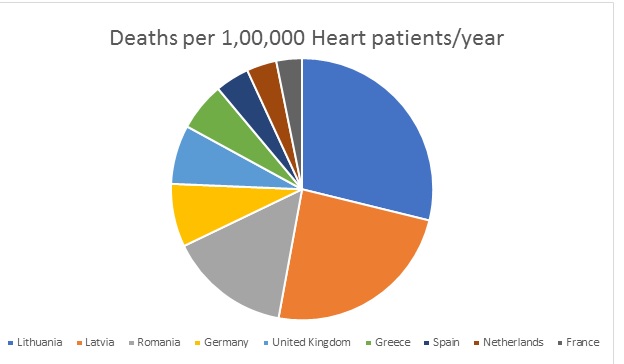 Hospitals Associated with Cardiology Research:
Frankfurt Hospitals
CCB Heart Clinic
CCB In the Agaplesion Markus Hospital
University Hospital Frankfurt
Hospital to the Holy Spirit
Agaplesion Bethanien Hospital
Germany Hospitals
University Hospital Heidelberg
The German Heart Center Munich
University Medical Center Hamburg-Eppendorf
Right the Isar Hospital
Clinic Stuttgart
Clinic Grosshadern
University Hospital Dresden
Few Statistics of Medical Doctors:
•
Europe = Approx.51,983 medical doctors
•
Germany= Approx.4,567 medical doctors
Societies Associated with Cardiology Research:
Europe:
European Heart Rhythm Association
European Association of Cardiovascular Imaging
European Association for Cardiovascular Prevention & Rehabilitation
Medical Association of Europe
Acute Cardiovascular Care Association
World Wide:
The American Heart Association
International Society for Heart Research (ISHR)
Association for European Pediatric Cardiology
American Association of Heart Failure Nurses (AAHFN)
Heart Valve Society of America (HVSA)
Heart Failure Society of America
Society of Invasive Cardiovascular Professionals
European Society of Cardiology
Working Group for Cardiac Magnetic Resonance Spanish Society of Cardiology
Industries Associated with Cardiology Research:
Europe:
Accriva Diagnostics
Schwarzer Cardiotek GmbH
Actelion Pharmaceuticals Ltd
Kaneka Pharma Europe N.V.
Biocare Co., Ltd
Bayer HealthCare
Edwards Lifesciences
European FH Patient Network
Eli Lilly and Company Limited
Radcliffe Cardiology
Pfizer
World Wide:
Microports medical
Sichuan jinjiang electronic science and technology co., ltd
Syncardia systems, Inc.
Sophion bioscience a/s
Berlin heart gmbh
Spectranetics international b. v
Esaote s.p.a.
Biotronik gmbh & co
Bioteque corporation
Dräger medical ag & co.
Fukuda denshi co., ltd
Nihon kohden corporation
All pro corporation
Universities Associated with Cardiology Research:
Europe:
Heidelberg University
Imperial College London
University Maastricht/Academic Hospital Maastricht
Medical University of Graz
University of Lodz
University of Nicosia Medical School
Bukovinian State Medical University
University of Debrecen Medical School
Johns Hopkins University
Hamburg university
World Wide:
Harvard University
Cornell University
Yale University
University of Texas Southwestern medical center
University of Michigan
University of Washington
Harvard University
Vanderbilt University
University of Rochester
University of Alabama-Birmingham
Emory University
Northwestern University
Vanderbilt University