Cellular Therapies Market Analysis and Reports | USA Conference Series
Market Analysis - Cellular Therapies 2018
Market Research on Cell Therapy
The market of cell therapy in terms of revenues is $3 billion and its global market is poised to grow at a CAGR of 23.27% during the period 2017-2021. The market of stem cell therapy is expected to reach USD 145.8 million by 2021, growing at a CAGR of 11.0% during the forecast period 2016-2021. The global stem cell therapy market on the basis of the mode of treatment is segmented into allogenic and autologous stem cell therapy.
The gene therapy market in spite of presenting few marketable products and being nascent in terms of revenue generation holds tremendous growth potential. As per a new estimation carried out in a latest study, the global gene therapy industry has the potential to become a multi-million dollar industry by the end of 2018 as new products, especially those in the advanced stage of clinical studies or with pending approvals, may enter the market to boost the growth.
Importance and scope of cell therapy
Cell therapy deals with the administration of live whole cells or maturation of a specific cell population in a patient for treatment of a disease. By administrating a large number of effector cells has benefited a large number of cancer patients, transplant patients with unresolved infections and patients with chemically destroyed stem cells in eyes. Gene therapy on the other hand is expressed as an experimental treatment that involves introduction of genetic material into the cells in order to correct the defective genes. Retroviruses and adenoviruses are among the most commonly used viral vectors in trials for treating diseases under gene therapy. For example, some patients have a severe combined immunodeficiency disease (SCID) but unfortunately do not have a suitable donor for the bone marrow. Several dozens of patients have been treated with both combined cell and gene therapy approach. More evidences for wider clinical applications for both cell and gene therapy are expected as more cell and gene therapy studies progress from preclinical phase to clinical trial.
Societies associated with Cell Therapy and Gene Therapy
American Society of Gene and Cell Therapy (ASGCT)

Australasian Gene and Cell Therapy Society (AGCTS)

Austrian Network for Gene Therapy

British Society of Gene Therapy

European Society of Gene and Cell Therapy (ESGCT)

French Society of Cellular and Gene Therapy (SFTCG)

German Gene Therapy Society (DGGT)

International Society for Cancer Gene Therapy (ISCGT)

Irish Society for Gene & Cell Therapy (ISGCT)

Japan Society for Gene Therapy (JSGT)
Fig:- 1 Graph showing Gene Therapy Clinical Trials
Market Value on Cell and Gene Therapy
The global stem cell therapy market is expected to reach $330 million by 2020, at a CAGR of 39.5% from 2015 to 2020. The global stem cell market in 2015is expected to be dominated by North America, followed by Asia-Pacific and Europe. However, Asia-Pacific market is expected to surpass North America by 2020, owing to the high number of on-going research activities.
Autologous Stem Cell and Non-Stem Cell Based Therapies market is currently estimated as $650 million, including products of all application areas. This market is anticipated to reach $2.2 billion by 2017, growing at a CAGR of 21%. ACT has already been successful in the treatment of prostate cancer, skin burns, cosmetic surgeries, skin substitutes, wound healing, pressure ulcers, etc.
Products manufactured by the industry related cell therapy and its market Value
Global markets for stem cells by BCC Research (2012), cited by Ministry of Food and Drug Safety, predicted the global market size of stem cell therapy product would be 6.6 billion dollars in 2016 and grow 11.7% on average every year. Currently, US's stem cell therapy product occupying the biggest market share amounts to 1.3 billion dollars and Europe's is 872 million dollars. US's stem cell therapy product market is predicted to have an average annual growth rate of 11.5% (2.3 billion dollars in 2016), and Europe's is 10.9% (1.5 billion dollars in 2016). Until August 1, 2013, three stem cell therapies has acquired a sale permit for domestic use in Korea: Hearticellgram-AMI by FCB-Phamicell (the world's first stem cell therapy product), Cartistem by Medipost (the world's first allogenous stem cell therapy product) and Cupistem by Anterogen. Besides, 24 medicines are undergoing clinical trial till January 1, 2013.
US$3 billion state taxpayer-funded institute for stem cell research, the California Institute for Regenerative Medicine. It hopes to provide $300 million a year. However, in June 6, 2006, there were delays in the implementation of the California program and it is believed that the delays will continue for the significant future. On July 21, 2006, Governor Arnold Schwarzenegger (R-Calif.) authorized $150 million in loans to the Institute in an attempt to jump start the process of funding research.
Semma Therapeutics, a company developing a cell therapy for Type 1 diabetes, announced today that it has closed a $44 million Series A consisting of equity financing and strategic funding. The Series A financing is led by MPM Capital with Fidelity Biosciences, ARCH Venture Partners, and Medtronic participating. Alongside the equity financing, Semma entered into an undisclosed agreement with Novartis Pharmaceuticals. NIH provided US$ 258 Million in funding for three SF universities, and US$ 41 Million to SF start-up firms through Small Business Innovation Research grant scheme.
Cell Therapy and Cancer Diagnostics Market
In 2013, the global cancer and cell therapy diagnostics market was valued at US$100,994.5 million and is expected to be worth US$168,649.3 million by 2020. According to the report, the global cancer diagnostics market is expected to grow at a CAGR of 7.6% during the forecast period of 2014 to 2020.It is expected to reach $13.1 Billion by 2020 from $7.1 Billion in 2015 at a CAGR of 12.9%.
Cancer is a major public health problem worldwide and stands as one of the biggest killers in the 21st century. Cancer is treated with Surgery, Radiation, Chemotherapy, Hormone therapy. Biological therapy (includes Immunotherapy, Monoclonal Antibody therapy). Type of Cancer treatment is based on location and grade of the tumour, stage of disease and general state of a person's health. Cancer mortality can be reduced if the disease is detected and treated early. Advancements of Cancer therapies are growing rapidly due to the awareness of early diagnosis, longer treatment duration and increased effectiveness of drug therapies. Among all the treatments, Radiation therapy is commonly used for any cancer treatment.
World Health Organization Report – 2012 on Cell Therapy and Cancer Cases
According to W.H.O Report, 14 million new cancer cases, 32 million cancers 5 year survivals and 8.2 million cancer deaths are estimated in 2012 globally. Among them, More Developed regions account for 6 million new cases, 16.8 million cancers 5 year survivals and 2.8 million cancer deaths. Around 8 million new cancer cases, 15.6 million cancers 5 year survivals and 5.3 million cancer deaths are reported in Less Developed regions.
Cell Therapy and Cancer Drugs Market
Global Oncology/Cancer Drugs Market is expected to garner $111.9 billion by 2020, registering a CAGR of 7.1% during the forecast period 2014 to 2020. In 2015, Global cancer drugs market accounted for $78,238.9 million.

Fig:- 2 Members Associated Worldwide with Cancer and Cell Therapy
Major Associations Worldwide with Cancer and Cell Therapy
American Academy of Oral and Maxillofacial Radiology (AAOMR)

American Association of Physicists in Medicine (AAPM)

American Association for Women Radiologists (AAWR)

American Board of Nuclear Medicine (ABNM)

American Board of Radiology (ABR)

American College of Medical Physics (ACMP)

American College of Nuclear Physicians (ACNP)

American College of Radiology (ACR)

American College of Radiation Oncology (ACRO)

American Healthcare Radiology Administrators (AHRA)

American Institute of Ultrasound in Medicine (AIUM)

American Medical Association (AMA)

American Nuclear Society (ANS)

American Osteopathic College of Radiology (AOCR)

American Radium Society (ARS)

American Registry of Diagnostic Medical Sonographers (ARDMS)

American Registry of Radiologic Technologists (ARRT)

American Roentgen Ray Society (ARRS)

American Society for Gastrointestinal Endoscopy (ASGE)

American Society for Therapeutic Radiology and Oncology (ASTRO)
Top Cell Therapy and Cancer Hospitals Worldwide
University of Texas MD Anderson Cancer Center, Houston, TX

Memorial Sloan Kettering Cancer Center, New York, NY

Dana-Farber/Brigham and Women's Cancer Center, Boston, MA

UCLA Medical Center, Los Angeles, CA

Moffitt Cancer Center and Research Institute, Tampa, FL

Seattle Cancer Care Alliance/University of Washington Medical Center, Seattle, WA

Cleveland Clinic Cleveland, OH

Johns Hopkins Hospital Baltimore, MD

UCSF Medical Center San Francisco, CA

Massachusetts General Hospital Boston, MA
According to the World Cancer Research Fund International, There were an estimated 14.1 million cancer cases with 8.2 million deaths around the world in 2012. Of which, men accounted for 7.4 million cases and women accounted for 6.7 million cases; with a male and female ratio of 10:9.
In 2030, around 21.7 million cancer cases and 13 million cancer deaths are anticipated to report. By 2050, the global burden is expected to grow to 27 million new cancer cases and 17.5 million cancer deaths simply due to the growth and aging of the population.
Market Research on Stem Cell Research
By 2025, the global stem cell market US expected to reach USD 15.63 billion, growing at a CAGR of 9.2% according to a new report by Grand View Research, Inc. Increment in the research studies that aims at expanding the utility scope of associated products is expected to drive the market growth. There is an increasing demand for stem cell production as scientists are engaged in discovering novel methods to create human stem cells. This has led to the potential investigation in disease management and also accelerated the development of regenerative medicine, thus driving the industrial growth.
Members Associated with Stem Cell Research
Discussion on Development, Regeneration, and Stem Cell Biology takes an interdisciplinary approach to understanding the fundamental question of how a single cell, the fertilized egg, ultimately produces a complex fully patterned adult organism, as well as the intimately related question of how adult structures regenerate. Stem cells play critical roles both during embryonic development and in later renewal and repair. More than 65 faculties in Philadelphia from both basic science and clinical departments in the Division of Biological Sciences belong to Development, Regeneration, and Stem Cell Biology. Their research uses traditional model species including nematode worms, fruit-flies, Arabidopsis, zebra fish, amphibians, chick and mouse as well as non-traditional model systems such as lampreys and cephalopods. Areas of research focus include stem cell biology, regeneration, developmental genetics, and cellular basis of development, developmental neurobiology and Evolutionary, developmental biology.
Worldwide many companies are developing and marketing specialized cell culture media, cell separation products, instruments and other reagents for life sciences research. We are providing a unique platform for the discussions between academia and business.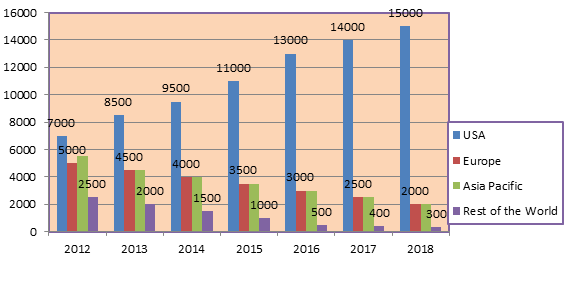 Fig: - 3 Global Tissue Engineering & Cell Therapy Market, By Region, 2009- 2018 (In Millions)
Societies associated with Stem Cell Research
Adult Stem Cell Research Network

International Society for Stem Cell Research (ISSCR)

Stem Cell Society Singapore

American Association for Cancer Research (AACR)

American Cancer Society

American Society for Cell Biology

Australian Society for Stem Cell Research

American Society of Clinical Oncology

Cell Therapy Foundation

Tissue Engineering and Regenerative Medicine International Society
Fig :- 4 Graph showing Stem Cell therapy for diseases