Clinical Trials Congress Market Analysis and Reports | Germany Conference Series
Market Analysis - Clinical Trials Congress 2019
Importance & Scope:
Clinical trials are an important step in discovering new treatments and other diseases as well as new ways to detect, diagnose, and reduce the risk of disease. Clinical trials show researchers what does and doesn't work in people. Clinical trials also help researchers and doctors decide if the side effects of a new treatment are acceptable when weighed against the benefits offered by the new treatment.
Clinical trials, unlike observational studies, contain an intervention and determines the safety, efficacy and dosing of a drug. Clinical trials may be randomized in which groups of participants are randomly selected to either receive the standard of care or the drug under study. Clinical trials are generally blinded, meaning the participant's physician and the study team is unaware of the treatment that the participant is receiving. This protects the integrity of the data by eliminating bias or causing a "placebo effect."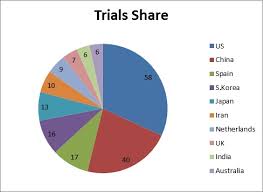 Figure 1: Trials Share
Future prospects of Clinical Trials:
Data Integration and Visualization
Personalized Medicine
Individualized Data
Combination Trials
Mobile Technology
Why Australia:
Australia's strong economy, skilled and multilingual workforce, diverse population and robust system for the protection of intellectual property make it an ideal location for conducting clinical trials. Australia is regarded as a global leader in conducting clinical trials and is home to some of the world's esteemed scientists, physicians and healthcare professionals. It boasts world-class medical research and healthcare infrastructure. The country has an efficient regulatory system, including a rapid clinical trials approval system.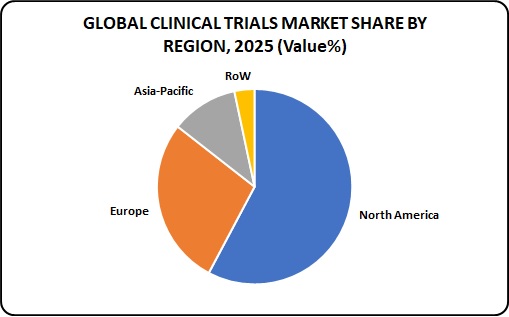 Figure 2: Global Clinical Trials Market
Conference Highlights:
Clinical Research & Clinical Trials: Academic Perspective
Clinical Trials Conducts
Clinical Data Management
Pharmacogenomics
Pharmacoepidemiology
Patient-Centric Clinical Trials
Pharmacovigilance & Drug Safety
Bioinformatics in clinical research
Post marketing surveillance
Clinical Trials on different Diseases
CRO (Contract Research Organization) clinical trials
Drug Discovery and Development
Future Perspectives and Innovations in Clinical Studies
Clinical and medical case reports
Globalization of clinical trials
In silico clinical trials
Outsourcing and Collaborative research in clinical trials
Ethics in clinical trials
Nano technology in clinical trials
Entrepreneur's investment meet
Target Audience:
CRO's, Pharmacy professionals, Association chiefs and Pharma Business people. Professors, Students and to provide an international forum for the spread of original research results, new ideas and practical development experiences which concentrate on both theory and practices, CEO's and Scientists, R & D Professionals
Industry 50%
Researchers 20%
Academia 20%
Others 10%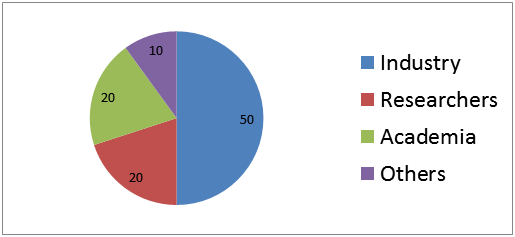 Figure 3: Target Audience Analysis
Market Growth of Clinical Trials:
In 2015, 1,360 clinical trials were started in Australia, including 473 industry sponsored trials [i]. Australian clinical trials are growing at a fast rate, outpacing the U.S., the UK and the global average by roughly five-per-cent per year. Australia invested $1.1 billion in gross expenditure on on-going trials in 2015, which included $930 million from industry sponsors with the exciting potential to surpass $2 billion in the next 10 years.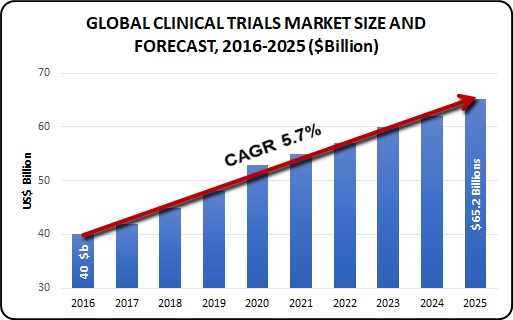 Figure 4: Market Size and Forecast
Global pharmaceutical market forecast, 2010-2018:
The worldwide clinical trials advertise is required to achieve USD 65.2 billion by 2025, as indicated by another report by Grand View Research, Inc. Key drivers affecting the market development are globalization of clinical trials, improvement of new medications, for example, customized drug, enlarging advancement in innovation, and boosting interest for CROs to lead clinical trials. Globalization of clinical trials has prompted increment in interest in new item improvement in rising nations in this manner, positively affecting generally speaking business sector. The accessibility of the immense range of administrations from sedate disclosure to post-showcasing reconnaissance has additionally improved the life for moderate size and little scale pharmaceutical and biotechnological associations by giving them the choice to outsource what they believe is past their center aptitude.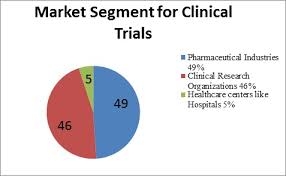 Figure 5: Market Segment for Clinical Trials
Source:
https://www.grandviewresearch.com/press-release/clinical-trials-market
https://medicinesaustralia.com.au/policy/clinical-trials/
http://www.corrs.com.au/thinking/insights/five-reasons-to-conduct-clinical-trials-in-australia/
https://www.bakermckenzie.com/en/insight/publications/2018/03/conducting-clinical-trials-in-australia
https://www.austrade.gov.au/local-sites/singapore/news/clinical-trials-in-australia-the-economic-profile-and-competitive-position-of-the-sector