Geochemistry Market Analysis and Reports | Canada Conference Series
Market Analysis - Geochemistry 2018
Geochemistry 2018 looks forward to provide a forum for laying the foundations of a new principled approach in Geochemistry and Environmental Chemistry. This conference will bring together professors, researchers, and practitioners in all areas of environmental science and will provide an international forum for the dissemination of original research results, new ideas and practical developments. We are delighted to invite you all to attend and register for the "3rd International Convention on Geochemistry and Environmental Geochemistry (Geochemistry 2018)" which is going to be held during Oct 19-20 in Ottawa, Canada.
Importance & Scope:
Geochemistry is the science that uses the tools and principles of chemistry to explain the mechanisms behind major geological systems such as the Earth's crust and its oceans. The realm of geochemistry extends beyond the Earth, encompassing the entire Solar System, and has made important contributions to the understanding of a number of processes including mantle convection, the formation of planets and the origins of granite and basalt.
Environmental chemistry is the scientific study of the chemical and biochemical phenomena that occur in natural places. It should not be confused with green chemistry, which seeks to reduce potential pollution at its source. It can be defined as the study of the sources, reactions, transport, effects, and fates of chemical species in the air, soil, and water environments; and the effect of human activity and biological activity on these. Environmental chemistry is an interdisciplinary science that includes atmospheric, aquatic and soil chemistry, as well as heavily relying on analytical chemistry and being related to environmental and other areas of science.
Atmospheric chemistry is a branch of atmospheric science in which the chemistry of the Earth's atmosphere and that of other planets is studied. It is a multidisciplinary approach of research and draws on environmental chemistry, physics, meteorology, computer modeling, oceanography, geology and volcanology and other disciplines. Research is increasingly connected with other arenas of study such as climatology. The composition and chemistry of the Earth's atmosphere is of importance for several reasons, but primarily because of the interactions between the atmosphere and living organisms. The composition of the Earth's atmosphere changes as result of natural processes such as volcano emissions, lightning and bombardment by solar particles from corona. It has also been changed by human activity and some of these changes are harmful to human health, crops and ecosystems. Examples of problems which have been addressed by atmospheric chemistry include acid rain, ozone depletion, photochemical smog, greenhouse gases and global warming.
Why Ottawa, Canada?
Ottawa is Canada's capital, a dynamic showcase city of more than one million people. Located in Ontario at the Quebec border, it's a place where you'll hear English and French spoken in the streets; where you can discover Canada's proud heritage at impressive national sites and famous landmarks, including the Rideau Canal (a UNESCO World Heritage Site). It's a city steeped in culture, with world-class museums and galleries displaying stunning national collections and special exhibitions from Canada and around the world.
Ottawa is a destination alive with celebration, beginning each year with February's Winterlude, continuing through May's Canadian Tulip Festival, heating up July 1 with the biggest Canada Day celebration in the country, and going all-out with headliner summer music festivals. Autumn is another good time to visit Ottawa with comfortable weather (average temperatures range from the high 60s to the low 40s) and declining hotel rates. However, the city's festival season continues to thrive through October, meaning that you'll still be battling fellow celebrators for space on the sidewalk and in the hotels.
Conference Highlights:
Geochemistry
Environmental Health
Atmospheric Chemistry
Photo Geochemistry
Environmental Ecosystem
Environmental innovation
Biogeochemical Cycle and Hydrology
Human population Growth and Environment
Environmental Education
Environmental Chemistry and Engineering
Environmental Biotechnology
Pollution Control Chemistry and Green Chemistry
Environmental toxicology and Mutagenicity
Petroleum Chemistry
Major Environmental Chemistry societies around the Globe
The Geological Society of America
Society of Environmental Toxicology and Chemistry (SETAC)
TCNJ's Student Chemists Association
Lombardy Green Chemistry Association
A Sustainable Global Society
Chemistry Society of Peru
European Association of Geochemistry
The Geochemical Society
American Chemical Society
Geochemical Society
International Association of Geochemistry and Cosmochemistry
Association of Exploration Geochemists
International Association of Volcanology and Chemistry of the Earth's Interior (IAVCEI)
American Geological Institute (AGI)
Association of Petroleum Geochemical Explorationists (APGE)
Royal Society of Chemistry
European Association of Organic Geochemists
The Flat Earth Society
Major Environmental Chemistry societies in Canada
Canadian Federation of Earth Sciences
Geological Association of Canada
The Association of Applied Geochemists
ECO Canada
Centre for Atmospheric Chemistry
Target Audience
Academic scientists, geologists, young researcher, Professors, Research Scientists and Students of different Universities containing Geological studies, eminent persons of different Geological Association and Societies. Directors, CEOs, Managers of different companies related to geology from all over the world.
% of Target Audience:
Academia - 40%
Industry - 35%
Associations - 15%
Government- 10%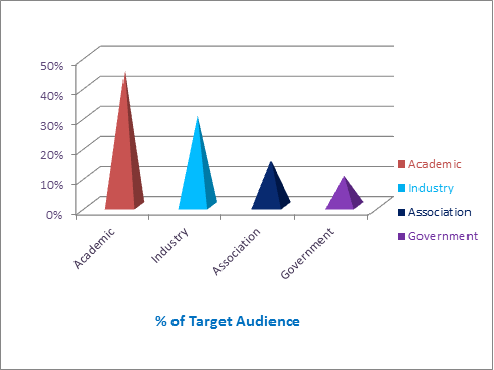 Scope of Geochemistry 2018
Modern geochemistry often focuses on determining how elements are distributed between different reservoirs that make up the Earth, the Solar System or beyond. However, its ultimate goal is identification and in-depth understanding of the mechanisms by which these chemical reservoirs form and evolve, thus improving our understanding of how the Earth works as a geochemical system. Indeed, the flux of chemical species between these reservoirs – both in the past and at present, as well as in the future – provides an important constraint for modeling the past and predicting the future.
3rd International Convention on Geochemistry and Environmental Geochemistry (Geochemistry 2018) provides an opportunity for academicians and professionals from various educational fields to share their knowledge, views, research findings and educational practices with their colleagues and academic community. We welcome all the contributors and participants to join us at the Geochemistry 2018, where you will be sure to have a meaningful experience with experts from around the world.
Market of Geochemistry 2018:
The global market for renewable chemicals is expected to grow from $51.7 billion in 2015 to $85.6 billion by 2020, with a compound annual growth rate (CAGR) of 10.6% for the period of 2015-2020. Renewable alcohols dominated the market with about 40.7% of total sales in 2014, but will likely decrease to 39.1% market share by 2020. Raw materials for renewable chemicals production, which ranked second at a 40.6% market share in 2014, is expected to fall to 35.5% during the forecast period (2015-2020) due to the uptake of alternative feedstock used in the production process. Bio-based organic acids, ketones and aldehydes accounted for the third-biggest market share in 2014, at 8.1%, including some well-known and used chemicals. Market share for this segment should increase to 13.9% by the end year.