Gynecologic Cancer Market Analysis and Reports | singapore Conference Series
Market Analysis - Gynecologic Cancer 2018
Summary
Gynecologic Cancer is the field of medicine that focuses on cancers of the female generative system, including vaginal cancer, ovarian cancer, cervical cancer, uterine cancer. As experts they have wide training in the diagnosis and treatment of these cancers.
Although the occurrence and mortality from endometrial and ovarian cancer are major, other cancers are very uncommon. Primary cancers of the vulva, vagina, placenta and adnexa total 0.6% of all woman cancers.
Gynecologic Cancer Statistics
In the world 82,000 women are identified with Gynecologic cancer each year. In 2013, an expected 91,730 were diagnosed.
An estimated 88,000 new cases of Gynecologic cancer were expected to be diagnosed in 2014 in the U.S.A, and over 29,000 American females will lose their battle with this deadly disease. In addition to imposing a significant load on patients and their relations, Gynecologic cancer places a major burden on the health care organization. Despite advances in cancer care in the United States, cancer-related diseases and death for advanced and recurrent Gynecologic malignancies remain at intolerable stages. Endometrial cancer has seen a slight rise in both new cancer incidents and annual death rates over the past 30 years.Every woman is at risk for emerging a Gynecologic Cancer.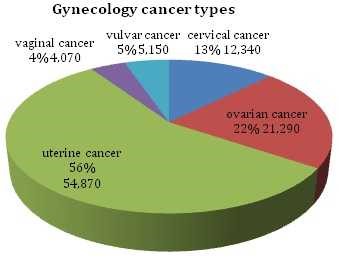 Accounting for 3% of all cancers in women and figuring more than 165,000 new cases estimated in2013, ovarian cancer is the sixth most common female cancer and the sixth prominent cause of death in women globally. In Canada, ovarian cancer accounts for 4% of all female cancers or 31%ofall genital cancers in women, it is estimated that in 2014 there were 2,500 new cases and 1,500 deaths
There is large variation in incidence rates of ovarian cancer worldwide, from 3/100,000 in central Africa to 13/100,000 in northern Europe. Developing nations have incidence rates that are nearly half those of the most resource-rich countries.
Scope and Importance of Gynecologic Cancer :
Ovarian cancer presents a very varied prognosis depending on age: whilst 70% of the group between 15 and 44 years survives this form of cancer, this is the case for only 19% of those over 74 years-old.
Cervical cancer is the third most commonly diagnosed cancer and the fourth leading cause of cancer death in females' worldwide, accounting for 9% (529,800) of the total new cancer cases and 8% (275,100) of the total cancer deaths among females. More than 85% of these cases and deaths occur in developing countries.
Tumor biology early detection, and treatment of ovarian cancer in older women as compared to younger women suffering with this malignancy. Effort was devoted to the type of problems met in conducting the analyses and, where data were inadequate, recommending research guidelines or approaches.
The center are at the forefront of research in the early discovery of ovarian cancer and uterine cancer , which is involved in developing blood tests to precisely determine the absence or presence of early stage ovarian cancer before it reveals, as well as on going translational research programs for all Gynecologic Cancers. Physicians are also involved in leading-edge programs in the prevention of cervical cancer through regular screenings and the identification of precancerous cervical lesions associated with papilloma virus infections.
Organized screening procedures can support to detect Gynecologic Cancer, including cervical cancer, uterine cancer, and ovarian cancer, early.
Hospitals Associated with Gynecologic Cancer in Singapore:
· Gynaecology & Oncology Specialists
· Lisa Wong Women & Gynae Oncology Centre
· National Cancer Centre Singapore
· Parkway Cancer Centre - Mount Elizabeth Hospital
· National University Cancer Institute, Singapore
· Raffles Cancer Centre
· Asian American Radiation & Oncology
· Mount Elizabeth Hospital
· Johns Hopkins Singapore
· Thomson Women Cancer Centre
· Singapore Cancer Society Rehabilitation Centre
· Concord International Hospital
· Maternity & Gynaecological Clinic
· H L Kong Medical Oncology Centre - Novena Medical Center
· Singapore Cancer Society Satellite Centre @ NCIS
· SOG - Heng Clinic For Women
· Gleneagles Hospital
· KK Women's and Children's Hospital
· SOG - Natalie Chua Clinic for Women
· Women Fertility & Fetal Centre: Dr Ann Tan – IVF
· Anne Hagarty
· Dr Karmen Wong
· Seed of Life, Fertility & Women's Care Medical Centre Pte Ltd
· Acufem Women's Specialist Services – Gleneagles
· International Urology, Fertility & Gynaecology Centre: Dr. Michael Wong – Urologist
· My Gynae Women's Clinic
· Irene Chua Clinic for Women
Gynecological Cancer Drugs Market Overview:
The Global Gynecological Cancer Drugs Market size was valued at $9,269 million in 2016, and is expected to reach $16,107 million by 2023, growing at a CAGR of 8.1% from 2017 to 2023.
Cancer refers to a specific group of disorder, which leads to abnormal cell growth within any part of the body. Gynecological cancer refers to a group of cancers that affect the reproductive organs of a female such as uterus, endometrium, ovary, peritoneum, fallopian tubes, vagina, vulva, cervix, and muscle & tissue supporting the uterus.
The growth of the global gynecological cancer drugs market is driven by factors such as increase in incidence of gynecological cancers, growth in importance of targeted drug therapies, rise in investment from government, public & private organizations for the development of novel drugs to treat cancer, and increase in risk factors that lead to cancer. However, high cost of drug development and threat of failure & adverse effects of cancer drug therapy restrain the growth of the market. Conversely, advancement of cancer drug research and advent of personalized medicine approach are expected to provide lucrative opportunities for the market expansion during the forecast period.
Gynecological Cancer Drugs Market Segmentation
The global gynecological cancer drugs market is segmented on the basis of therapeutic modality, indication, and region. Based on therapeutic modality, the market is divided into chemotherapy, targeted therapy, and hormonal therapy. The indications segment is categorized into uterine cancer, ovarian cancer, vaginal & vulvar cancer, and cervical cancer. Geographically, the market is analyzed across North America (U.S., Canada, and Mexico), Europe (Germany, France, Italy, UK, Spain, and rest of Europe), Asia-Pacific (China, Japan, Australia, India, South Korea, and rest of Asia-Pacific), and LAMEA (Brazil, South Africa, Saudi Arabia, and rest of LAMEA).
Segment Review
Chemotherapy segment accounted for the largest market share in 2016 and is expected to maintain this trend throughout the forecast period. In recent years, combination chemotherapy is considered as a standard treatment mode for treatment of cancer due to its effectiveness in increase in survival & remission rates. For instance, combination therapy of gemcitabine with a platinum compound produced high response rates (as high as 71%) in patients suffering from ovarian cancer. Similarly, gemcitabine is used in combination with other compounds and cytotoxic agents for effective treatment of ovarian cancer. Popular combinations include gemcitabine with a platinum compound and paclitaxel, and gemcitabine with cisplatin or carboplatin. However, the standard approach of combination chemotherapy for treatment of epithelial ovarian cancer includes combination of a platinum compound, such as cisplatin or carboplatin, and a taxane, such as paclitaxel (Taxol) or docetaxel (Taxotere).
Snapshot of LAMEA Gynecological Cancer Drugs Market
Rise in focus of vendors on emerging markets, such as Asia-Pacific and LAMEA, is expected to boost the market growth. Currently, multinational companies are focusing on investing in the GCC region as well as Latin America and Africa to expand their global reach and gain a competitive advantage. To reduce the burden of cancer, GCC member countries have established the Gulf Centre for Cancer Control and Prevention (GCCCP) that supports, services, and organizes programs for cancer control. In addition, it provides support services for the implementation of high-quality treatment care at all healthcare facilities in GCC states. GCCCP promotes cancer research in GCC member states through funding and collaboration with cancer research organizations.
Clinical Trials
Gynecological cancer drugs market has witnessed several clinical trials (5,920 trials) in the recent years, owing to increase in cancer prevalence and surge in demand for advanced healthcare facilities. Cervical cancer drugs accounted for the maximum number of trials (2,561) in the global market. In addition, North America accounted for the maximum number of trials (3,353 trials) in the global market, followed by Europe (1,156 trials).
Clinical Trials for Gynecological Cancer Drugs, by Cancer Type (%)
The list of key players profiled in this report include Apotex Inc., AstraZeneca Plc, Bristol-Myers Squibb Company, Eli Lilly and Company, F. Hoffmann-La Roche AG, GlaxoSmithKline plc, Merck & Co., Inc., Novartis AG, Pfizer Inc., and Teva Pharmaceutical Industries Ltd.
Key Benefits
The study provides an in-depth analysis of the market with current trends and future estimations to elucidate the imminent investment pockets.
It offers a quantitative analysis from 2016 to 2023, which is expected to enable the stakeholders to capitalize on prevailing market opportunities.
Analysis by therapeutic modality helps to understand the various types of treatment modalities for the treatment of gynecological cancer patients.
Comprehensive analysis of all geographical regions is provided, which helps in determining the prevailing opportunities.
Key players are profiled and their strategies are analyzed thoroughly, which helps to understand competitive outlook of the global market.
Gynecological Cancer Drugs Market Key Segments:
By Therapeutic Modality
Chemotherapy
Targeted Therapy
Hormonal Therapy
By Indication
Uterine Cancer
Ovarian Cancer
Vaginal & Vulvar Cancer
Cervical Cancer
By Region
North America
Europe
Germany
France
UK
Italy
Spain
Rest of Europe
Japan
China
Australia
India
South Korea
Rest of Asia-Pacific
Brazil
Saudi Arabia
South Africa
Rest of LAMEA
Asia-Pacific
LAMEA
Societies Associated with Gynecologic Cancer :
In world there are about 9,685 societies which are specifically associated with Gynecologic Oncology:
American gynecological and obstetrics society
American society of clinical oncology
National cancer institute
Society of Gynecologic Oncology
Society of Gynecologic nurse Oncologists
International Gynecologic cancer society
American college of Phlebology
American congress of Obstetricians and Gynecologists
Asian Society of Gynecologic Oncology
Female Genital Tract Pathology
Foundation for Women's Cancer
GYN-ONC - Gynecologic Cancers Support Group
Northern Gynecologic Oncology Centre
Queensland Centre for Gynecologic Oncology
Industries Associated with Gynecologic Oncology Research
Industries associated with Gynecologic cancer over all the world are
· Johnson & Johnson
· Novartis
· Roche
· Pfizer
· Sanofi
· Merck
· Bristol-myers squibb
· Eli Lilly
· Celgene
· Takeda
· AstraZeneca
· Merck & Co.
· Amgen
· Bayer
· Otsuka
· Pharmacyclics
· Incyte
ConferenceSeries LLC.Ltd invites to all the participants around the globe to "International Conference on Frontiers in Gynecologic Cancers" scheduled during November 7-8, 2018, Singapore with a theme Enrich the Endeavors in Gynecologic Cancer Care which includes prompt Keynote presentations, Oral talks and Poster presentations, Workshops, Video Presentations and Exhibitions.
Gynecologic Cancer 2018 has been designed in an interdisciplinary manner with a multitude of tracks to choose from every segment and provides you with a unique opportunity to meet up with peers from both industry and academia and establish a scientific network between them. We cordially invite all concerned people to come join us at our event and make it successful by your participation
This Gynecologic Cancer conference provides a gathering of trade of knowledge among researchers, doctors and oncologists to introduce and Presentation about their Constructive, observational test or hypothetical work in each part of Gynecologic Cancer hence redesigning the quality and organizations to the relevant research thus redesigning the standard and organizations to the relevant analysis works.
Opportunities for Academic Attendees (For Researchers &Faculty)
Speaker Presentations
Poster Display
Symposium hosting
Workshop organizing
Video Presentation
For Universities, Associations & Societies:
Association Partnering
Collaboration proposals
Academic Partnering
Group Participation
For Students & Research Scholars:
Poster Competition (Winner will get Best Poster Award)
Young Researcher Forum (YRF Award to the best presenter)
Student Attendee
Group Participation
For Business Delegates:
Speaker Presentations
Symposium hosting
Book Launch event
Networking opportunities
Audience participation
For Companies:
Exhibitor and Vendor booths
Sponsorships opportunities
Product launch
Workshop organizing
Scientific Partnering
Marketing and Networking with clients
Why to Attend??
With members from around the world focused on learning about Frontiers in Gynecologic Cancers; this is your best opportunity to reach the largest assemblage of participants from the Gynecologist and Women's Health community. Conduct presentations, distribute information, meet with current and potential scientists, make a splash with new discoveries in the gynecology cancer treatment and diagnosis, and receive name recognition at this 2-day event. World-renowned speakers, the most recent techniques, developments, and the newest updates in, Gynecologic cancer, women's health, gynecological issues, pregnancy, Woman Psychology, women disorders are hallmarks of this conference.
Target Audience:
Gynecologic Cancer 2018 is intended for:
Gynecologists
Obstetricians
Gynecologic Oncologists
perinatologists
Breast cancer surgeon
Gynecology Surgeons
IVF Specialists
Scientists and Professors
Nurses/ Midwives
Students
Business Entrepreneurs
Training Institutes
Data Management Companies
Software Developing Companies
Medical Devices Manufacturing Companies