Infectious Diseases Market Analysis and Reports | Portugal Conference Series
Market Analysis - Infectious Diseases 2018
Infectious Disease Therapeutic Market
The global infectious disease therapeutics market size was valued at USD 46.88 billion in 2016.It is expected to grow at a CAGR of 6.6% during the forecast period. The growing frequency of infectious ailments, increasing expenditure to boost the penetration rate of treatments of these diseases, diagnosis, rising initiatives for creating awareness about treatments and increasing clinical trials are the factors responsible for growth of this market. India and China are both considered to be the fastest growing infectious diseases therapeutics markets. The important reasons behind these countries having highest global market of infectious diseases are mainly due to large number of patients and the increase in governmental funding. The major companies which play a vital role in the global infectious diseases therapeutics market are, Pfizer, Johnson & Johnson, Merck & Co., GlaxoSmithKline Pharmaceuticals, F. Hoffmann-La Roche, Inc., Auritec Pharmaceuticals, Novartis, Achillion Pharmaceuticals, Eli Lilly and Company, Isis Pharmaceuticals , Gilead Sciences and Sanofi.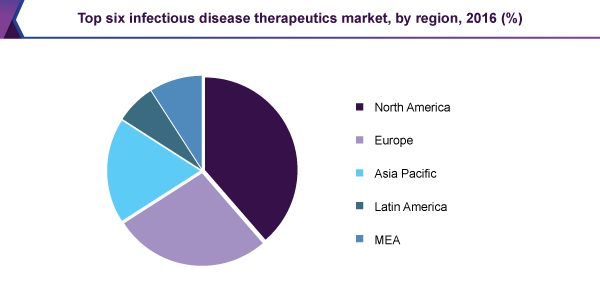 Diagnostic Market Research on Infectious Diseases
The infectious disease diagnostics market is studied with respect to four regions such as North America, Europe, and Asia Pacific. Among all of these North America is dominating the whole region followed by Europe. Infectious disease diagnostic market is anticipated to grow during the forecast period owing to the increasing prevalence of various infectious diseases such as malaria, Lyme disease, fifth disease, TB, HIV/AIDS, viral hepatitis, HAIs, MRSA, STDs and diarrheal diseases. The other vital areas of this market are growing demand for rapid diagnostic technique over existing technique due to long turnaround time and government aided funding. The different methods used for diagnosis are microbiological techniques, clinical laboratory techniques, and intensive care medicine.
Infectious disease testing is often prioritized by healthcare companies and specialists for treating the disease as early as possible. Therefore, testing markets are likely to to be a little less price-sensitive as compared to others.
Infectious disease diagnostic market is segmented on the basis of product, technology, and application. On the basis of technology, the market is split into, molecular and traditional diagnostic technique. The molecular diagnostic technique is classified into INAAT (Isothermal Nucleic Acid Amplification Test), Polymerase Chain Reaction (PCR), NGS & DNA sequencing, hybridization, and microarrays. The traditional diagnostic technique is categorized into biochemical characterization, immunodiagnostics, and microscopy. On the basis of product, the market is classified into consumables (assays and reagents), software & services, and instruments & analyzers. Among these consumables held the largest market share as of 2013.
Avenues of Infectious Disease Research
Research will also be directed toward patient subgroups, including children, patients with co-infection (HIV/hepatitis or HIV/tuberculosis) and patients infected with drug-resistant forms of a disease. Pandemic preparedness is another factor that will have to be stepped up in the near future. Among vaccines, influenza has the highest market value, with growth in the next couple of years being driven by conversion to quadrivalent vaccines and immunization of the elderly population. Recent pandemics such as Ebola, Zika, and influenza have highlighted the fact that no disease can be assumed to not have a global implication.
Universities related to Infectious Diseases
University of Cambridge
Kings College of London
London School of Hygiene and Tropical Medicine
Imperial College London
UCL Institute of Epidemiology and Healthcare
Paediatric Infectious Diseases Society
University of Sheffield
University of Maryland
Swedish Institute for Infectious Disease Control
Columbia University
University of Gothenburg
Oslo University
University of Otago
University of Pittsburgh
Emory Health Sciences
Uppsala University
University of Liverpool
University of Colorado Denver
Queensland University of Technology
Infectious Diseases Society of America
Medical College of Georgia at Georgia Regents University
The 6th International Conference on Infectious Diseases will be held on December 05-06, 2018 at Lisbon, Portugal. The theme of the conference is " A Novel Approach To Cure Emerging and Re-emerging Infectious Diseases". It will bring together scientists from the industry, academia, as well as leaders from healthcare providers, policy makers, industrialists, and investors to provide unique insights into infectious disease research and development. This event will also have a specific focus on co-operation between countries of the world through exhibitions and oral presentations by specialists in the field.
It will be a wonderful platform for meeting new people, presenting research, exploring new avenues and upgrading your skills. We ensure you will have a fabulous and worthwhile trip!