ORGANIC CHEMISTRY Market Analysis and Reports | Netherlands Conference Series
Market Analysis - ORGANIC CHEMISTRY 2019
The global chemical industry has grown by 7 percent annually, reaching €2.4 trillion in 2010. Most of the growth in the past 25 years has been driven by Asia, which now owns almost half of global chemical sales. The global chemical markets are expected to grow an average 3 percent in the next 20years. Asian players are positioned to own two-thirds of the market by 2030.
Organic chemical industry is anticipated to hold 51% of the total chemical industry market globally by 2030. With Asia Pacific, Europe, North America and Latin America being the leading markets for organic chemicals, the industry has witnessed approx. 10% growth in the last 5 years. Expanding industry applications, investment favouring industry policies are driving organic chemicals market till 2019.Extensive primary research is being conducted among leading companies such as BASF, Dow Chemicals, SABIC, Sinopec, and DuPont Chemicals and key opinion leaders from organic chemical industry.
Global Organic Acids Market was valued at $16,837 million in 2016, and is expected to reach $29,197 million by 2023, registering a CAGR of 8.3% from 2017 to 2023. Organic acids are weak acids that do not completely dissociate in water when compared to mineral acids.
Key players such as BASF SE, Cargill, Inc., The Dow Chemical Company, Eastman Chemical Company, Myriant Corporation, Celanese Corporation, Archer Daniels Midland Company, Henan Jindan Lactic Acid Technology Co. Ltd., Tate & Lyle Plc., and E. I. Du Pont De Nemours and Company have largely invested in R&D activities to develop advanced products to cater to the requirements of the consumers.
U.S. Chemical industry
The chemical industry is one of the largest and most important industries worldwide. The United States is the largest national producer of chemical products globally. Including the pharmaceutical sector, its chemical output value was more than 767 billion U.S. dollars in 2016.
2018 ranking of leading United States chemical companies based on revenue (in billion U.S. dollars)
Source: Statista 2018
Projection of annual production growth in the United States chemical industry from 2018 to 2023
China Chemical Market:
The Chinese chemical market generated total revenues of RMB11.2 trillion in 2016 growing at a 9.4 percent CAGR from 2012 to 2016 in value. The commodity chemical market grew at a 9.3 percent CAGR, specialty chemical market at a 7.1 percent CAGR. Growth is expected to slow to an expected 5.4 percent CAGR for the total Chinese chemical market to 2020 in value terms. By 2020, the Chinese chemical market is expected to reach RMB13.8 trillion.
Germany Chemical Industry
The German Chemical Industry in 2030, predicts growth of 1.5% a year until 2030 for the German chemical industry.
With a 2016 turnover of €184.7 billion, chemicals and pharmaceuticals are the third-largest industry in Germany, behind only automotive and machinery and equipment. The German Chemical Industry in 2030, predicts growth of 1.5% a year until 2030 for the German chemical industry.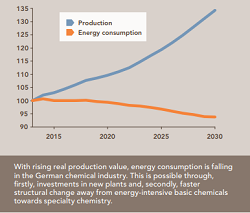 Source: VCI
Continuous efficiency increases in production of the german chemical industry
United Kingdom Chemical Industry:
The UK industry is active in all key areas: basic inorganics, petrochemicals, polymers, agrochemicals, paints, detergents and personal care products, in specialties such as adhesives, flavours and fragrances, and in a host of industrial specialties including lubricants, fuel additives, construction chemicals and catalysts. It is also a global leader in pharmaceuticals. With £48.7 billion of revenues and £17.8 billion value added in 2016, chemicals & pharmaceuticals is the UK's second largest industry. The current UK government has committed around £4.7bn to support R&D and innovation. This commitment should be seen against the broader ambition to boost R&D spending to 2.4% of GDP by 2027.