Quantum Physics Market Analysis and Reports | UK Conference Series
Market Analysis - Quantum Physics 2018
According to the "Quantum Computing Market & Technologies – 2018-2024"report, the global market* will grow at a CAGR of 24.6% throughout 2018-2024. During 2017 Quantum Computing technologies performance has increased at an impressive rate; we forecast that 2018-2019 will experience a surge of breakthroughs.
We are in the midst of a "Quantum Computing Supremacy Race", one that will result in ground-breaking computing power that surpasses the performance of digital supercomputers. The quantum computing technologies have the potential to change long-held dynamics in commerce, intelligence, military affairs and strategic balance of power. If you have been paying attention to the news on quantum computing and the evolution of industrial and national efforts towards realizing a scalable, fault-tolerant quantum computer that can tackle problems, unmanageable to current supercomputing capabilities, then you know that something big is stirring throughout the quantum world. In a way that was unheard of five years ago, quantum physicists are now partnering with corporate tech giants, to develop quantum computing capabilities and technologies as the foundation of a second information age. Advances in quantum computer design, fault-tolerant algorithms and new fabrication technologies are now transforming this "holy grail" technology into a realistic program poised to surpass traditional computation in some applications. With these new developments, the key question that companies are asking is not whether there will be a quantum computer, but who will build it and benefit from it.
Realizing quantum computing capability demands that hardware efforts would be augmented by the development of quantum software to obtain optimized quantum algorithms able to solve application problems of interest.
Due to economic interest and the "decline of Moore's law" of computational scaling, eighteen of the world's biggest corporations (see image below) and dozens of government agencies are working on quantum processor technologies and/or quantum software or partnering with the quantum industry start-up's like D-Wave. Their ambition reflects a broader transition, taking place at start-ups and academic research labs alike: to move from pure science towards engineering.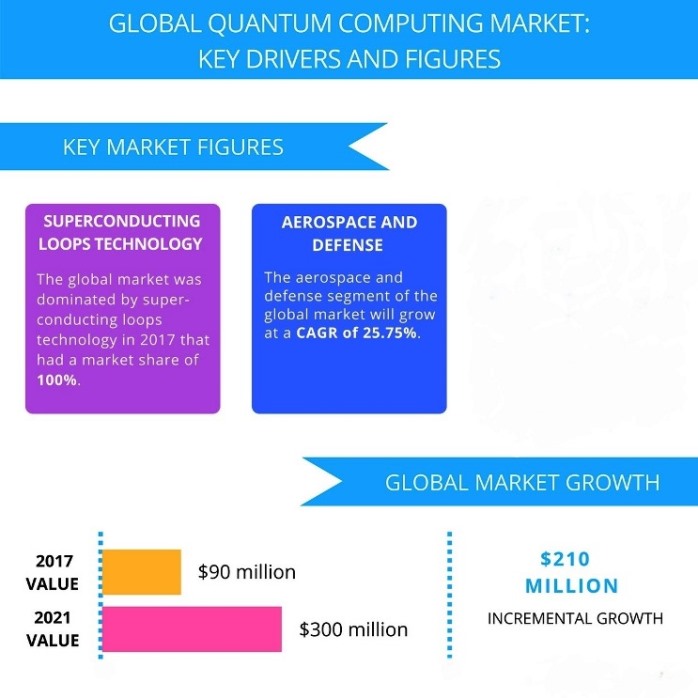 According to a new research report published by Allied Market Research titled "Quantum Dot (QD) Market - Global Analysis, Growth, Trends, Opportunities, Size, Share and Forecast through 2020," the global quantum dots (QD) market accrued revenue of $316 million in 2013 and it is expected to grow to $5,040 million by 2020 at a CAGR of 29.9% during 2014-2020. However, the volume consumption will grow a much faster rate of 116.5% during the same period to reach 72 ton in 2020. . However, the volume consumption will grow a much faster rate of 116.5% during the same period to reach 72 ton in 2020. Revenues for QD-enhanced products are potentially upwards of $7 billion by 2024 across displays, solid-state lighting, solar, biomedical, anti-counterfeiting and sensors sectors. The global QD market is expected to grow from $316 million in 2013 to $5,040 million in 2020 at a CAGR of 29.9% for the analysis period (2013-2020). Among geographic markets, North America has the highest revenue share due to early adoption. The region is expected to grow consistently and attain revenue of $1.92 billion by 2020. However, Asia-Pacific is expected to have the highest CAGR of 30.4% for the analysis period 2013-2020. The RTLS market is expected to grow at a CAGR of 20.7% for the analysis period of 2012 to 2020. In recognition of the importance of quantum technologies, the Chancellor announced new investment of £270m over the next five years at the 2013 Autumn Statement to accelerate the translation of leading quantum science into new products and services. The UK is ideally placed to be a world leader in the new quantum technologies industry and to command a significant proportion of a large and promising future market. The programme is investing, as a major first step, £120 million in a national network of quantum technology hubs, involving17 universities, and with more than 50 partner organizations collectively contributing a further £60 million support.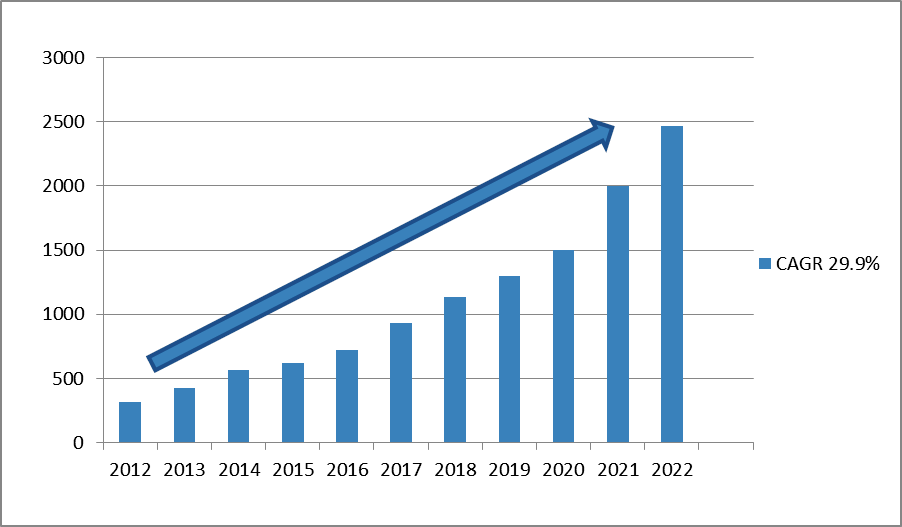 The theory of relativity describes the behaviour of large everyday objects in the world around us. However this theory alone is not enough to describe things at a very small scale. At the level of atoms and sub-atomic particles objects behave very differently and quantum theory is an attempt to describe the behaviour of matter and energy at this sub atomic scale. The exploration of light and the quantum properties of atoms is one of the most active fields of research in modern physics. This is cutting-edge frontier research in which a brand-new world is being explored. In recent years, there has been extensive development of the experimental techniques that are used to manipulate quantum-mechanical states.