Tissue Science Congress Market Analysis and Reports | India Conference Series
Market Analysis - Tissue Science Congress 2018
Market Analysis
Regenerative medicine is one of the fastest growing markets with huge market potential, and deals with the treatment of chronic diseases, which remained incurable earlier. Cell therapy using live cells is widely used to replace damaged cells, deliver therapies to target tissues/organs, stimulate self-healing, and various other applications in regenerative medicine.Stem cell therapies, a segment of cell-based therapy, hold huge market potential to revolutionize the treatment modality for regenerating or repairing diseased organs. Advancement in regenerative technologies has fuelled the commercial applications of stem cells in the world regenerative medicine market. Similar to stem cell therapies, biomaterials and tissue engineering are also gaining popularity.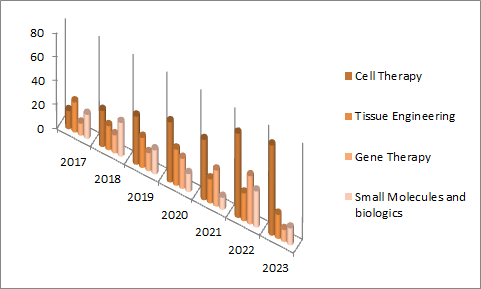 On the other hand, bioprinting shows a steady progress, owing to the increasing demand for engineered tissues and organs. Three-dimensional bioprinting is the process of culturing cells or other biocompatible materials to build tissues and organs. These three-dimensional biofabrication strategies mimic the features of the original tissue and organs, and can potentially replace them, thus curing the diseased or damaged parts of the patient's body.Currently, extensive R&D activities are carried out for regenerative medicine employing novel technologies, as these products have the potential to revolutionize the healthcare industry with the ultimate goal to produce complex internal organs such as liver, kidneys, and heart.
Target Audience:
Industry 40%
Academia 50%
Others 10%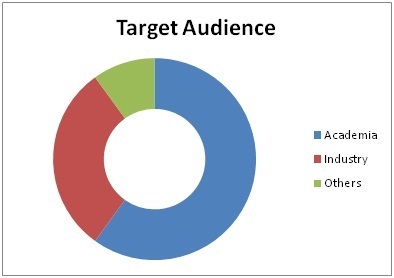 GLOBAL SYNTHETIC MATERIAL REVENUE, 2017‐2022 ($ MILLION)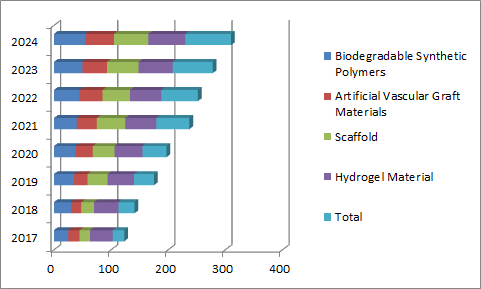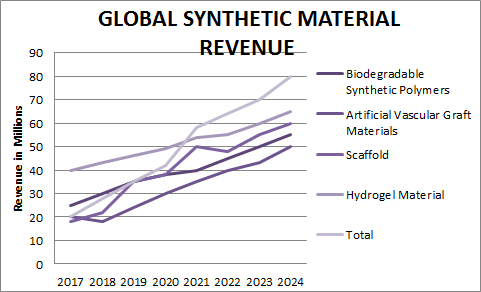 In Japan, there is extensive research which is going on regenerative medicine, Stem cells and biobanking. The regenerative medicine market in Japan will grow at a CAGR of 35.3% during the period 2018-2020.
TISSUE SCIENCE CONGRESS 2018 proudly invites contributors across the globe to 9th International Conference on Tissue Science and Regenerative Medicine during 24-25 august at Holiday Inn Singapore Atrium,Singapore which includes prompt keynote presentations, Oral talks, Poster presentations and Exhibitions. We are delighted to say that it is the 9th International Conference on Tissue Science and Regenerative Medicine which will be held in a beautiful city of Singapore and hence we invite you all to attend and register.
9th International Conference on Tissue Science and Regenerative Medicine is mainly based on the theme "Exploring the frontiers in tissue science and Medicine'' We warmly welcome all the participants of world's leading Scientists, Researchers and Scholars. We provide a platform for young researchers and students to present their research through oral presentations through which they can develop a foundation for collaboration among young researchers.
The organising committee aims at setting a platform for all the budding scientists and researchers to present their real-time work and share their views and aspects related to the theme of the conference. The organizing committee is gearing up for an exciting and informative conference program including plenary lectures, symposia, workshops on a variety of topics, poster presentations and various programs for participants from all over the world.
Conference series llc organizes a conference series of 1000+ Global Events inclusive of 300+ Conferences, 500+ Upcoming and Previous Symposiums and Workshops in USA, Europe & Asia with support from 1000 more scientific societies and publishes 700+ Open access journals which contain over 30000 eminent personalities, reputed scientists as editorial board members.
Why to attend???
With members from around the world focused on learning about Tissue Science and Regenerative Medicine; this is your best opportunity to reach the largest assemblage of participants from the Tissue Science and Regenerative Medicine community. Conduct presentations, distribute information, meet with current and potential scientists, make a splash with new drug developments, and receive name recognition at this 2-day event. World-renowned speakers, the most recent techniques, developments, and the newest updates in Tissue Science and Regenerative Medicine are hallmarks of this conference.
Target Audience:
Tissue Science and Regenerative Medicine Researchers
Tissue Science and Regenerative Medicine Faculty
Medical Colleges
Tissue Science and Regenerative Medicine Associations and Societies
Business Entrepreneurs
Training Institutes
Global Tissue Science and Regenerative Medicine Companies
Tissue Science and Regenerative Medicine Investors
Exhibitors and Sponsors
Conference Highlights
 Biomaterials and Bioengineering
 Biotechnology and nanotechnology in stem cells
 Anti-Aging, Regenerative and functional Medicine
 Biomedical Engineering Techniques
 Applications of Tissue Engineering
 Tissue Repair and Regeneration
 Regenerative Medicine Market